4 Uses for Municipal Reclaimed Water (Greywater)
Greywater, or reclaimed water, is a source of water that more communities facing dwindling freshwater resources, growth and drought might consider.
---
While public use of reclaimed water, also known as *greywater, often requires ordinances to protect public health, municipalities can reduce effluent discharges, nitrogen loading to the environment and reduce demand and costs of public drinking water through the following uses.
#1 Residential Access to a Greywater Source
Naples, Florida, like a lot of communities, first started using greywater to irrigate 10 golf courses. But when growth projections would have required a new drinking water facility to be built, the city looked at reclaimed water as an alternative -- and saved millions, according to an article in the recent issue of The Municipal.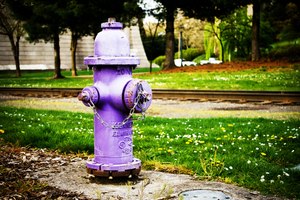 Naples Utilities Director Robert Middleton told the publication that the city's per capita water consumption was among the highest in Florida at 373 gallons per day with 65 percent of it being used for irrigation. The city now has 1,200 reclaimed water customers and demand for potable water resources has been reduced by 46 percent, saving 4 million gallons per day.
Customers that opt-in pay one-third to one-half of what they were paying for their water previously, according to Middleton. The city charges a connection fee and a base rate charge of $10 per month, plus a cost of $.66 cents per 1,000 gallons used.
Middleton said the reclaimed water does have some nutritional value for plants as it contains a small amount of nitrogen and phosphorous. In addition to landscape, homeowners can set up greywater systems for toilets, washing machines and more.
#2 Cooling Water & HVAC
According to a General Electric policy report, Addressing Water Scarcity Through Recycling and Reuse, the city of Phoenix's water reclamation facility not only supports the Buckeye Irrigation District, but also supplies the Palo Verde Nuclear Generating Station, the largest nuclear plant in the U.S., with 90 million gallons per day of treated secondary effluent. The onsite water reclamation facility treats the greywater for the nuclear facility's cooling purposes.
In addition to cooling towers being supplied by reclaimed water, government buildings and other large complexes can also use greywater for interior climate control systems.
According to the Natural Resources Defense Council, the city of Los Angeles, which now embraces various freshwater resources, adopted an ordinance in 2014 that requires greywater ready buildings where non-potable water must be used for cooling tower make-up water.
#3 Greywater for Fire Service
Naples and other communities often attach street fire hydrants to their reclaimed water systems, but the city of Seattle is harvesting both rainwater and greywater at its Fire Station 10, which houses three critical facilities for Seattle's emergency and disaster response: Fire Station 10 Operations, the Emergency Operations Center and Fire Alarm Center.
The water harvest system reuses the majority of the fire drill water and the rainwater that falls on non-driving surfaces on the site for all irrigation and fire vehicle washing needs -- about 130,000 gallons of water per year, according to Seattle.gov.
The rainwater is captured in a cistern and undergoes minimal treatment, and is used for plant irrigation. A trench drain system collects drill water runoff outside of the building, funneling it to a separate harvest treatment system with a hose bib connection for fire personnel to use for vehicle washing.
The greywater portion contributed to a LEED Innovation and Design Credit for Process Water Savings for the city. Investment costs in 2006-2007 included a $24,000 trench drain, $7,000 pump well, $48,000 underground cistern, $5,000 ozonation system, $12,000 in piping and controls and $15,000 in other costs and taxes.
#4 Water Reuse for Street Cleaning Operations
In Hurghada, Egypt, the government has just begun "an unprecedented experiment," according to the Egypt Independent. In addition to irrigation, greywater will be used to clean streets, in order to help address water shortages.
Yehia Siddiq, head of drinking water for the Holding Company for Water and Sanitation, said the greywater treatment unit consists of three stages -- separation, filtration and storage.
*Greywater is a type of reclaimed water.