What your community can do about the growing suicide epidemic
Suicide is a complicated subject – with no easily identifiable, one-size-fits-all solution – but that hasn't stopped communities all over the country from making meaningful strides to help those citizens who would intentionally self-harm
---
Suicide is the 10th most common cause of death in the U.S., according to the Centers for Disease Control and Prevention (CDC). In 2017, 14 out of every 100,000 Americans died by suicide, though there were a reported 1,400,000 suicide attempts that year. In 2018, suicide accounted for 48,344 total deaths in the U.S.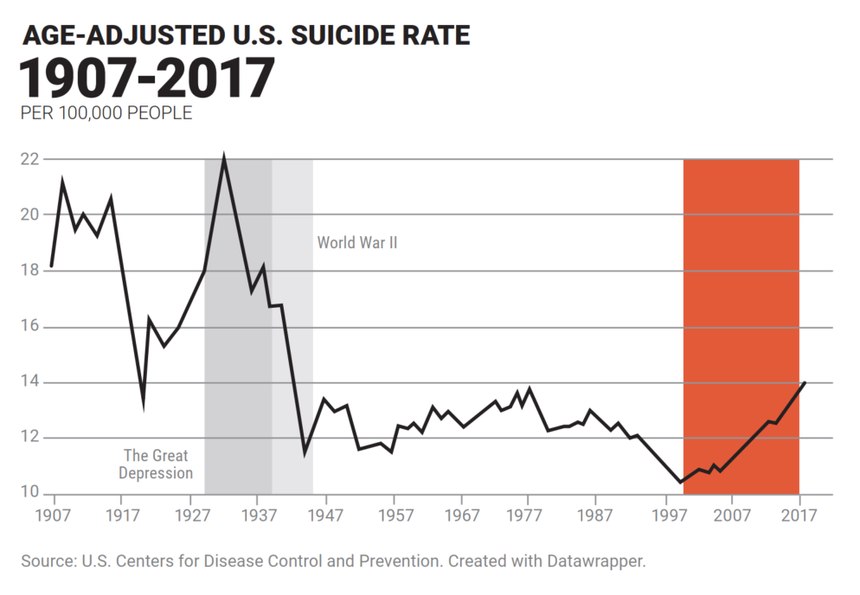 The statistics around intentional self-harm are alarming, especially because they are increasing year-over-year (for nearly two decades). From 1999 to present, suicide rates have jumped 33%, rising to the highest rate the U.S. has seen since World War II.
Suicide Risks, Misconceptions
When it comes to discussing the cause of suicide, many misconceptions hinder our ability to develop helpful resources for our communities.
Specifically, it's often assumed that those at greatest risk have been diagnosed with serious mental health conditions that can lead to suicidal ideation — like major depression, PTSD or schizophrenia — but research suggests otherwise. In fact, 54% of people who die by suicide do not have a known mental health condition, according to research by the CDC.
Rather, a myriad of factors can put a person at a higher risk for suicide, either in the short term or over time:
Relationship problems
Substance use
Physical health
Job situation
Financial stress
Legal issues
Housing stress
There is increasing evidence that social media use can influence suicide-related behavior as well.
Often, what we know about a suicide motive comes from a coroner, medical examiner or law enforcement report, where the entirety of evidence isn't known, leaving friends, family and communities with more unanswered questions than otherwise.
Still, with the data we do have, patterns in triggers and demographics begin to emerge. And though the conversation about why suicide is becoming more widespread is a difficult one, it's critical to consider if we're going to create more effective suicide prevention programs and resources.
The Sprawling Growth of Suicide in the U.S.

Since 1999, suicide rates have increased in every U.S. state except for Nevada, with some states showing alarmingly high increases. North Dakota, for example, has experienced a 57.6% increase in self-inflicted fatalities over the last 17 years.
Geographically speaking, CDC data shows that there are differences in suicide rates across three urbanization levels:
Non-metropolitan/rural counties
Medium/small metropolitan counties
Large metropolitan counties
Using joinpoint regression analyses, one CDC study determined that rural counties have the highest rates of suicide of the three populous groups, though each urbanization level showed an uptick year-over-year.
The Face of Suicide
Suicide occurs across all demographics, and mental illness is not the only catalyst to consider.
Research uncovers many patterns that should be considered before determining how to help your community:
Of course, suicide shouldn't be looked at in terms of mere statistics; it's important to go beyond the demographics and consider other contributing factors that can impact the emotional wellbeing of communities.
Beyond Suicide Statistics: Stories of Hopelessness
We all face crises or problems," writes former Harvard Health Executive Editor Patrick J. Skerrett. "One difference is that among individuals who take their own lives, these situations cause such pain or hopelessness they can't see any other way out."
In rural areas, for example, mental health experts are closely looking into the economic and environmental factors that have caused stress and lost hope in these communities.
Rural farmers in particular are experiencing an uptick in financial, personal and professional stress in several ways:
And all of these factors add up to a disconcerting commonality: skyrocketing debt.
A 2013 study published in the journal "Clinical Psychology Review" shows that debt and financial stress may be common catalysts for suicide. The study found that though causality is hard to establish, the more severe debt a person had, the worse their health. And those who died by suicide were eight times more likely to be in debt.
Gerald Roecker, a third-generation farmer in Loganville, Wisconsin, knew this feeling all too well. Roecker said he became suicidal in 2008 when the recession hit after he had invested millions to expand the family business.
Thankfully, though, the plight of farmers isn't getting left unnoticed. In October, the U.S. Department of Agriculture provided grants, totaling $1.9 million, for stress assistance programs to people in agriculture. President Trump also signed a bill in 2018 dedicated to supporting mental health research in rural areas.
But there is still much to be done at the local level.
Opioids and Beyond
The story of agricultural workers isn't the only one to tell: The opioid epidemic is one more chapter in the devastating novel of increased suicide rates.
A study conducted by the U.S. Department of Veteran Affairs found that suicides involving opioids constituted 4.3% of all suicides in 2014 and were involved in more than 40% of suicide and overdose deaths in 2017. It's also important to note that opioid use — which can cause or worsen depression -- is statistically more widespread in rural communities than in urban ones.
There's also research that suggests that children who grow up in poverty are more likely to die by suicide.
Professional stress in public safety roles is likewise leading to an increase in suicide within its ranks -- in 2017, more firefighters and police officers died by their own hands than they did in the line of duty.
And I'd be remiss if I didn't mention the alarming rate of inmate suicides that are increasingly making headlines.
Sadly, the list of narratives is as long as it is varied.
Suicide Prevention: What Can You Do?
With such a wide variety of factors contributing to suicidal tendencies, how can your community help?
As a general rule, programs and resources to prevent suicides should be updated often and regularly promoted to your citizens. It's also important to create programs tailored to the cultural needs of different racial and ethnic groups to maximize their impact.
And according to Nancy Lublin, Founder and CEO of text message-based crisis counseling firm Crisis Text Line, compassion is key when developing assistance for those in need.
You need to be really awesome at empathy and capable of mirroring and validating without actively problem-solving for them, without telling [someone] what to do."
Resources for Developing Your Community Suicide Prevention Plan
Many communities have already begun developing actionable suicide prevention programs. For inspiration and guidance, look into the following programs and resources:
The World Health Organization's community engagement toolkit also helps officials create unique programs for their citizens, which can be reviewed in full below.
And if you, or someone you know, is in crisis, call the National Suicide Prevention Lifeline (Lifeline) at 1-800-273-TALK (8255), or text the Crisis Text Line (text HELLO to 741741). Both services are free and available 24 hours a day, seven days a week.
9789241513791-eng by Ed Praetorian on Scribd