Conn.'s Plan to Get Youth Into Substance Abuse Programs
Connecticut's plan to increase youth access to substance abuse programs received a $3.2 million grant. Learn about the key components.
---
The Connecticut Department of Children and Families was awarded a four-year Substance Abuse and Mental Health Services Administration (SAMHSA) implementation grant for $800,000 per year to support the state's comprehensive statewide strategic plan addressing its growing substance abuse epidemic.
Project ASSERT  (Access, Screening and Engagement, Recovery Support and Treatment) will target Connecticut's most vulnerable adolescents ages 12-17 and transitional youth ages 18-21 to seek care through publicly-funded substance abuse treatment. Initially, the program will focus on four cities heavily impacted by the opioid epidemic -- Hartford, Norwich/New London County, New Britain and Waterbury. In year two, ASSERT will expand into Bridgeport and New Haven.
DCF previously received a two-year SAMHSA planning grant, and is well underway developing training for ASSERT. Mary Painter, director of DCF's Office of Intimate Partner Violence and Substance Use Treatment and Recovery and principal Project ASSERT investigator, said the agency anticipates service delivery to be ready when funding starts in September.
Increasing Access to Substance Abuse Services
Government agencies across Connecticut are coordinating efforts to address the state's dramatic rise in opioid abuse through a series of training, referral and medication-assisted treatment (MAT) initiatives under the Connecticut Opioid REsponse Initiative. But DCF has found that access to existing publicly-funded substance abuse treatment is unevenly distributed across the state.  In Norwich, for example, there is no access for transitional age youth to substance use disorders (SUD) services.
For vulnerable adolescents, access is also limited by distance to SUDs clinics and existing bus transportation.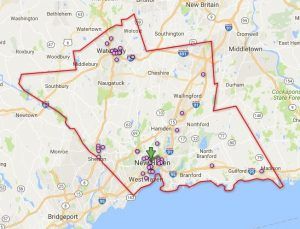 In particular, office-based services may not be realistic for some youth and families residing in more remote areas far from urban centers where bus routes are more concentrated. New Haven County, for example, had the state's highest number of overdose deaths in 2016 at 524, according to our U.S. Map of Drug Deaths by County, which are based on County Health Rankings. The county is more than 600 square miles and treatment centers are concentrated in Waterbury and New Haven.
Explore the SAMHSA facilities data for New Haven County:
In addition, those who need SUD services may either be unaware the services exist, or don't know where to access treatment.
Painter also noted individuals may not seek treatment because their insurance doesn't cover it. And some families may not be able to afford out-of-pocket costs for treatment. About 14 percent of the state's total population, or about 500,000 people are between the ages of 15-24. Despite having one of the highest average per capita income rates in the country, Connecticut's largest cities all rank among the top 75 cities nationally in child poverty rates, with 30-43 percent of all children in these communities living below the federal poverty level (based on the 2010 U.S. Census).
When youth treatment services were sought in 2016, service gaps still existed.
DCF data indicated the average annual utilization of the public adolescent outpatient SUD treatment programs was 67 percent last year. While openings persist in outpatient services, intensive in-home services experience increasing delays to admit youth. The number of days from referral to admission increased 46 percent from 26 days in 2015 to 38 days in 2016. System bottlenecks at intensive services may be due to late identification of available services, according to DCF.
Implementing a Multi-Pronged Approach
ASSERT's chief goal is to increase the quality of care and statewide access to evidence-based screening, treatments and recovery supports for youth and transitional youth. To accomplish these goals, grant funding will focus efforts on expanding treatment services, workforce development, social marketing and implementing evidenced based practice (EBP) for opioid use problems, specifically, for 16-21 year olds.
The funding supports infrastructure improvement and direct treatment service delivery by bringing stakeholders across systems together to strengthen the state's existing substance abuse treatment network. The program will develop policies, expand capacity and implement financial mechanisms and reforms that better integrate treatment and recovery support.
Inventing Social Marketing Campaigns
To address the lack of knowledge about the availability of publicly-funded SUDs programs, Project ASSERT includes a social marketing effort to increase awareness of treatment, and how to access services.
DCF will train local communities to develop and implement social marketing campaigns promoting substance abuse treatment programs with the goals of reducing stigma, educating the public and increasing awareness around substance abuse disorder symptoms and where to find help. The plan is to hold monthly training sessions over the first nine months of the program with coaching and consultation to continue for the full four years.
As a first action, DCF will hire ASSERT Youth Recovery Specialists who are matched to community characteristics. These specialists  will implement services and support social campaign design with local context. They'll help develop maps of existing recovery support and alternative peer groups and contribute to the creation of a mobile application that facilitates local access to these services.
The specialists are a chief catalyst in the program's ability to develop strong, coordinated and accessible recovery services that follow the Alternative Peer Group model.
Increasing MAT Rates
State Medicaid data revealed that MAT for 16-18 year olds is extremely limited. In 2015, only 23 of the state's 16-18 year olds received MAT, the majority from a single provider.
DCF said it is unclear what the demand for MAT will be just yet, but in moving forward with Project ASSERT, the agency will be conducting a high level performance assessment with university research collaborators under the SAMHSA grant. The researchers are well versed in protocol development, staff training, participant recruitment, research conduct, database management and analyses.
DCF's goals in helping to deploy the state's strategy to increase access to treatment are consistent with national MAT guidelines. Project ASSERT participants could be engaged in treatment with methadone or buprenorphine for four to six months, which would be followed with recovery management check-ups (RMCs), allowing for follow-up assessment and analyses of program efficacy.
Improving Training & Education
As part of this initiative, ASSERT includes development of a statewide workforce training plan to increase skills in screening and treating substance abuse, particularly for youth with opioid disorders. A Train-the-Trainer model will be used to increase screening and referral for early intervention by regional programs that serve adolescents with mental health concerns, the state's mobile outreach program and other community-based youth programs.
Working with Wheeler Clinic, ASSERT will also develop a family curriculum called Current Trends to learn about EBPs and how to access them in order to empower families to partner with treatment providers.  The course is designed to facilitate family engagement in treatment by dispelling myths about treatment and shaping expectations.
There are also components for improving the Current Trends in Family Intervention course to meet Culturally and Linguistically Appropriate Services standards. The course was previously developed in Connecticut under a SAMHSA transformation grant, and is currently offered by 13 college graduate programs in three states.
Integrating Recovery as a Process
A major component of Project ASSERT are RMCs, which Painter said has been shown to be effective in helping youth avoiding relapses.
One key outcome of RMCs is that there is the opportunity to re-engage an individual back into treatment further upstream at a time when they may only need additional recovery support, a brief intervention that helps them to maintain/resume their recovery before substance use resumes to a condition requiring a much higher level of care. It also approaches the condition as a long term, versus episodic one."
DCF selected Turning Point CT to lead this work because of its experience using technology to link young adults (18-25 years) to a broad array of behavioral health and ancillary services through its website and delivering peer support programs through strong partnerships.