Top 5 Park & Trails Destinations for Disabled Access
Movement to make parks and trails ADA-compliant is taking hold. Disabled access offers wildlife, nature programming and sensory gardens to all.
---
The physical and psychological benefits of spending time outdoors – hiking, biking, paddling, birding or just enjoying a trailside picnic while in nature – have multiple benefits for those suffering from post traumatic stress disorder, obesity, heart disease, depression, type II diabetes and more, according to the American Society of Landscape Architects.
The irony is that those who could gain the most from being in the nature, the disabled, have the hardest time getting in.
According to a 2015 study by the Centers for Disease Control and Prevention (CDC), 53 million adults in the U.S. -- 1/6 of the population -- live with a disability. The most common functional disability type is mobility limitation -- defined as serious difficulty walking or climbing stairs -- followed by disability in thinking and/or memory, independent living, vision, and self-care.
#1 National Parks Offers Widespread Disabled Access
With the passing of the Americans with Disabilities Act (ADA) in 1990, and the accompanying 2010 ADA Standards for Accessible Design, getting into the woods has become more attainable for those with disabilities, especially in our national parks and properties that receive federal funding.
The National Parks service invites those with permanent disabilities to apply for an Access Pass, a free, lifetime pass available to United States citizens or permanent residents, regardless of age, that have a permanent disability. The disabled access pass can be used at more than 2,000 Federal recreation sites across the nation, including National Parks, National Wildlife Refuges and many National Forest lands.
Many cities and nonprofits are following suit, making nature more accessible to their disabled residents and visitors.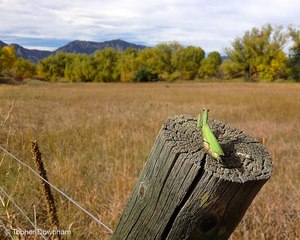 #2 Boulder Shares 30 Sites
In 2015, the Colorado city of Boulder's Open Space and Mountain Parks department (OSMP) published a guidebook that details 30 sites and trails that "should be accessible to the average wheelchair, walker or scooter user." The guide, co-written by Topher Downham, a quadriplegic, includes more than just trail conditions and trail difficulties. According to Downham's introduction, "We provide information on the vegetation and animals that you may see while on your hike, color photos of each area and the history of these culturally rich lands."
To compliment the disabled access guide, Downham has produced several, short fast-motion videos that show him hiking accessible trails by wheelchair. Along the way, in a light-hearted manner, he shows obstacles encountered, local flora and fauna, and activities available at each location, in order to make hiking easier, more available, and more enjoyable for people with disabilities.
Boulder also offers Memory Loss Sensory Nature Programs, in partnership with the Denver Alzheimer's Association SPARK program to provide free public nature programs for individuals with dementia. These sensory programs, on a variety of trails, "provide those with memory loss and their caregivers the opportunity to be outside together, enjoying the land and all it has to offer."
#3 New York Preserve Ensures Access
Annually, more than 165,000 people visit the 8,000-acre Mohonk Preserve, New York's largest nonprofit nature preserve located in New Paltz.
To promote the inclusion of people with disabilities in outdoor programming. Mohonk has a NatureAccess program that offers field studies for school classes, summer camps, public programs, outreach programs and self-guided group visits.
The nonprofit also runs accessibility training for outdoor professionals tailored to the needs of each organization.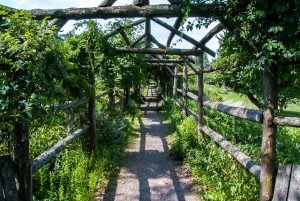 It's website indicates the non-profit's mission is all-access: "Working in partnership with individuals, parents, teachers, physical therapists, social workers, psychologists, medical staff and independent living centers, we strive to provide everyone with the opportunity to enjoy and learn in the outdoors."
#4 Massachusetts Works Audio Trails
In Massachusetts, the Watertown Riverfront Park and Braille Trail Project, when completed, will include a braille trail and sensory garden located in 3,200-foot-long, crescent-shaped swath of parkland along the north bank of the Charles River, between Watertown Square and the Perkins School for the Blind, encompassing 12 acres.
The project will be managed by the state's Department of Conservation and Recreation and developed with the assistance of the Perkins School, which was founded in 1829 and is the oldest school for the blind in the U.S.
Another Massachusetts institution, Mass Audubon, since 2010 has added multi-sensory, interpretive content on existing ADA-accessible nature trails at eight wildlife sanctuaries across the state.
"The goal of this project is to create a richer experience for visitors with a wide range of vision, hearing and mobility levels," according to Mass Audubon's website.
The disabled access project is funded through a $102,065 grant from the federal Institute of Museum and Library Services. The goal is to create a richer experience for visitors with a wide range of vision, hearing and mobility levels.
According to Mass Audubon, improvements to the eight trails include; audio tours; braille text and tactile maps; tour scripts and maps designed for high readability for visually impaired and sighted visitors; new orientation maps and information panels; improved signage; rope/post guiding systems and wider boardwalks.
#5 California Overhauls 200 Parks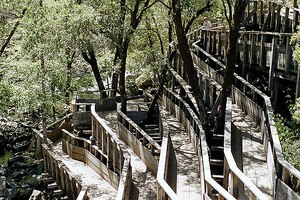 According to a 2015 article in the Sacramento Bee, more than 200 parks in California will be revamped for disabled use by 2022. This stems from two lawsuits, Tucker v. State of California Department of Parks & Recreation and Gray v. Golden Gate National Recreation Area.
In the settlement to the Tucker suit, the state promised to improve parks access, including creating wheelchair-accessible trails, signs for the blind and captioned educational videos for those with hearing impairments, according to the article. More than $90 million has been allocated to revamp disabled access at the 200 parks in the next five years, as a result of the 2005 class-action case.
The Gray lawsuit ended in a settlement that promised alterations to many of the Bay Area's natural attractions, as well as a $3 million budget for future improvements, according to the Sacramento Bee.