Kansas City Sues Gun Industry Over Trafficking Ring That 'Endangered the Entire City'
Firearm manufacturers and dealers are protected from liability when their products are used to commit crimes, but not when they themselves knowingly violate federal gun laws.
---
The Kansas City Star
By Allison Kite And Glenn E. Rice
KANSAS CITY, Mo. -- Kansas City is suing a group of firearm businesses and individuals that it says formed a trafficking ring that provided guns to known felons, Mayor Quinton Lucas announced in a news conference Tuesday.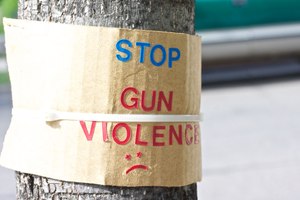 The lawsuit makes Kansas City the first city to sue the gun industry in more than a decade, said officials and attorneys representing the city. They filed the suit in Jackson County Circuit Court with help from Everytown Law, a branch of the national nonprofit Everytown for Gun Safety.
It is the latest in a series of actions Lucas' administration has taken to curb rampant gun violence in Kansas City. Last year, the City Council passed a series of ordinances he championed meant to keep firearms out of the hands of minors and domestic abusers.
The city's suit also comes just after a near-record year for homicides in Kansas City. In 2019, 151 people were murdered within city limits, just shy of the all-time record 155 homicides set in 2017.
There is a significant problem with illegal gun trafficking in our city," Lucas said. "And while a lot of our criminal justice partners certainly try to make sure that they root this out, that they address it, there are a lot of private actors that, each day, create new threats for the citizens of Kansas City -- frankly to the citizens of our entire region."
The suit takes aim at a gun trafficking scheme led by James Samuels, a former Kansas City Fire Department captain who was charged with federal gun crimes in October 2018. But it goes beyond Samuels, claiming Nevada-based manufacturer Jimenez Arms, several local gun dealers and individuals were also responsible.
"Instead of looking at an individual actor ... what we're doing here is saying that we're actually looking at the folks that were a key part of the ... organization," Lucas said.
The Trafficking Scheme
According to the lawsuit, Samuels repeatedly placed orders for firearms from Jimenez Arms and had them shipped to a previously licensed local gun dealer called Conceal & Carry that had been dissolved by the state of Missouri. Samuels is awaiting trial on related criminal charges in U.S. District Court in Kansas City.
On two occasions, Jimenez Arms shipped guns directly to Samuels' home, "knowing that he was not a licensed dealer and knowing that he was going to resell these guns," said Alla Lefkowitz, director of affirmative litigation at Everytown Law.
The lawsuit claims the company "from its very first transaction with Samuels in November 2013 ... knew, or consciously avoided knowing, that Samuels was purchasing the firearms for re-sale, something that only a licensee can do."
"Jimenez Arms therefore participated in Samuels' trafficking scheme."
The lawsuit says as many as 26 guns Samuels purchased from Jimenez from 2013 through 2015 may still be in public circulation.
Even after 2015, Samuels acquired 19 other Jimenez Arms guns through other vendors, and as many as 17 of those may still be in circulation, according to the lawsuit.
The lawsuit says Jimenez Arms' actions "should come as no surprise" because the company has "racked up a poor record of compliance." It says in November 2017, the company was operating under a warning letter from the Bureau of Alcohol, Tobacco, Firearms and Explosives for violating firearm regulations.
Michael Belancio, who is representing Jimenez Arms in a separate civil lawsuit, said he was not aware of the lawsuit filed by the city and declined to comment.
According to the lawsuit, three local gun dealers aided the scheme: Conceal & Carry, CR Sales Firearms and Mission Ready Gunworks. The latter two became sources of firearms for Samuels after he stopped ordering directly from Jimenez in 2015.
Herb Butzbach with Mission Ready Gunworks in North Kansas City said he had not received a copy of the civil lawsuit and declined to comment. Butzbach said Tuesday he was going to contact his attorney.
A worker with CR Sales Firearms also said he was not aware of the lawsuit and declined to comment.
Both said they were puzzled that they were named in the lawsuit because they both helped federal authorities with their investigation and apprehension of Samuels.
Also named is Iesha Boles, whom the lawsuit claims acted as a straw purchaser; Samuels transferred guns to her that were then sold to known felons, a violation of federal law.
In May, Boles pleaded guilty in U.S. District Court to falsifying records and illegally transferring ownership of several firearms to another person. In court records, Boles admitted lying when she transferred ownership of six firearms that were purchased between November 2013 and June 2017. Boles said that she served as a pass-through for someone who later illegally sold the firearms to others, including several convicted felons and Samuels.
Boles is waiting to be sentenced.
Lefkowitz said the defendants "knowingly" violated federal gun laws and "disregarded their professional obligations." She said they "endangered the entire city of Kansas City."
Jimenez in Court
Lefkowitz said the trafficking scheme alleged in this lawsuit is the same that came under legal scrutiny last summer following the shooting death of Alvino Dwight Crawford Jr.
That lawsuit, filed in June, claimed Jimenez Arms and Samuels "injected a steady supply of unlawfully obtained firearms into the Kansas City area over a five-year period."
Crawford's parents, Alvino and Beverly Crawford, with the assistance of Everytown for Gun Safety, filed the wrongful death civil lawsuit against Jimenez Arms and another gun dealer who allegedly sold the handgun that was used in their son's fatal shooting.
The couple alleged that Jimenez Arms knowingly sold firearms to an illegal dealer and failed to alert authorities when it knew the handgun it sold was part of an illegal gun trafficking ring. Samuels is also a defendant in that case.
Crawford, 29, was found fatally shot on July 5, 2016, in the 8200 block of Forest Avenue following an altercation with two men.
The gun allegedly used in the shooting was accessible to several people, including a convicted felon, Jerome Walker, 41, and Devon Davis, who was 16 at the time. Both men were charged in Crawford's killing.
Dwight Crawford's murder is emblematic of a significant gun violence problem in Kansas City, Mo., which has been exacerbated by the defendants in this action and other dealers which operate their businesses carelessly," the Crawfords' lawsuit says.
Kansas City has one of the highest homicide rates in the United States, the lawsuit noted. Guns manufactured by Jimenez Arms are often recovered from crime scenes, the petition alleged. Federal prosecutors have filed criminal cases where Jimenez Arms weapons were allegedly used in carjackings, high-speed car chases, drug deals and bank robberies, according to the lawsuit, which remains pending in Jackson County court.
Other defendants in the wrongful death lawsuit include Green Tip Arms, a Missouri company with a location in Raytown, and its owner, Christopher Bendet.
A Rare Legal Case
The city's lawsuit, Lefkowitz and Lucas said, is the first of its kind in more than 10 years.
Firearm manufacturers and dealers are protected from liability when their products are used to commit crimes by a federal law known as the Protection of Lawful Commerce in Arms Act. That law, Lefkowitz said, makes lawsuits against such businesses exceedingly rare.
But Lefkowitz said that law has an exception for businesses that knowingly violate federal gun laws.
"We have that here," she said.
The city's lawsuit lays out the alleged legal violations and claims that the defendants created a "public nuisance" by exacerbating Kansas City's gun violence problem, and that they negligently entrusted firearms that "have been, and will likely continue to be, found at crime scenes and recovered by Kansas City law enforcement agencies."
The lawsuit asks the court to order Jimenez and the three gun dealers to recover the guns that may still be in circulation; comply with state and federal firearms law; submit to court supervision; train employees; and post bond payments they could later lose in the event of future violations.
The city is also seeking financial damages to pay for related costs incurred for emergency response and police services, prosecution, victims services and other programs.
(c)2020 The Kansas City Star (Kansas City, Mo.)
Visit The Kansas City Star (Kansas City, Mo.) at www.kansascity.com
Distributed by Tribune Content Agency, LLC.
McClatchy-Tribune News Service