Editorial: Trump's move to sacrifice environment for infrastructure progress
President Trump has ordered federal agencies to expedite infrastructure project permitting and thwart NEPA, CWA and more in the name of economic recovery. How will local and state government leaders respond?
---
Four months ahead of the election, President Donald J. Trump moved ahead on infrastructure as Capitol Hill lawmakers discussed infrastructure funding packages by issuing an Executive Order that would expedite permits on projects like long overdue road and bridge safety projects. The new order directs the Department of the Interior, the Army Corps of Engineers, Department of Defense and several others to thwart certain aspects of environmental reviews required under the National Environmental Policy Act, the Endangered Species Act and Clean Water Act.
Sacrificing the environment to invest in building now after promising mayors big infrastructure investment in 2017 may not be the deal state and local leaders will agree to or hoped for despite the long need.
Public safety is absolutely the No. 1 concern of state [departments of transportation] and local governments," Alison Black, chief economist of the American Road and Transportation Builders Association told NPR after it released its 2019 report finding 47,000 structurally deficient U.S. bridges.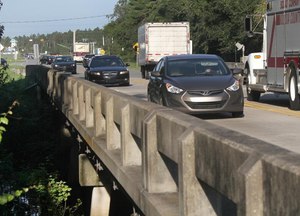 June 4th, the same day of the Executive Order, ARTBA chairman Steve McGough testified to the Senate Environment and Public Works Committee that a long-term federal transportation infrastructure investment bill would drive the nation's economy toward recovery from the COVID-19 pandemic. Funding remains unresolved in the Senate.
ARBTA was joined by others, including Louisville Mayor Greg Fischer who advocated for infrastructure needs that address public transit and natural disaster resilience, at a time when local governments are in pandemic crisis and pressed to generate revenue for infrastructure.
"Our local infrastructure supporting UPS's Worldport has attracted hundreds of other businesses across multiple industries. So we ask that you look at ways to increase your funding commitments to local jurisdictions. Cities will not be able to lead, as we previously had, in drawing our share of revenue commitments to infrastructure, including highways to support the movement of goods. Mayors must have more say to ensure that federal investment fulfills our community needs," he offered in his testimony.
Infrastructure is an area you'd expect a President and former builder to weigh in on. And though the President's original infrastructure proposal figured in the trillions, not much new has happened on the federal transportation infrastructure side. Most federal funding during the administration has gone to roads, with noticeable losses in existing federal transportation for public transit.
Let's not even get into stalled non-transportation federal infrastructure investments, like estuary protection. The paperwork for many actions in the House of Representatives piles on Senate Majority Leader Mitch McConnell's desk — just ask Congressman Peter DeFazio (D-Oregon's 4th District).
This recent Executive Order, however, is in line with the President's previous environmental roll backs. Similarly, environmentalists gave jeers while the fossil fuel industry welcomed expedited permitting.
An important theme in the upcoming election is likely to be around what kind of a future we want to build and how quickly we want to improve road and utility safety. Mayors, state governments, and federal representation will have decisions to make as infrastructure funding discussions continue in Congress and environmental regulatory battles play out in courts.
Watch the Senate Environment and Public Works Committee video.