How Giant Snowmelters Helped Cities Prepare for Winter
Winter is just a few months away. Snowmelters help some Northeastern cities keep their roadways and neighborhoods clear.
---
Maybe last winter, or the winter of 2014-2015, your city or town was inundated with snow. Perhaps you were pressed for a place to keep it while you waited for it to melt away? Enter snowmelters.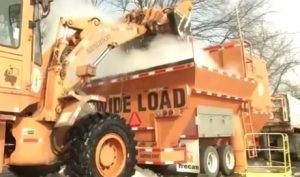 The city of New York, N.Y., has some narrow streets, but last winter, they did not get lost in the snow. The New York Department of Sanitation operated 36 snowmelters in strategic places to help with clearing operations after snow events. They each melt as much as 60 tons of snow per hour.
The department removed snow from some of the tightest sections, and brought it to a nearby melting operation.
"We really are having to take the snow out of the blocks, and we're bringing it here and beginning melting operations," said Kathryn Garcia, sanitation commissioner, following a January 2016 snow event.
The melt water flows from the machines into nearby storm sewers, according to Time Warner Cable News NY1.
The equipment might be something to consider--New York was not the only one to try them.
Washington D.C., tried the Aero and Snow Dragon.
And amongst myriad snow artillery, the Massachusetts Department of Transportation strutted its Trecan Combustion model--popular with shopping malls--last December. It processed 120 tons of snow per hour removed from key roadways.
It may be October, but winter is coming.
Check out this sweet snow melter which melts 120 tons of snow and ice an hour. #WBZ pic.twitter.com/C4VwqYZ6oQ

— Louisa Moller (@LouisaMoller) December 17, 2015