Carbon Tax & Dividend Survives Ontario's Court Challenge
Ontario sued the Canadian federal government arguing the new carbon tax is overreach into provincial authority, but lost in the Court of Appeal.
---
While some U.S. Election 2020 candidates raise implementing a carbon tax -- or carbon-and-dividend tax -- as part of their plans to address climate change, the Canadian Province of Ontario has been living with one. But after challenging the courts to decide if the federal law meets Canadian constitutional muster, a panel of five judges rejected Ontario's challenge.
According to the National Post, the Canadian Greenhouse Gas Pollution Pricing Act, is within Parliament's jurisdiction to legislate because it's of "national concern." In a 4-1 split decision, the judges ruled that the tax is not federal overstep into provincial authority.
The need for a collective approach to a matter of national concern, and the risk of non-participation by one or more provinces, permits Canada to adopt minimum national standards to reduce (greenhouse gas) emissions," wrote Chief Justice George R. Strathy in the decision.
The concern was high enough that the Canadian Court of Appeal made a rare decision to open its court during the arguments to live streaming - "Justice James MacPherson gave the CBC permission to put up to five cameras in the courtroom."
Provincial Governments Fight The Federal Carbon Tax, But Their Challenges are Defeated in Court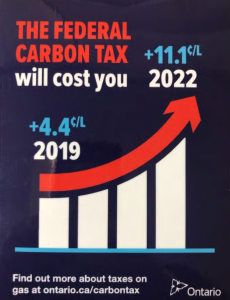 It had become a hot-button -- dividing provincial government. Ontario recently mandated gas stations display anti-carbon-tax stickers on their pumps by August.
Some government officials call the stickers, example here, a "transparency measure," while others call them "misleading."
The carbon tax is expected to cost a household $258 Canadian this year, and $648 by 2022. Resident rebates would start at $128 annually, with an Ontario family of four receiving $307 this year.
Ontario was not alone -- the Saskatchewan provincial government also asked the courts to rule on the federal carbon tax, but lost in a 3-2 decision by the Saskatchewan Court of Appeal in May, according to Reuters.
The matters could be appealed to the Canadian Supreme Court.
Learn more about the basics of carbon fee and dividend on The Citizens' Climate Lobby website.