Va. detention center gets $50K grant to fight spread of coronavirus
The funds will help the facility purchase specialized equipment and supplies needed to help reduce exposure to the virus
---
Prince William County
PRINCE WILLIAM COUNTY, Va. — The Prince William Board of County Supervisors recently accepted, budgeted and appropriated a $50,000 Coronavirus Emergency Supplemental Funding Program Grant from the Virginia Department of Criminal Justice Services to help the ADC purchase specialized equipment and supplies needed to help reduce exposure to the virus.
Allowable spending under the program may include overtime pay and training to address the medical needs of inmates and staff at the ADC, as well as purchasing equipment and supplies, such as gloves, masks and sanitizer.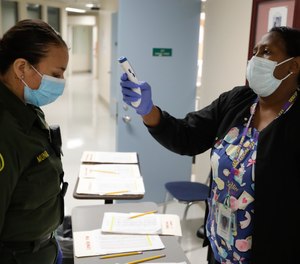 The ADC has policies in place to reduce the spread of the coronavirus. The grant funding will help ensure that employees and inmates are properly screened and that facilities are properly sanitized to reduce the risk of coronavirus spread among staff and inmates while safeguarding security.
Full story: Adult detention center receives grant to fight the spread of coronavirus
McClatchy-Tribune News Service