911 Best Practices Guide: Supplemental Location Data Solutions
With calls to 911 coming mostly from wireless callers, the National 911 Program develops a best practices guide for supplemental location data solutions.
---
With more than 70 percent of calls originating from wireless networks, Public Safety Answering Points (PSAPs) depend on third parties or technology to verify location data.
To develop best practices for incorporating supplemental 911 location data solutions into PSAPs, the National 911 Program worked with the National Association of State 911 Administrators (NASNA), National Emergency Number Association (NENA) and Industry Council for Emergency Response Technologies (iCERT) on a guide that can be reviewed and downloaded below.
The 12-page guide is designed to support PSAPs and supplemental location data providers as they implement supplemental data solutions. It addresses administrative, technical and operational issues that would achieve 90 percent confidence in supplemental location information delivered as a position.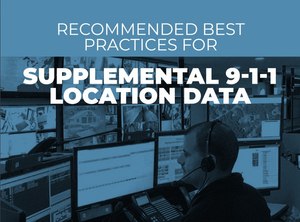 "Caller technology evolves quickly, and is becoming an increasingly important component of public safety when it comes to quickly and accurately locating 911 callers," says National 911 Program Coordinator Laurie Flaherty. "We hope this resource helps pave the way for continued improvement in caller location accuracy and communication with first responders. Our commitment is to bring 911 into the 21st century, and this is an important step."
Recommended Best Practices by on Scribd