What Americans Say About Racial Discrimination
A new survey finds Americans said racial discrimination is the most serious challenge, and they want business to do something about it.
---
WASHINGTON, D.C. -- The 2016 Public Affairs Pulse survey, a Public Affairs Council (PAC) telephone poll of 1,000 Americans conducted in mid-September, asked Americans how serious racial discrimination and other forms of discrimination are.
According to PAC, nearly three-quarters--74 percent--of respondents believe racial discrimination is at least a serious problem, while 37 percent said it's a very serious problem. About 67 percent of respondents also indicated gender identity discrimination to be a serious problem.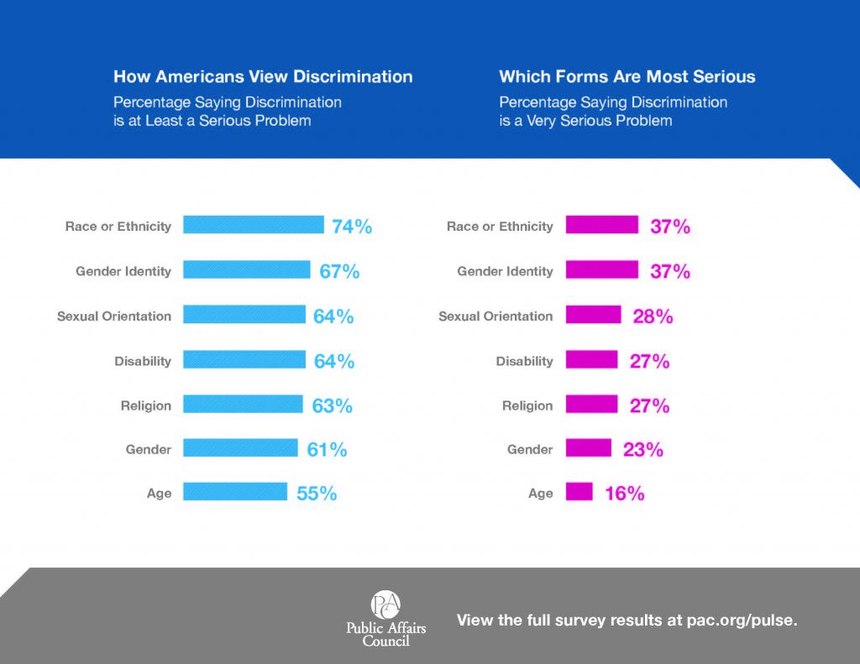 What's more, they want corporate America to do something about it. This survey found that if major companies were to take steps to prevent discrimination, the respondents would view them favorably.
However:
Across all categories of discrimination, however, the most common response from the public is that corporate actions have made no difference at all. For example, despite the much talked-about corporate advocacy against legislation seeking to regulate access to public restroom facilities by transgender individuals, nearly half of Americans (46 percent) say business efforts to reduce gender identity discrimination have had no impact. A near-identical percentage (47 percent) feel that years of corporate actions against racial discrimination haven't made a difference," the report said.
In a separate July 2016 survey of 1,000 major corporations, Taking a Stand, PAC found that 60 percent of respondents experienced pressure to get engaged in social issues, such as the North Carolina law eliminating LGBT anti-discrimination protections, racial discrimination and more. Key findings indicate that companies feel the pressure will only increase over the next few years, and that employees and stakeholders of those companies with the highest annual revenues (more than $15 billion) had the highest expectations that they should do something about concerning social issues.