Local government COVID-19 resources from associations and organizations
Industry association websites, webinars and resources offer training, procedures and advocacy for elected officials and municipal employees
---
Local government officials and agencies are facing unique challenges during the COVID-19 pandemic – how to support small businesses, where to find funding opportunities, and when to enact community directives, like shelter-in-place orders.
Several government-focused organizations and associations have stepped up to serve the specific needs of localities during this national emergency by providing an array of useful resources and action items.  
Use this directory to access websites, webinars and other resources from key organizations, including the International City/County Management Association, the National Association of Counties and the U.S. Conference of Mayors.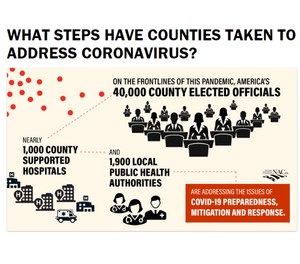 We will continue to update this list as more organizations share COVID-19 resources that can be of aid to the Gov1 community.
During this challenging time, we are working to transform the Knowledge Hub to better support city governments to manage the immediate crisis through knowledge capture, dissemination, and peer networks. We recognise that there is a deluge of information for city officials, and that C40 can play a useful role by bringing city officials proven ways of working, experimental policies, and access to peers that may help them accelerate solutions.
Here you'll find a curated collection of media and resources on topics relevant to mayoral teams and departments that are C40 touch-points: waste, food, buildings, transportation, public engagement, and many more.
This page provides a table of contents and links to all of MRSC's local government resources related to the 2020 coronavirus (COVID-19) pandemic.
It is part of MRSC's series on Emergency Management and Disaster Planning.
Learn from Brookings scholars about the global response to COVID-19, including how policymakers from U.S. cities and states to multinational organizations are organizing economic responses; how healthcare in the U.S. and around the world can address this historic pandemic; and how communities, schools, and families are adapting to new ways of living under the threat of COVID-19.
The Bill & Melinda Gates Foundation is sharing expert perspectives and updates on the response to COVID-19.
Governments, institutions, and communities in the United States and around the world are grappling with the impact of COVID-19. Harvard Kennedy School experts contribute to solutions and thought leadership on problems ranging from government responsiveness to health to the economy to human rights and more. Resources for public leaders and policymakers can be found as well.
The National League of Cities' resources website and a Pandemic Response email series help support cities, towns and villages during the COVID-19 outbreak. The site offers NLC-generated tools and best practices, updates on federal guidance, resources from the state municipal leagues and partners, and other information to help with local preparedness and response.
ICMA develops and curates resources for local government managers to help in their response efforts to COVID-19. Resources include the latest news on small businesses, the CARES Act, sheltering-in-place orders, cost recovery, volunteer planning, and mental health. There are also pages for events, public meetings and crisis communications, workforce management, leadership challenges, local policy guidance and more.
Through its Local & Global Response Initiatives, Bloomberg Philanthropies gives public health professionals the tools to protect the public – a vital step in saving lives and helping mitigate the kind of economic and social damage that could make this crisis even more debilitating for families and communities. The Local Response Initiative connects public health experts and city leadership, while the Global Response Initiative supports action to prevent or slow the spread of the virus in vulnerable low- and middle-income countries.
The CSG resource page includes snapshots of COVID-19 cases and deaths in the United States as well as a tracker for the exposure type; details about legislative sessions and resources; a listing of state executive orders; links to state court COVID-19 websites; as well as information about how the virus is impacting elections around the country.
Enterprise shares recommendations and resources to help communities, residents and landlords during the pandemic, specifically offering news about state and local government response efforts, federal policy and advocacy, state and local policy, data and analysis, resources for building owners, and webinars on topics like affordable housing.
The IPSA resource page includes a survey about how COVID-19 is impacting organizations; resources and FAQ from the CDC; and links to other agency resources, such as FEMA, WHO, IAFC and Johns Hopkins.
Johns Hopkins experts in global public health, infectious disease, and emergency preparedness have been at the forefront of the international response to COVID-19.
This website is a resource to help advance the understanding of the virus, inform the public and brief policymakers in order to guide a response, improve care and save lives.
With counties on the front lines protecting communities, supporting over 900 hospitals and operating over 1,900 public health departments, NACo shares resources related to steps counties are taking against the pandemic; county and state emergency declarations; tools for NACo partners; and federal policy resources, with a listing of federal legislation and White House and federal agency efforts.
With state lawmakers working to respond to and anticipate impacts of the virus, NCSL provides members with timely responses to state research requests and the knowledge needed to guide state action. Its resource page reflects new information in policy areas ranging from education to healthcare costs and access.
National Institute for Occupational Safety and Health (NIOSH): Coronavirus Diesase-2019
NIOSH highlights resources available for the protection of workers, including healthcare and public safety and public health authorities. The site provides guidance for businesses and employers to respond to the disease; infection prevention and control recommendations; guidelines for laboratory and transportation workers; PPE resources focused on N95 respirators, fit testing and a burn rate calculator; OSHA resources related to respiratory protection; and guidance on reducing risks associated with long work hours.
The U.S. Conference of Mayors has collected information for mayors, city staff and agency leadership working to keep residents and businesses best informed and prepared related to this evolving threat. There are operational best practices for mayors, city guidelines and best practices, information about accessing supplies, and more.
Resources and support from industry suppliers 
Many of the companies that sell products and services to public safety and local governments have launched new products, made in-kind or monetary donations or offered their products at no cost during the pandemic. In addition, these companies have compiled data, resources or advocacy for agencies during the COVID-19 national emergency. A few of those companies and organizations include:  
The Cigna COVID-19 Resource Center has information on care and coverage, getting medications, and answers to questions on symptoms and prevention. For all individuals seeking support during the COVID-19 global pandemic, Cigna offers a toll-free number, 855-287-8400 to connect to a qualified representative. Assistance is available 24/7, for as long as necessary. The service is open to anyone in the U.S., free of charge to help people manage their stress and anxiety so they can continue to address their everyday needs.  Callers may also receive referrals to community resources to help them with specific concerns, including financial and legal matters.

Beekeeper, a communications app for frontline workers, helps managers reach their employees with consistent and accurate information fast. Beekeeper now offers a free Crisis-Ready Kit that gives organizations 30 days of no-cost access to the Beekeeper platform in order to help them to communicate with their employees and navigate the current COVID-19 crisis.
Nearmap is making its high-resolution aerial imaging available free of charge to state, local and county health officials and government agencies for COVID-19 relief effort planning. The detailed images can be used to plan emergency response mobilization centers, determine proximity to medical clinics and hospitals, and provide visibility of the site for planning parking, line logistics and more.
Owner Insite is offering its construction and asset management platforms for free to any organization on the front lines of fighting COVID-19. These platforms can be used to helps organizations manage construction projects and manage all aspects of an asset, including receiving, disseminating and tracking product requests and various status updates.
If your business or association is supporting the local or state response to COVID-19, please email editor@efficientgov.com.