City of Austin provides COVID-19 relief grants for childcare centers
Austin childcare centers and providers that experienced an economic hardship due to the pandemic may apply for grants of up to $50,000
---
AUSTIN, Texas — The City of Austin Economic Development Department announced a new grant program earlier this month to support and sustain Austin childcare centers and providers impacted by the COVID-19 pandemic. The Austin Childcare Provider Relief Grant is a $1 million fund that will provide grants up to $50,000 to reimburse eligible operating expenses for childcare providers.
The grant program is designed to give immediate and equitably-focused one-time financial assistance to eligible childcare centers, including family childcare home providers. Childcare providers that are Texas Rising Star certified (or demonstrate appointment scheduled to complete the Texas Rising Star accreditation assessment) or have National Accreditation are eligible to apply. Childcare centers that serve families receiving a Childcare Subsidy (CCS), centers owned by members of historically underrepresented communities, and centers that have not received other recovery funding are strongly encouraged to apply.
Local childcare centers fill an essential need for our Austin families with children," shared Sylnovia Holt-Rabb, Acting Director for the City of Austin Economic Development Department. "As directed by the Austin City Council, this program will ensure that programming and operations of these critical community service providers can continue."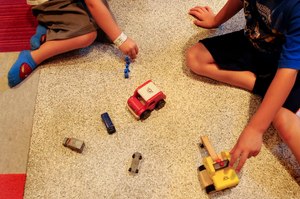 Austin Childcare Provider Relief Grant
The Austin City Council approved Resolution 20200507-023 on May 7, 2020 to designate $1 million for the Austin Childcare Provider Relief Grant (formerly the Childcare Support Fund).
Austin childcare centers and providers that experienced an economic hardship due to the COVID-19 pandemic may apply for grants of up to $50,000 to reimburse for eligible operating expenses. Eligible childcare providers must be able to demonstrate an economic loss associated with COVID-19 and must be located in a City of Austin Council district.
As part of a partnership with the City of Austin, United Way for Greater Austin will accept submitted applications and provide consultation and case management services to grant applicants. Every eligible application submitted will be evaluated against a matrix that includes criteria for need, vulnerability, and equity. Applications must be submitted before the October 1, 2020 deadline or until all funds are expended (whichever comes first).
To learn more and to submit an application, visit AustinTX.gov.