'Power and Money': Census Determines Much, Speakers Say
For every Georgian who filled out a 2010 census, $2,300 per year in services came back to the state.
---
The Daily Citizen, Dalton, Ga.
By Ryan Anderson
CHATSWORTH, Ga. -- Based on census figures from 2010, rural Georgia lost five House seats in the state legislature and two Senate seats.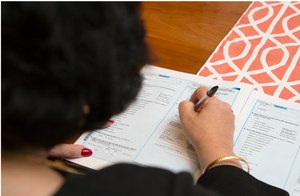 That fact was part of a presentation on the importance of everyone participating in the 2020 census during the Chatsworth-Eton-Murray County Chamber of Commerce's Lunch & Learn event earlier this month.
Rusty Haygood, deputy commissioner of the Georgia Department of Community Affairs' Community Development and Finance Division, and Lori Geary, co-executive director of marketing for Georgia's Complete Count Committee, spoke at the event at Rock Bridge Community Church.
Geary and others involved with the Complete Count Committee are traveling around the state to increase awareness of the census this year, she said: "We want everyone to talk about the census, because the census impacts everyone, and everyone counts."
In fact, the presentation was already Haygood's sixth that week, "with more to come," he said. The census really "boils down to power and money."
Based on the census count, states can either gain or lose representation in the U.S. House of Representatives, but the numbers are also impactful at the state level, he said, noting the loss of the seats in the state legislature for rural Georgia based on the 2010 census.
In terms of money, funding for 55 federal programs -- from Medicare and Medicaid to Head Start and Women, Infants and Children (WIC) -- is based on census data, and "we want federal dollars to come back" into Georgia, Geary said. For every Georgian who filled out a 2010 census, $2,300 per year in services came back to the state.
In the fiscal year 2016, Georgia's rural assistance programs received more than $1.4 billion in federal funds, Haygood said. Due to the state's growing population, as observed by the 2010 census, Georgia gained a congressional seat, and the goal is to gain another -- or at least remain level -- through the 2020 census.
There are challenges in establishing an accurate count for the census, however, including broadband access, Haygood said. While it's simple to fill out the census online, not everyone has the luxury of high speed internet.
All of Georgia's public libraries do offer that amenity, however, so the state has partnered with them to allow individuals to fill out forms at libraries, and this is "a critical piece of the state's strategy," he said. "Librarians are a trusted resource in the community, (and) we're trying to mitigate the lack of internet access by involving the libraries."
Another hurdle is the fear among some, such as undocumented immigrants, regarding sharing their personal information with the government, but Haygood noted that data is contained entirely within the Census Bureau.
That "information is protected," he said. In fact, no census employee can release personal information to any other agency, such as U.S. Immigration and Customs Enforcement (ICE), or even to a landlord, and violating that law is a crime punishable by jail time.
Title 13 of the U.S. Code protects the confidentiality of census information, according to the state of Georgia. It is against the law to disclose or publish names, addresses (including GPS coordinates), Social Security numbers or telephone numbers obtained via the census.
For the 2010 census, 72% of Georgia households filled out census forms, and "we're hoping for 80% this year," Geary said. The state will kick off an "advertising blitz" for the census on March 25, a day after Georgia's presidential primary.
The state's approach will be two-phased, with the first being building awareness, such as through presentations like Wednesday's in Chatsworth, Haygood said. The second is a "call to action" when the marketing onslaught begins.
Social media will be a major component of that effort, with posts in multiple languages, he said. Even mascots from the state's college's have gotten into the act, recording videos encouraging census participation.
Another "fun" element is coloring sheets for children with census details and reminders on them, Geary said. "Children, especially infants, are one of the most undercounted groups" in a census.
In 2010, 79% of Murray County households mailed in their census data, Haygood said. This year, the first mailers from the Census Bureau will go out on March 12, and there will be five mailings, total, to encourage participation.
For those who don't complete the census even after all the mailings, census enumerators will be knocking on their doors -- several times, if necessary -- at various times on multiple days of the week, he said. The only way to prevent additional mailers and visits from census enumerators is to fill out the forms and submit them.
The home for information, details and documents regarding the 2020 census is census.georgia.gov, Geary said. "This is your website."
The website also offers tips on forming local count committees, Haygood said. "Everything on the website can be downloaded free of charge."
Haygood and Geary did an adroit job of explaining "why you should care (about the 2020 census) and why it's important to your community," said Nicole Densmore, the chamber's president and CEO. "We want to make sure our community is counted."
The chamber's next Lunch & Learn event is scheduled for Wednesday, Feb. 12, at 11:30 a.m. at a location to be determined, Densmore said. The featured presenter will be Steve Loughridge, superintendent of Murray County Schools, and "we're very excited to hear him speak."
(c)2020 The Daily Citizen (Dalton, Ga.)
Visit The Daily Citizen (Dalton, Ga.) at daltondailycitizen.com
Distributed by Tribune Content Agency, LLC.
McClatchy-Tribune News Service