Penn.'s 'Paint the Plow' Contest Promotes Winter Safety
Each year, PennDOT's Paint the Plow program raises winter safety awareness through art, creativity and community engagement.
---
Editor's Note: Updated November 26, 2018: One winner of this year's theme, Know Before You Go, promotes use of the 511PA app in art work depicting Santa checking his smartphone before takeoff. The app offers color-coded conditions on more than 40,000 miles of road and a real-time plow finder, showing where each state-owned plow is working, according to Connect Radio.
Each year, Pennsylvania's Department of Transportation (PennDOT) offers schools a chance to compete in the popular "Paint the Plow" program, a winter safety initiative designed to make drivers more aware of snow removal teams on the road.
Tara Callahan-Henry, press officer for PennDOT's ninth district, said the program was created in 2015 after seeing pictures of plows for a similar program in Ohio on Facebook.
"I got in touch with the district and asked, 'How can we do this?'" Callahan-Henry said.
Through art and creativity, the program raises awareness of the required distance snow plows require and the winter safety perils of driving too close to snow removal teams. The main target? New drivers.
We started mostly with high schools since those students are just beginning to drive," Callahan-Henry said. "We wanted to get the message out to those who can use it, and help them keep in mind how much space plows need on the road."
Feedback from students was positive, Callahan-Henry said, with many students commenting they hadn't realized how large snow plows actually were, and how much room they need.
The first year was a success, but without a theme, and District 9 officials wanted to narrow down the kind of art they were receiving. In 2016, all participants needed to include the theme "Don't Crowd the Plow" in their entry.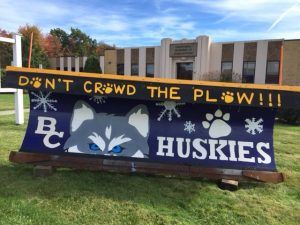 This year's entries will need to include "Ice and Snow, Take It Slow" to be considered by the judges. Winners include a Fan Favorite determined by Facebook voting, and another winner chosen by a panel of judges made up of people from the art communities in the participating counties.
Through the success of District 9's Paint the Plow program, the contest has expanded into six of the 11 PennDOT districts in the state.
And, in a sweet display of history repeating itself, Callahan-Henry told Gov1 that she recently fielded an information request from Greensboro, N.C., on how they can get the wheels going on a Paint the Plow program of their own.
In 2018, nearly three dozen schools received and painted state plow blades. View entrants and winners on PennDOT's Facebook.