Fact-checking vote by mail: FEC commissioner takes to Twitter to defend practice
In a 66-part tweet, Ellen Weintraub aims to set the record straight on the security, and integrity, of voting by mail
---
Who is Ellen Weintraub, and why did she unleash a 66-part tweetstorm at the end of May, which she later published under an official Federal Election Commission (FEC) letterhead?
Before we dive into the tweets, and the much larger backstory behind them, it's important to understand just what's been going on at the FEC.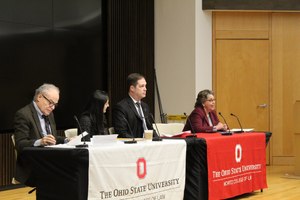 Why the FEC matters
Created after the 1972 election cycle "to follow the money," Weintraub says, the FEC was intended to "promote confidence and participation in the democratic process."
And as the longest serving commissioner – first appointed by President George W. Bush in 2002 – Weintraub appears more often in the media than her counterparts in an effort to draw attention to the issues under the Commission's charge – i.e. free speech, 'dark money' and election security.
Until last month, however, the Commission was also essentially "toothless," in the words of POLITICO's Zach Montellaro. That's because the Commission had been hamstrung without a sufficient quorum to do business for more than a year – until the confirmation of Trump nominee James Trainor, two and a half years after his nomination was first submitted to the Senate.
Even now, with only four members on what should be a six-person panel, there has to be a unanimous agreement for any future rulemaking or to initiate any investigation.
And given Weintraub's candor over the last few years, we probably shouldn't raise our expectations too much. In her 2019 year-end report, she offered a scathing description of the Commission's activities:
"As in most of the past 11 years," Weintraub wrote, "the Commission frequently closed matters without so much as making a phone call to investigate potential wrongdoing."
The Commissioner also told reporters in a December broadcast that half the Commission thinks "the law should not be strenuously enforced" as a first amendment intrusion, whereas the "other half" sees an obligation to enforce the law and prevent corruption.
Weintraub did say on the same program, though, that "we find a surprising degree or have found in the past a surprising degree of unanimity" against foreign interference.
She tweets
This isn't the first time Weintraub has responded to President Trump's assertions about voter fraud – she once demanded that he back up his claims about 'rampant' fraud in the 2016 election, while also politely offering her views of the Presidential Advisory Commission on Election Integrity.
But now, Weintraub seems to have been compelled to meet the president where he is – on Twitter. Part of Trump's skepticism – to understate his concerns – is that noncitizens are being allowed to cast votes for federal office, as he tweeted in May.
Citing a number of news sources and fact checkers, however, Weintraub rebuts this concern, quoting others with links to fact checks and news articles by publications across the political spectrum – including a March Washington Times opinion by former Republican National Committee Chairman Michael Steele, which urged conservatives to support the practice already permitted in over 20 states, Utah among them.
Weintraub comes out of the gate seeking to debunk skeptics of voting by mail, stating outright that Americans will vote "in record numbers" this year and there is simply "no basis for the conspiracy theory" that fraud accompanies voting by mail.
Controverting error as fraud
One contention of proponents is that fraudulent vote by mail "is incredibly rare," according to a Brennan Center piece Weintraub refers to, restating that besides Utah, the practice is common in Colorado, Hawaii, Oregon and Washington. The Center calculated less than 0.0000001% of the mail-in ballots sent by Oregon over twenty years were identified as fraudulent.
Another group (26/66) came to a similar conclusion:
She also refers to a Newsweek journalist (33/66) who writes that 0.004% were classified as "improper" after referring to literature distinguishing 'fraud' from 'mistakes.'
Oregon and Washington are cited regularly as exemplars of vote by mail. Oregon's Senior Senator Ron Wyden (D-Ore.) told a Common Cause remote meeting in May that voting machines are less desirable than the post.
"What will happen is money will go out across the land and the voting machine lobby is so strong that it will persuade some states to buy obsolete, inefficient voting machines that are pretty much useless if you take them out of the box." A member of the Intelligence Committee, Wyden added that hand marking a paper ballot protects against foreign interference.
Claims and counters
Another allegation is to do with ballot harvesting, which refers to volunteers or officials collecting absentee or mail-in voter ballots for submission. Some states like California allow it under state law, while others like neighboring Arizona ban the practice except for family members, while other states like Texas criminalize it as a misdemeanor.
Trump himself acknowledged in a Rose Garden speech that voters with a medical condition should be able to go through a process, but the California rule particularly rankles the president, who said in the same May 26 speech that "anybody that walks in California is going to get a ballot." He has threatened Nevada as well, where state elections officials mailed all voters a ballot and got a "signature cure" system to resolve mismatching signatures, according to a nonprofit state news outfit.  
Common Cause Director of State Operations & Ballot Measure Strategies Elena Nunez points to mail and even email as a viable option for disabled voters, whose ballots can be sent to them to mark at home using their own assistive devices or computers. "But what they do is, they're able to mark it on their computer and then print it out and mail it back for processing."
The President claimed at a May 21 event in Detroit that ballots are sent out for voters in a given district, "but [voters] don't happen to get them" and "call in a panic" with an election nearing without their chosen means of participating. Weintraub responds with an NBC article in kind, allowing election officials of both parties to rebut the president.
Candidate Trump urged just the opposite in 2016, telling Panama City rallygoers to "request an absentee ballot today and vote early. We've got to win." Proponents also point out that Trump himself requested an absentee ballot in his own reelection primary in Palm Beach County, Florida.
Conservatives refute the president
Furthering her 66-part proof, Weintraub pivots to Republican politics, citing an article by The Hill entitled, "Romney counters Trump: 90 percent of 'very Republican' Utah votes by mail" and (42/66) a GOP strategist who warned in Business Insider that "Trump's rhetoric is making it harder for them to persuade their own voters to turn out."
Moreover, Weintraub references an Associated Press article that found a Pennsylvania Trump campaign head urging voters to request ballots themselves for November. Separately, a Wisconsin county party chair waded into the fray, replying to one of the president's tweets that early voting could advantage Republicans.
Hans von Spakovsky, now with the Heritage Foundation, served with Weintraub on the FEC during the second Bush administration and is a bit of an ideological nemesis. While von Spakovsky points to forged signatures, harvesting, 'vote buying' and duplicative registration as risks to vote by mail, Weintraub cites the Heritage's own election fraud database as showing convictions for the 0.00006% alleged fraudulent votes of all cast since the turn of the century.
The President said in a May 20 meeting with governors that "when you send out 7.7 million mail-in ballots, there's forgeries ... duplication" and counterfeit. To this, Weintraub retweets Tennessee Republican Zach Wamp, an eight-term member of Congress elected in 1994.
States adjusting for pandemic conditions
Governor Gavin Newsom (D-Calif.) announced last month that California voters will be mailed ballots before Election Day – an enormous strain on the system should the ballot change in the meantime. Voters must give a reason to vote by absentee ballot in 16 states, while governors in other states have begun to waive the requirement.
Michigan Secretary of State Jocelyn Benson appears in Weintraub's Twitter storm as an aggressive state official trying to administer elections in challenging times. She described measures her state took included mailing every registered voter an application with instructions, aggressive poll worker recruitment, health and sanitation provisions.
Benson testified before Cohen's subcommittee that remarkably, turnout was double what it normally is for a local election, "and 99% of voters who participated in the May election chose to vote from home. There were no crowds at polling places, there were no long lines, and there were zero reports of fraud."
(Read Benson's testimony along with that of witnesses from the Brennan Center, Judicial Watch, Voting Rights Project, American Civil Liberties Union, Transformative Justice Coalition and National Disability Rights Network here.)
I wish it wasn't a health pandemic that forced this conversation," Common Cause President Karen Hobert Flynn said. "But sometimes things have to get bad before people start to look at new opportunities, and so I'm excited because I do think Republicans, Democrats and independents support these measures."
While leery of any "one-size-fits-all" legislation out of Washington, dictating each state "adopt a whole new centralized, non-optional vote-by-mail system before November," Senator Chuck Grassley (R-Iowa) perhaps inadvertently became the newest champion of the importance of voting by mail during a pandemic.
"Last week, Iowans voted in record numbers in our June primary," he said earlier this week on the Senate floor. "In most elections, about 40% of Iowans choose to vote by absentee ballot. This year, in our primary – and understandably because of the pandemic – the vast majority cast their vote by absentee ballot.
"Iowa's successful primary election shows that the absentee ballot system already in place in our state and most states, run by Iowa county auditors is up to the task," he continued. "We've proved that. Every Iowan who wants to vote absentee in November can do so. And those who want to vote in person can also do so safely."
'The real fraud'
Weintraub spends the last ten tweets in the series, which were posted over the course of an hour late at night, with her key takeaways, including:
Her penultimate tweet in the series, however, points to what she deems the most plausible type of fraud we may face this election cycle:
One voting option even conservative Heritage and progressive Common Cause agree on, pandemic or not: Internet voting is not safe. Wyden says to beware of "snake oil salesmen trying to sell these voting apps," even as a few states have attempted online voting.
Maybe Weintraub will address why given the right Twitter provocation.
Review Weintraub's 'official' tweetstorm below:
2020 05 27 ELW Facts About Voting by Mail by Ed Praetorian on Scribd