Election 2020 through the eyes of a Massachusetts poll worker
An elections worker in Salem talks civic pride, vote integrity and pandemic preparedness
---
By M.B. Bainbridge
Let me state at the outset — I have worked the elections in Salem, Massachusetts. I worked the past two historic presidential elections as well as a few city council races. In the City of Salem, poll workers are paid for their shifts, though, admittedly, a day's wages on par with minimum wage is not a major financial stake. I still believe in acknowledging any potential bias.
I am an engaged citizen, thanks to my parents. I enjoy working the polls because I find it to be a terrific lesson in civic engagement. My fellow poll workers are certainly a diverse bunch, but our common thread is an interest in local politics. We all express congratulations when a voter tells us it is their first time voting. I always feel patriotic at the end of my shift, knowing I participated in history.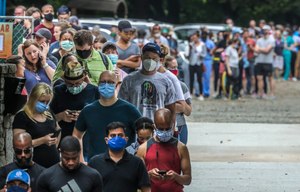 Working the polls requires careful attention to detail, and sometimes a little patience on the part of everyone involved. The Accuvote machines used in Salem can be temperamental, not surprising given their age. The city purchased them in 1998 — intricate instruments that have stood the test of time, but replacement parts are no longer being produced. 
A further testament to their durability occurred last November, when the Ward 6 election results were challenged by the candidate who lost by one vote. Both the machine and the hand count proved the numbers to be exact.
Those contested election results left me with a tiny spot of pride knowing that although I worked at a different ward, it could have been me and my colleagues under the magnifying glass that day.
Salem's population hovers around 43,000 and has seven wards, two precincts each, spread over eight polling stations. Most wards vote in a single location, but Ward 1 has two locations.
According to the City of Salem's fiscal year 2021 department budget, the November 2018 elections had 12,458 people vote while the November 2019 elections saw 12,400 voters; both had a 41% turnout.
The November 2020 presidential election, however, is expected to see an uptick at 70%, meaning 24,500 of the estimated 35,000 total registered voters will likely be casting a ballot this year.
And of course there is also the pandemic to contend with.
I think about the fact that in-person voting must happen indoors, about the need to talk with so many people over the course of several days, and about how close everybody usually works to their neighbor.
I also count all of the necessary touch points; as a voter you talk to two or three different people and you physically handle a ballot and pen.
Like many Americans, I have been following the news about the pandemic and the impact on elections in states like Wisconsin and Georgia. Describing them as rocky is putting it mildly.
We are fortunate in the state of Massachusetts to be able to do a lot of things online, including registering to vote. And thanks to the recently passed elections bill, anyone can download an application to vote by mail, though the new law also requires the state secretary to automatically mail each registered voter an application with a prepaid return envelope.   
A bill has just been signed into law that will allow all Mass. voters to vote by mail without an excuse in any 2020 election.

A summary of recent election law changes in response to COVID-19 may be found on our website: https://t.co/N279ywoOkx

— Mass. Elections (@VotingInMass) July 6, 2020
The new law also expands early voting periods to help make in-person voting safer.
So, what is a poll worker to do? For now, I guess, just wait and see how safe it is to resume my position in the next few months.