New Yorkers Desperate for Shorter Commutes
New York declared a transportation state of emergency in June, but years of disinvestment have left urbanites longing and plotting for shorter commutes.
---
The nation's largest subway appears to be no better after the Summer of Hell, as defined by Governor Andrew Cuomo in June when he declared the state-owned New York City public transit system operated by the Metropolitan Transit Authority (MTA) to be in a state of emergency. Things like signaling problems, disabled trains, splintered wood and 'smoke conditions' plague New Yorkers' commutes on the daily, leaving them pining or paying for shorter commutes, such as the author of this anonymous Facebook post from September 20th: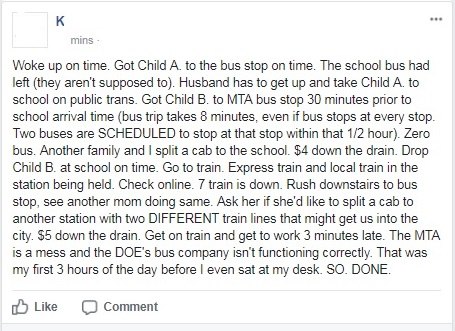 Shorter Commutes are Their Own Pay Raise
It seems New Yorkers will pay $56 per month more in rent to shave a minute off their commute, according to a 2016 analysis of real estate listing by Fivethirtyeight.com.
Conversely, longer commutes caused by planned repairs, such as the 2019 plan for New York's L-train connecting Williamsburg and Brooklyn, are expected to reduce rents for one-bedroom apartments during the shutdown by $200 to $450 per month.
These days, it's not unusual for delays on the ailing subways and buses to increase commutes by half an hour, on each end, regardless of where commuters live. A recent report indicated that by the end of August, frustrating delays had already cost the city's workforce 17,000 lost hours so far this year.
In general, urbanites are willing to spend more on rent for shorter commutes because of the spike in happiness. Proximity that affords shorter commutes may even have cash equivalency, suggested one National Geographic researcher:
"If you can cut an hour-long commute each way out of your life, it's the [happiness] equivalent of making up an extra $40,000 a year if you're at the $50- to $60,000 level. Huge ... [So] it's an easy way for us to get happier. Move closer to your place of work," Dan Buettner told National Public Radio in a 2011 interview about his five-year study of the world's happiest places.
MTA transit riders voice their concerns freely and often with pictures and updates on the failing transit system. One Astoria rider is regularly quoted by local news outlets for his MTA tweets of frustration:
Inside my train it says it's an N going south, but I know it's really a Q going north. You can't fool me @MTA !! #NYCproblems #fixitnow

— Eric Black (@big_daddy_black) June 29, 2017

Others think about leaving the city, unsure when and if the MTA will run on schedule.

The Need for Shorter Commutes is Overlooked

Earlier this month, track debris caused by a splintered, old wood rail covering led to long delays on several train lines running through Manhattan, according to NBC New York. Stations swelled with crowds.

According to CNN's June coverage of the emergency declaration, 700 of the MTA's 6,000 subway cars are beyond their 40-year design life, suggesting a lack of infrastructure planning.

The Riders Alliance, an advocacy group that gives voice to commuters railing at both subway and bus transit service, campaigns that a history of disinvestment in MTA's assets by the state has led to failed service:

Public transit ridership is growing, but public investment hasn't increased to match it.  As a result, our subways are bursting at the seams -- and without a strong commitment of funds to expand service and upgrade equipment, there's no relief in sight for riders.  If Governor Cuomo and state lawmakers don't reverse years of underinvestment, service will continue to deteriorate -- and riders will end up paying more, which is a regressive way to fund a service that the entire city relies on.

There's more than 9 million riders per day, 6 million using the deteriorating subways, according to the CNN report. Commuter groups hold regular protests, while the state and the city argue over how to fund repairs to the system.

Cuomo put up $1 billion for the state of emergency, and within in a few weeks, MTA announced an $836 million short- and long-term plan for repairs. But now, the state wants the city to also come up with funding, and Mayor Bill de Blasio has proposed a tax plan.

According to NBC New York, while civic leaders argue over how to fund repairs, MTA is claiming that service delays improved in July and August.

In October, the agency will announce a blueprint with specific repairs, costs and timelines. Until then, there is little promise of shorter commutes.