Private Sector in Open Government Initiatives Likely to Increase
Open government initiatives are likely to organize around leveraging private sector partnerships to achieve goals by June 2019. Is NTIS the framework?
---
While you might have seen the news that the Trump Administration is supportive of using blockchain technology to improve U.S. government operations -- because senior White House officials indicated as much at last month's Data Transparency 2017 conference -- you might have missed that the national Open Government Initiative is going to increase information sharing with the private sector so it can organize around goals achievable by June 2019.
Acting U.S. Chief Information Officer of the Office of Management and Budget Margie Graves said the fourth version of the Open Government National Action Plan (NAP4), and the Trump Administration's first, will be released in the coming months. The plan will explore how government can use open data to capitalize on blockchain and artificial intelligence, according to FedScoop.
Critics are concerned, however, about the Trump Administration's commitments to transparency and its ability to lead the NAP. Alex Howard of the Sunlight Foundation, who has been participating in NAP4 creation opportunities, noted use of blockchain as a goal is not the same thing as an open government goal.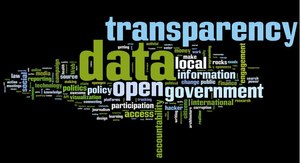 However, White House Director of Strategic Initiatives Chris Liddell also noted at the conference that data sharing between the government and the private sector have shown economic potential.
One of the greatest challenges is also the greatest opportunity: how to unleash the power of data to create a more efficient and effective government," said Liddell. "We must ask what kind of economic opportunity exists in the private sector and within the management of government if we were to make the exchange of data more seamless and efficient."
Embracing private sector partnerships as integral to national open government initiatives could be the more important White House spoiler on the impending Federal plan. NAP4 may architect around developing a solution for one government agency before moving on to the next one, as Liddell previously described.
NTIS Could Be Framework for Open Government Initiatives
Speaking at a nighttime FedTalk in July, Liddell said he is working on creating "centers of excellence," hubs that research and develop best practices and solutions for large sectors.
Liddell gave the example of the Department of Commerce's National Technical Information Service (NTIS) Joint Venture Program. Agencies can request a data solution designed to serve their specific needs, and NTIS reaches out to 35 private sector partners, like Amazon Web Services, Esri and Socrata, with the request to design custom built data analytic tools for those agencies that can be delivered within 60 to 90 days.
Funding and partnerships for smart city innovations grew in emphasis under the Obama Administration.
Cities Partnering with Private Sector
On the local level, the city of Austin, Texas, became the first city to join the global Open Government Partnership through a 2016 subnational pilot that opened it to cities, states and other local jurisdictions, according to StateScoop. Austin has made five open government commitments, according to the OGP website.
Austin previously created Austin CityUP, a non-profit public-private consortium with the purpose of nurturing smart city initiatives. Private sector partners include the likes of Accenture, Amazon, AT&T, Cisco, Conduent, Dell, ESRI, HPE, Hitachi, IBM, Intel, Microsoft and others.
Other cities have supported similar tech incubator partnerships.
Participation in NAP4 via GitHub closed on October 2nd. As part of the global Open Government Partnership, the U.S. has made 45 commitments through the Obama Administration.