CTO Download: Achievements in Open Government
IT Administrator Nicole Guttridge has elevated community engagement in Elk Grove, Calif., increasing citizen participation through open government.
Nicole Guttridge leads the Elk Grove, Calif., IT department driving open government delivery and capturing citizen engagement with user-experience thinking.
The city of Elk Grove, located just south of Sacramento is one of America's fastest growing cities with a population of more than 165,000. Over the last few years Elk Grove has made strides in cultivating a mindset of collaboration between the city's various departments and IT.
From your perspective, what is the IT Department's role in government and how do you feel it has evolved over the years?
Guttridge: At the city of Elk Grove, our IT department has become an integral part of project planning. The city's various departments appreciate the power of technology and look to implement technological advancements whenever it makes sense. We work hard to be a trusted resource that staff can approach for guidance and project implementation. We are problem solvers who can listen to project proposals or challenges and suggest resources that can help achieve their desired outcomes as efficiently as possible.
As a technology leader working within the public sector what specific technologies interest you?
Guttridge: Our IT strategy over the last few years has been to make city hall open online to our residents 24/7. We recognize that our residents are busy and we want them to be able to do business when it's convenient for them. We also want them to be able to have a one stop shop to find information. Our city information gateway does that. We collaborate with almost every department in the city to make useful information available to those who are interested in city activities from budget, CIP projects, GIS Data Layers, to paying bills online and scheduling inspections. It's all available at the touch of a button.
Are there any specific technologies that Elk Grove has adopted to increase civic engagement?
Guttridge: IT's work with the city's public affairs team and budget staff has added tools to the city's toolbox that increase civic engagement and improve our transparency for our residents. Over the past two years, the city has worked with Socrata to add Open Budget and Open Checkbook features to the city website that provide a guided view through complex financial information.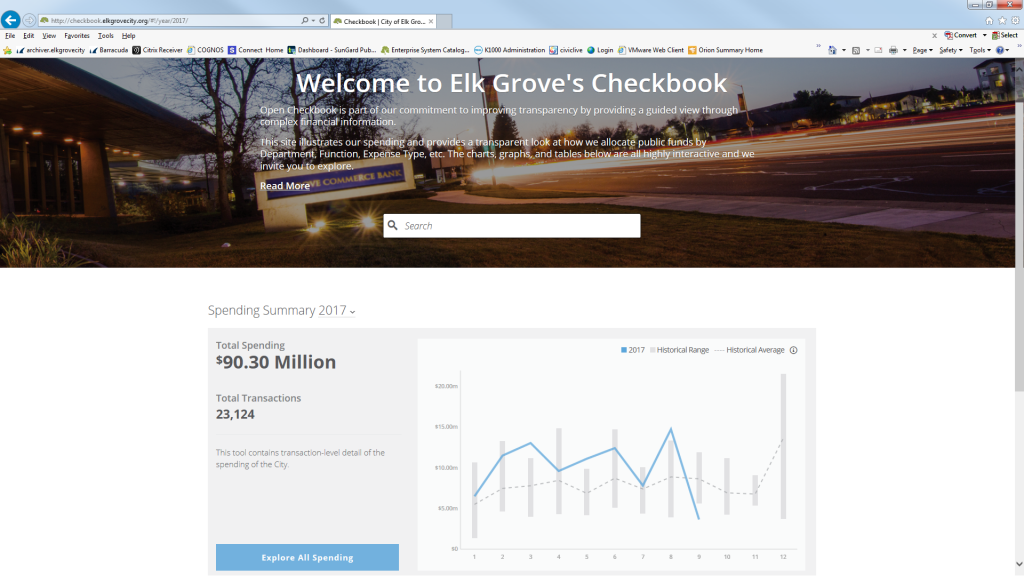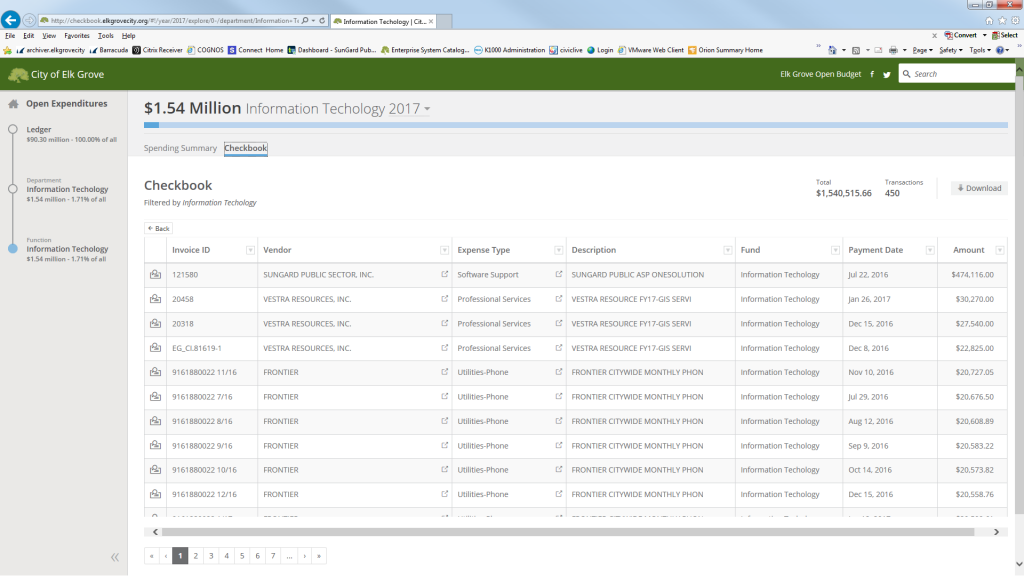 Earlier this year, the city launched Open City Hall, an online discussion forum supported by Peak Democracy. These resources combined with the regular use of Facebook, Twitter and other social media platforms are successfully delivering messaging that is engaging our residents.
And while we continue to rely on Granicus to deliver live and archived broadcasts for Council and Commission meetings, we have started using Facebook Live to inspire more public participation in other community meetings. This strategy increased participation in recent Budget Town Hall meetings by 200 percent over traditional meetings.
What were some of the major challenges Elk Grove faced when attempting to adopt these new technologies?
Guttridge: The primary challenge with implementing our Open Budget and Open Checkbook applications was coordinating with multiple vendors to produce the desired results for our residents. To populate current and historical transactions and budget information in the application, data must be consistently and accurately extracted from our enterprise software. Many vendors have great products that look polished in demos but are not adaptable. Due to the nuances of each city's data significant challenges in uploading and maintaining current data arise. Particularly if a change in structure or operation occurs at the agency, it is challenging to get a third-party vendor to modify an off the shelf product, which can lead to an obsolete product or more cost to the agency. Fortunately, through constant communication with our ERP provider and the software companies, we have managed this process. I would recommend clearly identifying resources for this process on an ongoing basis prior to undertaking any transparency platform.
What are some best practices that have been established to guide you through implementing new technologies?
Guttridge: In IT, we are always looking at projects from three different angles:
The implementation
The benefit
The end user experience
We want to implement projects that are beneficial both internally and externally and don't create a ton of extra work for staff. A great example of this is how we share our budget and expenditure data. We selected a product that was designed to sync with our city-wide software to display the data to the public. Once the set-up was complete, we haven't had to do extra work to maintain it. This project had internal and external benefits that made it a great project for everyone involved. Our internal staff can use the public facing information to query data as well as the public viewing it to do research and ask questions. It makes our financial information available to everyone in an easy to use format that can be easily consumed.
We are constantly evaluating what we can do to assist our internal and external customers and creating an open relationship with staff. Our goal is to have staff want to work with IT to implement projects and get input. Often times we can actually save them money and create solutions with multiple benefits. Technology changes so quickly that we are always looking at new ways to make things more efficient without breaking the bank. At the end of the day, IT should be a partner for problem solving and implementing projects. We want staff to come to us and share what they are working on so we can help them succeed.
The days of the nine to five office are gone. The public's expectation for service from city hall in an online era has changed. Technology in government affords residents and government agencies the opportunity to interact in new ways that offer both parties flexibility and convenience. IT professionals will continue to play a critical role in building the bridge between people and their government.
EfficientGov's CTO Download column highlights the work of civic IT leaders that achieve notable, forward-thinking technical solutions that change the game for their local governments. Who they are, what they believe and their approaches advance cities governing under limited resources.
Civic technology leaders who would like to participate in CTO Download should email editor@efficientgov.com.