Buses and Streetcars Added to Tampa Connected Vehicle Pilot
Transit agencies and partners are adding smart technology to public transit vehicles as part of the Tampa Connected Vehicle Pilot designed to enhance traffic safety and improve mobility.
---
Tampa Hillsborough Expressway Authority (THEA) held a Connected Vehicle Pilot Showcase on November 29, 2018, as a first-ever demonstration of how connected vehicle safety applications on Hillsborough Area Regional Transit Authority (HART) buses and TECO Line System streetcars can help prevent crashes between cars, the transit vehicles and pedestrians.
Participants in the showcase could ride in a car, bus and streetcar connected to the roadway and other connected vehicles. Officials from the U.S. Department of Transportation participated.
"Connected vehicles hold the promise of saving lives while making travel more convenient and efficient. This project is truly one of a kind, and we are excited to see the results. We are taking safety to a new level by showcasing this technology," said James Christian, Florida Division Administrator for the Federal Highway Administration.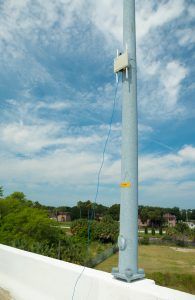 Nearly 50 roadside units (RSUs) are installed along Lee Roy Selmon Expressway's Reversible Express Lanes (REL) and in downtown Tampa as part of the $21 million project. The RSUs can send messages to connected vehicles, such as:
Letting a connected driver know a vehicle is entering a Reversible Express Lane in the wrong direction, and then warn other connected vehicles that a wrong-way driver is approaching
Recommending a safe speed, based on the traffic ahead
Alerting drivers they are in a reduced speed zone or that an express lane is closed to traffic
Warning drivers pedestrians have entered intersections
The Tampa Connected Vehicle Pilot may help address Tampa's daily transportation challenges. According to a THEA fact sheet, inbound commuters on the REL's encounter significant delays and rear-end crashes during morning peak periods. The central business district, and busy crosswalks, result in a tangle of pedestrians, bicyclists, automobiles, streetcars and buses that complicate the city's mobility and increase accidents.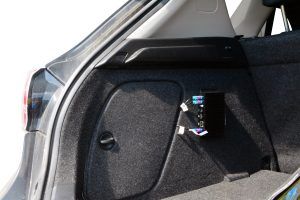 Drivers participating in the pilot make an appointment to have vehicle-to-infrastructure (V2I) communications equipment installed in their cars, which includes include a short-range radio unit in the trunk, one or more antennas and a new rearview mirror. The equipment communicates with RSUs as well as other participating vehicles.
Certain safety alerts are displayed in vehicle rearview mirrors, such as a potential collision warning that is activated when another connected vehicle in the traffic ahead brakes hard.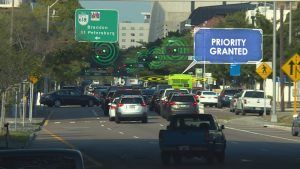 For HART buses, the technology can help prioritize their travel when downtown traffic congestion causes routes to fall behind schedule. The equipped bus will be able to request priority at certain traffic signals.
TECO Line streetcars with connected vehicle devices will warn operators that a connected vehicles is crossing the track in front of the streetcar.
THEA's partners for the Tampa Connected Vehicle Pilot include HNTB, Siemens, the University of South Florida Center for Urban Transportation Research, Brandmotion and Global-5 Communications. Other key partners include the Florida Department of Transportation, the city of Tampa, HART and Hillsborough Community College.
About THEA
A public agency led by local citizens and operating with no tax dollars, the Tampa Hillsborough Expressway Authority (THEA) provides safe, reliable and financially sustainable transportation services to the Tampa Bay region while reinvesting customer-based revenues back into the community. From being the owner and operator of the Lee Roy Selmon Expressway to offering real-time testing and showcasing of connected vehicle and autonomous vehicle technologies, to the designing and operating the world's first reversible all-electronic toll road, THEA continues to drive the conversation on cutting-edge transportation solutions.
Editor's Note: Updated December 5, 2019. Federal officials participated.