Va. FD to create policy for notifying families of firefighters' injuries
Rebecca Knick, wife of Hampton Fire Lt. Eric Knick, raised the issue after an incident where he sustained burns and was treated, but she was not notified
---
By Josh Janney
Daily Press
HAMPTON, Va. — Hampton Fire and Rescue, after facing criticism for not having a policy for notifying family members when firefighters are seriously injured, says it is now addressing the matter.
Earlier this month, during a Hampton City Council meeting, Rebecca Knick — wife of Hampton Fire and Rescue Lt. Eric Knick — raised concerns about Hampton having no notification policy for families of firefighters who suffer a major injury on duty.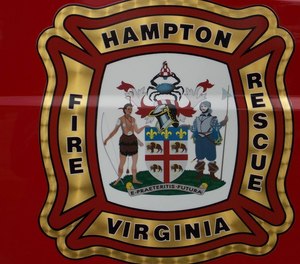 She said her husband nearly lost his life responding to a fire at the Township in Hampton Woods apartment complex on Oct. 21. Eight firefighters and four civilians were injured in the blaze.
Although the incident occurred around 1:36 a.m. that morning, she said the fire department didn't notify her. Instead, she found out six hours later from a friend who had read about it on a mass email sent by the chief that morning.
"The dilemma that I present to you is that Hampton fire has no notification of serious injury policy," she told the council. "None. And this is the second serious injury accident my husband has had in the past 27 months. And it is inconceivable and inexcusable that this city has continually allowed this to happen."
Hampton Battalion Chief Anthony Chittum told the Daily Press in an email that the Division now has a draft policy for notifying family members when firefighters are injured. He expects the draft to be finalized "very soon."
He said there is a separate policy, already in effect, for when firefighters die while on duty.
Chittum said the department's practice on injured firefighters has been to have the firefighters notify their own families if they are able. He said all of the firefighters injured in the Oct. 21 fire "were conscious and able to make notifications themselves or discussed their wishes with senior members of the Fire Division, who honored their decisions."
According to Chittum, within hours after the fire, the injured firefighters, including Knick, were given the chance to have a follow-up appointment at the EVMS burn center and assigned their own private nurse case manager to help walk them through the worker's compensation process.
Rebecca Knick said in a phone interview Monday that while it's true her husband was conscious, he was on ketamine because of his burns. She added that "he also was under a severe amount of shock because he was on fire."
"He wanted me to be there," she said. "But his biggest concern was the fact that we had our child here with us. And he had no idea who was going to take care of our child at 1:30 in the morning."
Knick said the new policy should offer some temporary childcare in cases like that.
She also said the fire department hadn't reached out to her about the new policy, despite her offering to help draft it. She said spouses and next of kin need to be involved because they have "skin in the game." She added that she does "not have any faith at all" that the draft policy that Hampton is working on will be sufficient.
"I don't trust them," she said.
Chittum said the draft is under review by the City Attorney's Office and the City's Risk Management Division. The new policy will give firefighters who are conscious and able to make decisions the ability to decide for themselves whether to notify family members of their injuries.
He said he does not have an estimated timeframe for when the new policy will be implemented.
Josh Janney, joshua.janney@virginiamedia.com
©2023 Daily Press. Visit dailypress.com. Distributed by Tribune Content Agency, LLC.
McClatchy-Tribune News Service