U.S. Conference of Mayors Adopts Sensible Gun Policy
The U.S. Conference of Mayors joins the Major Cities Chiefs Association in adopting sensible gun policy, formally calling on Congress and the federal government to make specific legislative changes.
---
Karen Freeman-Wilson, mayor of Gary, Indiana, and chair of the U.S. Conference of Mayor's Criminal and Social Justice Standing Committee, told Gov1 the national "sea change" is an opportunity for USCM to pull its gun policies together. The mayors organization has had gun policies dating as far back as the 1980s.
The good news is it's being led by young people," she said.
The Major Cities Chiefs Association released an updated and expanded firearms violence policy in advance of the mayors' annual conference. The chiefs are joined by USCM in asking for a universal background check for all gun sales and transfers.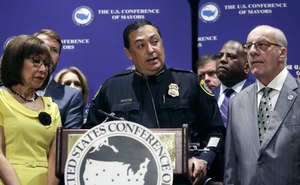 The mayors formally adopted the sensible gun policy by vote during the conference business session, which calls on Congress to formally:
Adopt Universal Background Checks for all gun sales and close both gun show and Internet loopholes
Strengthen NICS definitions of prohibited purchasers to cover all appropriate domestic violence cases, with strict judicial procedures for appeal and reinstatement
Support "Red Flag" legislation and regulations to preclude gun purchases by mentally disturbed persons with histories of violent behavior
Ban "bump stock" devices that replicate fully automatic weapons fire
Maintain ATF regulations and restrictions regarding silencers
Reinstate the assault weapons ban and encourage stiffer penalties for illegal guns
Ban high capacity magazines (10+ rounds)
Ban Internet ammo sales, require in-person transactions, records of sales and licensing of ammo vendors
Oppose legislation that would require states to recognize any and all concealed carry permits
Oppose legislation that further erodes ATF authority
Prevent known terrorists from purchasing firearms and/or ammunition
"Mayors will continue to set the tone," said Columbia, South Carolina, Mayor Steve Benjamin, president of USCM at the event's opening press conference announcing the resolution to be voted on. Benjamin was joined by Houston Police Chief Art Acevedo who added:
History is going to prove mayors are on the right side."