Senators ask Biden administration to examine housing challenges for wildland firefighters
The bipartisan group is asking for information about federal housing in the hopes of bolstering the ranks
---
By Kate Heston
Daily Inter Lake
KALISPELL, Mont. — U.S. Sen. Steve Daines last week called on the Biden administration to address housing challenges for wildland firefighters.
Daines — along with a bipartisan group of colleagues from California, Idaho, Colorado and Oregon — is asking for information on the availability and cost of federal housing for firefighters in the hopes of bolstering the ranks of wildland crews. Housing can act as a barrier to recruiting and retaining firefighters, particularly in remote areas where private options are limited, the group argued.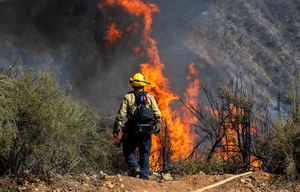 "Federal wildland firefighters have a difficult and dangerous job, and it is the federal government's responsibility to support them in this work. We look forward to discussing these issues in detail and working with you to address the barriers to firefighter recruitment and retention," the senators said in the press release.
The effort comes on the heels of a report published by the Government Accountability Office in November 2022. Among other challenges to federal wildland firefighter retention and recruitment, the report zeroed in on housing problems. According to the report, "many wildland firefighter duty stations are in areas that are remote or expensive, or both ..."
The report found that remote locations come with other challenges, including limited access to services, like schools or grocery stores as well as internet connectivity.
The primary obstacle to recruitment and retention, according to the report, was compensation.
"Low pay was the most commonly cited barrier to recruiting and retaining federal wildland firefighters," the report read. "Officials ... also noted that the pay does not reflect the risk or physical demands of the work. Moreover, officials and stakeholders said that in some cases, firefighters can earn more at nonfederal firefighting entities or for less dangerous work in other fields, such as food service."
In a separate letter to the director of the Office of Management and Budget, the senators requested a briefing on pricing guidelines for federal housing as they relate to federal wildland firefighters.
In recent years, the U.S. Forest Service and Department of Interior have struggled with staffing shortages amid increasingly destructive and widespread wildfire seasons. In July 2022, for example, Sens. Dianne Feinstein and Alex Padilla, both Democrats, beseeched the Biden administration to bolster the ranks of California-based firefighters. In a letter, they cited a shortage of 1,200 firefighters nationally as the 2022 wildfire season got underway.
Feinstein and Padilla both joined with Daines, a Republican, on the push to address housing for wildland firefighters.
According to the U.S. Forest Service's website, hiring for the 2023 wildland fire seasons began in September 2022. The Northern region, which includes the Flathead National Forest, hopes to fill 150 to 200 permanent positions in northern Idaho, Montana and North Dakota. Specialized positions include dispatch, engine crews, smokejumpers and more.
---

Read next
Biden raising federal firefighter pay to fight wildfires
The pay raise will come in the form of retention incentives and by providing additional bonuses to those working on the front line
___
(c)2023 the Daily Inter Lake (Kalispell, Mont.)
Visit the Daily Inter Lake (Kalispell, Mont.) at www.dailyinterlake.com
Distributed by Tribune Content Agency, LLC.
McClatchy-Tribune News Service