NOLA mayor: 'We ARE NOT canceling Mardi Gras,' but city needs more police, EMS
"We are currently operating with 60 percent of our current staffing," said New Orleans EMS Director Dr. Meg Marino
---
UPDATE: (5:16 p.m. Aug. 22 CDT)
Ben Myers
The Times-Picayune | The New Orleans Advocate
NEW ORLEANS — New Orleans Mayor LaToya Cantrell on Friday afternoon said definitively that the city's Mardi Gras celebration would proceed, clearing up confusion following her comments the previous night that a New Orleans Police Department shortage could force her to call off parades and other permitted events.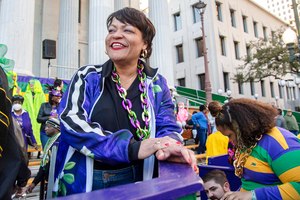 "We ARE NOT canceling Mardi Gras," Cantrell said in a prepared statement.
Cantrell's statement noted stepped-up recruitment efforts, and the opening of a new firing range this week. Additionally, Cantrell's statement highlighted retention bonuses, which will take effect next year, aimed at keeping experience police, EMS and other public safety employees in their jobs.
" New Orleans, like the rest of the nation, is experiencing a shortage of public safety personnel that includes police, fire, EMS — across the board — you name it," Cantrell said.
___
(c)2022 The Times-Picayune | The New Orleans Advocate
ORIGINAL: 
By Leila Merrill
NEW ORLEANS — New Orleans Mayor LaToya Cantrell said at a town hall meeting Thursday night that without enough public safety employees, the city's next Mardi Gras and carnival season may be canceled.
"If we don't have adequate police, it could mean that there will be no Mardi Gras — and that's a fact. If our officers cannot be safe, then there's no way that our city will be safe," said Cantrell, according to WGNO.
"We are currently operating with 60 percent of our current staffing. I want you to think about that for a minute, 60 percent of the number of EMS providers to make the city safe and healthy," New Orleans EMS Director Dr. Meg Marino said.
The mayor said that the police department is working on recruitment and retention.