Lawrence, Boston Mayors Address Trump's Comments (About Drug Trafficking, Immigrants)
President Trump said that Lawrence, Massachusetts, and Boston are sanctuary cities that harbor drug traffickers responsible for a fentanyl epidemic in southern New Hampshire. City leaders say he is criminalizing immigrant communities.
---
Yesterday when President Donald Trump went live on national television to again address the nation about the opioid crisis from Manchester, New Hampshire, he not only proposed the death penalty for certain drug trafficking crimes, he connected sanctuary cities as places that harbor drug traffickers.
Trump's comments came after he praised Federal, local and state law enforcement for Operation Granite Shield, "an 18-hour enforcement action targeting drug traffickers that resulted in the arrest of 151 people," and explained why he is pushing the death penalty: Trump said if the United States isn't going to get tough on "drug dealers who kill thousands of people and destroy so many people's lives, we are just doing the wrong thing."
He specifically called out Lawrence, Massachusetts, as the main source of opioid drugs coming into several badly affected counties in Southern New Hampshire, and also accused Boston of harboring the problem as well, according to the Boston Globe transcript: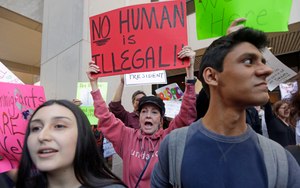 According to a recent Dartmouth study, the sanctuary city of Lawrence, Massachusetts, is one of the primary sources of Fentanyl in six New Hampshire counties. ICE recently arrested 15 MS-13 gang members -- these are not good people, folks. Okay?...These are bad people -- in Boston, Massachusetts, which is a place where you have sanctuary cities," and then he repeated his call for the Federal government to block Federal funding to them.
Mayor Dan Rivera, Boston Mayor Marty Walsh and Lawrence Police Chief Roy Vasque responded with statements, according to WCVB
Vasque said the city of Lawrence is making a historic number of arrests, and works with all local, state and Federal law enforcement agencies on narcotics enforcement.
According to the televised WCVB report, crime in Lawrence is down 35 percent this year.
Rivera invited the President to come to Lawrence and see for himself what the city needs, calling out a lack of current Federal funding for treatment.
In October 2017, President Trump announced a national public health emergency for the opioid epidemic, but did not provide any additional funding. However, while in Manchester, Trump mentioned $6 billion was coming in 2018 and 2019.
Rivera said Trump was making the face of the problem "some boogie man that came across the border," and was creating divisiveness.
Walsh said Trump "criminalized both our immigrant community and those suffering from substance abuse."