Ill. vaccination mandate spurs 3 volunteer fire districts to decline medical calls
"Volunteers are hard to come by": Assistant Fire Chief Travis Buhnerkempe said the definition of a health care worker and rules for them create a staffing concern
---
Charles Mills
Effingham Daily News, Ill.
EFFINGHAM, Ill. — The Dieterich, Watson and Edgewood volunteer fire protection districts are not responding to EMS first responder calls.
Tina Daniels, 911 Systems Administrator and Effingham County Sheriff's Department Communications Supervisor, said in an interview that three letters were sent to the Effingham County Public Safety Answering Point (PSAP) from the Dieterich Fire Protection District, Watson Fire Protection District and Edgewood Bi-County Fire Protection District letting dispatchers know about their change of status.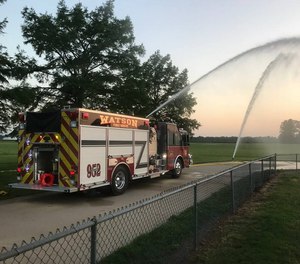 However, all departments said they would continue to responding to fires, vehicle accidents, calls where CPR/AED is needed and requests from EMS to assist with manpower.
Effingham County Sheriff Paul Kuhns informed the 911 Board in September about the three fire department's status change. Kuhns said in that meeting the action by the fire protection districts were prompted by advice from each department's legal council.
"Volunteer fire departments are a wealth of service when we need something," Kuhns said in an interview. "They have manpower, they're trained and always eager to help."
He said they also help the sheriff's office at accidents for scene and traffic control.
Jake Buhnerkempe, 911 Board Treasurer, said at a 911 Board meeting Tuesday afternoon a fire department's decision not to respond to EMS first responder medical calls is up to the individual fire department and their boards. He said the 911 Board does not have jurisdiction over volunteer fire departments.
He said the Tri-County Fire Protection District, based in Beecher City, and the Shumway Fire Protection District, were the only fire department's in Effingham County responding to first responder medical calls in their districts.
The Altamont Fire Protection District, Teutopolis Fire Protection District and Montrose Fire Protection District have never responded to first responder medical calls, according to Daniels.
Watson Fire Protection District Assistant Fire Chief Travis Buhnerkempe said in an interview the decision was not easy. The district has 21 volunteer members.
An Executive Order signed by J.B. Priztker on Sept. 3 included vaccination requirements for health care workers, according to the Illinois Department of Public Health website. The definition of a health care worker and vaccination requirements for a health care workers became a concern for the Watson fire department when it comes to keeping volunteers.
"It is a struggle to keep that number where it is," Buhnerkempe said. "Volunteers are hard to come by."
Buhnerkempe said the fire protection district is statutorily required to provide fire protection to those living in the Watson Fire Protection District. He said in order to fulfill that obligation they have to do whatever possible to keep their current volunteers.
"Therefore, we opted to not make vaccinations mandatory because we knew if we did that we would loose several of the 21 volunteers we currently have," he said. "This is a long discussion we had within the department."
He said the final decision was made in coordination with the district's legal counsel, Watson Fire Protection District Board of Trustees and volunteer firefighters.
Buhnerkempe said they laid out the situation to all parties involved, giving them the option of voluntarily getting vaccinated. The decision was made not to enforce a vaccine requirement for their volunteer fire fighters due to potentially losing volunteers who felt strongly against vaccinations, he said.
Of the 21 volunteer firefighters in the district, 13 are licensed by IDPH to be first responders, according to Buhnerkempe. He said the Watson Fire Protection District averages 10-12 EMS calls a month over a 12 month period.
He said if the language in the Executive Order changes or is rescinded the department would resume taking EMS first responder medical calls.
Dieterich Fire Protection District Ross Martin said his all volunteer fire department didn't always take first responder medical calls.
"We are not bound by any law that we have to respond to first responder medical calls," Martin said. "That is something we started around 2009."
He said first responder medical calls vary from year to year and averages anywhere from 70-80 first responder medical calls every year in their district.
Martin said he currently has 22 volunteers on his department with 12 licensed first responders on his department. He said he told his first responders to keep up on their license requirements.
"They are going to keep striving to keep their license up to date," Martin said.
"We do not require volunteers to be vaccinated," Martin said. "If they take away the mandate that says they don't have to be vaccinated, we will return to taking first responder medical calls."
He said there have been some misconceptions from the public about the situation, especially on social media.
"We are still going to be there," Martin said. "We are still responding to house fires and accidents. The fire department has been in action since the 1800s and in 1955, we became a volunteer department."
"We will always be in the community," he said. "This is just a hiccup we'll get over."
___
(c)2021 the Effingham Daily News (Effingham, Ill.)
McClatchy-Tribune News Service