Ending Mass Incarceration Is a Local Issue for John Legend
When John Legend addresses mass incarceration, he impresses upon local lawmakers the social and financial costs of 65 million offenders.
---
"Over 90 percent of our prisoners are in the state prisons and local jails...Changing state laws and changing practices on the local level is going to be where most of the change is anyhow," John Legend told BuzzFeed in June. Legend addresses the social and financial costs of sky rocketing mass incarceration with the state and local lawmakers he meets as he continues his social justice work.
Free America is the legendary music artist's campaign to change the national conversation about America's criminal justice system. Incarceration has increased 700 percent in 40 years with one in four adults having a criminal record, according to the website.
Mass Incarceration: Are We Throwing People Away?
Gov1 was present when Legend was recently honored for his social justice work at Salem State University in May.
"It's who he is away from the piano is why we're recognizing him tonight," said Salem, Mass., Mayor Kim Driscoll as she welcomed Legend for the inaugural Salem Advocate for Social Justice award by The Salem Award Foundation for Human Rights and Social Justice.
While his education work was a top reason for the recognition, he discussed his activism in addressing the school-to-prison pipeline and mass incarceration with Boston news anchor Lisa Hughes.
"We're more prone to lock people up than other countries," said Legend, noting that imprisonment leaves a stigma in all future endeavors, from getting a job to voting. After leaving prison, Legend wants to ensure that as a society, "we don't just throw them away."
Is Mass Incarceration Fueled By the School-to-Prison Pipeline?
Legend did not start his social justice campaigns solely on his passion to make change, he said, imploring that to truly effect change, passionate people need to do their homework.
He said he hired experts to educate those that would be working on his campaigns to find out what works, what doesn't work and perhaps most importantly, where resources should be allocated to effect change.
Part of the homework for Free America was looking at the realities of the juvenile justice system, and the number of minority youth that end up incarcerated, and that inevitably stay in the system. Via Youth First in March, Legend said:
We started our work to end mass incarceration after years of working to improve the quality of K-12 education for the most disadvantaged. We saw again and again that, far too often, kids who look like me and who come from poor and working class neighborhoods like my own, find that instead of getting a good education and a chance to go to college, they get prison."
Education & Mass Incarceration
In Essex County, which Salem is part of, 36.5 percent of the current male inmate population aged 19-29, has less than a high school degree, according to anonymized data provided by the Essex County Sheriff's Office. Another 16 percent have a GED. The number is close to the national average that can be calculated from the most recent Bureau of Justice Statistics data from the late 1990s, which showed of all jail inmates, regardless of age, that 31.6 percent  had less than a high school education, and 12.3 percent had just eighth grade or less.
National data on the school-to-prison pipeline and how education correlates to imprisonment is spotty, and outdated, at best. The educational attainment data in this table is still referenced in a BJS report on prisoners released in 2015: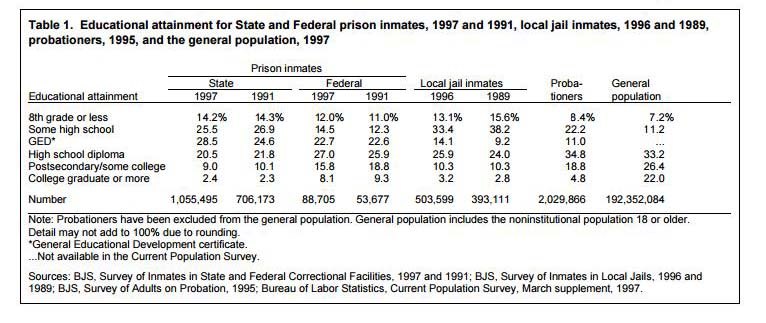 But is a reduced education level a catalyst of America's high prison population, and is education also the solution?
According to a 2013 RAND Corporation report of correctional educational studies, participation in prison education, including both academic and vocational programming, was associated with a more than 40 percent reduction in recidivism.
That same year, The Alliance for Excellent Education also cited education as a way to lower the national cost of mass incarceration. The report suggested that the U.S. could save as much as $18.5 billion annually if the high school male graduation rate increased by only 5 percent.
To address the school-to-prison pipeline, the Youth First Initiative is calling for an overhaul of the $5 billion per year youth prison system and widespread juvenile detention centers as harmful, ineffective and excessively expensive, and in their places, establish community-based alternatives.
Education's role, and the youth prison system, are surely subjects Legend will address as he continues to speak with local lawmakers that might change the tide of mass incarceration through the criminal justice reforms they may effect.