Regional Healthcare Coalition Tackling Community Opioid Wave
Public health, public safety and other officials from several Wisconsin counties formed a healthcare coalition to fight the community opioid crisis.
---
La Crosse, Wis., has healthcare that is recognized nationwide. But beneath the dappled sunny side of a city that feels like a hometown is an insidious and ugly underbelly of an alternate reality – where the abuse of prescription drugs has bred a growing number of addicted individuals.
Dr. Chris Eberlein, the medical director for Tri State Ambulance and medical director of the Region 4 Healthcare Coalition, has been known to contact the local news stations, requesting airtime to warn of a particularly potent batch being evidenced in the trucks of Tri State and the local ERs as overdose rates spike.
The healthcare coalition he leads is comprised of emergency management, public health, EMS and hospital representatives from a number of counties in southwest Wisconsin. It's a work in progress, but what's important is that the problem is identified and its members are committed to effecting a change. The participants are in it for the long haul.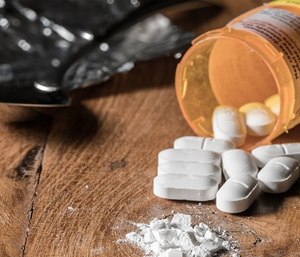 Creating a Healthcare Coalition
The group of local stakeholders shared a common goal; identification of needs/concerns and implement initiatives specifically designed to meet those community goals.
Stakeholders in the task force include:
County administrator
Board chair and clerk
Human services and the health department
Medical examiner
County sheriff
Police department representatives
Ambulance director
News media
AIDS resource center representatives
Professor from one of the local colleges
Superintendent from the local school district
Director of the region's council on addictions
Dr Eberlein
Nurses
The mission statement reads:
The goal of this effort is to create a self-sustaining coalition task force of community stakeholders to identify and implement community-based strategies that reduce the public health burden of heroin and other illicit substance use in La Crosse County. Our intention to pilot this initiative is to: save and protect lives, reduce illegal and prescription drug substance misuse, improve overdose interventions, improve early intervention to treatment and recovery, provide education to the community about heroin and prescription drugs and to reduce the burden on the criminal justice programs."
Healthcare Coalition Initiatives
In a time of instant results and demands for transparency, division and rhetoric, sometimes what it takes to succeed is the quiet determination of those involved to not stand by silently, and join shoulder to shoulder. Their work includes:
Creation of medication drop-offs within the community, where individuals can safely turn over expired/no longer necessary medications
Establishing a free needle exchange
Working with members of the regional healthcare coalition, survivors of heroin abuse give community presentations about the realities of being addicted, and close with the inspiring message of recovery
Distributing opiate overdose toolkits
Developing a map of recommendations and strategies, including committing to regular meetings
Posting an online list of resources and contact information
About the Author
Crystal Wallin, NREMT-P, CCEMT-P, is a dual licensed Minnesota and Wisconsin paramedic who began as a volunteer responding in her personal vehicle. She is a preceptor and field training officer with Gundersen Tri State Ambulance in La Crosse, Wis., and a nursing student. She served as an executive council board member of the Wisconsin Southwest Regional Trauma Advisory Council and as the EMS representative on the Wisconsin Healthcare Coalition board for Region 4. She is also the featured writer for the Professional Ambulance Association of Wisconsin, and blogs monthly at Standby for Tones.