Can Florida's vulnerable communities contain coronavirus? Experts are concerned
A "perfect storm" of factors — the uninsured, underemployed and elderly — are working against the state as it confronts an unprecedented threat.
---
Tampa Bay Times
By Justine Griffin
When Mern Wendrow moved to Spring Hill 18 months ago, he knew he was going to lose his health insurance.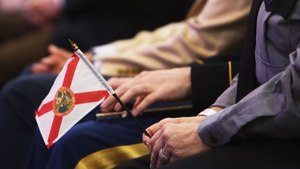 Wendrow, 64, had enough of Chicago weather and was ready to retire, but he wasn't old enough to qualify for Medicare yet. He's a fairly healthy guy — "I look much younger than 64," he said — so he decided to forgo the $800-a-month plan he found through the Affordable Care Act. But after just nine months in Florida, he needed to have a broken tooth extracted. It cost him $5,000.
"I put it on my credit card," he said. "I had to get it fixed."
Wendrow is not in the best position to get sick or consult a doctor right now, a predicament he shares with 2.7 million other Floridians without health insurance. The statistic is one of three factors that make Florida an especially vulnerable place as the coronavirus begins to make inroads.
Health analysts also point to the state's large population of seniors, who are most susceptible to the virus, and millions of service workers who rarely get sick leave and are less likely to seek treatment.
In some ways, we are the perfect storm state," said Anne Swerlick of the Florida Policy Institute in Orlando. "There are facts we know about Florida that are going to make it harder to respond to this crisis."
Florida, under former Gov. Rick Scott, was one of a handful of states that chose not to expand Medicaid during the Obama era. Medicaid expansion, which was federally funded, would have provided 391,000 more Floridians with health insurance, said Jennifer Tolbert, the director of state health reform with the Kaiser Family Foundation.
"We know that 52% of the uninsured don't have a usual place to go to when they need medical care. That means they don't have a primary care physician or a relationship with a clinic," she said. "That's a barrier in itself."
Florida's uninsured rate hovers at 13%, while the national average is 9%.
A related issue is the potential cost of treating patients with the coronavirus.
At a news conference last week, Gov. Ron DeSantis said the Trump administration would find funds to help states get reimbursed for testing. Now a U.S. Senator, Scott tweeted Tuesday that he was "calling on Congress" to include money in an emergency supplemental appropriations bill to pay for coronavirus tests for anyone experiencing symptoms. He urged his colleagues to "pass it now."
It is still unclear whether patients who are administered a coronavirus test by the state health department are expected to pay for it. Some officials have said the test is free. But if a patient is tested at a hospital or urgent care clinic, they are expected to make a co-payment if they have insurance, or pay out-of-pocket if they don't.
Late last week, insurers Cigna and Florida Blue announced they would cover the cost of all coronavirus tests for patients. Medicare also covers the test.
There is no requirement that all hospitals provide charity care programs. While many do, patients typically enroll in the program only after they've received services and after they've gotten the bill," said Tolbert, of the Kaiser foundation.
She said that might be why over a quarter of the uninsured population in the United States postpones or avoids medical care altogether because of cost.
"So in a situation where you are trying to reduce barriers to get people who may be at risk of the coronavirus to get tested or treated, this is an extra battle the uninsured face," she said.
The health department also recommends that people with possible exposure to coronavirus "self-isolate" at home for up to 14 days, limiting contact with others during that time. For financial reasons, some would feel forced to work while managing an illness, said Swerlick, of the policy institute.
These viruses don't discriminate," she said. "We're all in this together. It's very hard to isolate yourself no matter your socioeconomic status. You'd hope that employers are providing some sort of incentive for people to not come to work when they're sick."
About 30% of private sector workers in the U.S. do not have sick days, said Emily Gee, a health economist for the Center for American Progress in Washington, D.C. In Florida, she said, data suggests that number is 47%.
"The big picture is that strenuous events expose how big the holes in safety nets really are," Gee said. "Some people may be able to telecommute for their jobs, but the reality is not enough workers have sick leave. It's unfortunate that staying home is so costly for workers when it's the right thing to do."
For now, Wendrow, the Chicago transplant, isn't worried about contracting the coronavirus in Florida, where seven cases had been announced as of late Friday, including two in neighboring Hillsborough County and two cases in other parts of the state that resulted in deaths. State officials have warned that more cases are likely to come.
"I'm fine. I haven't seen a doctor since I moved down here," Wendrow said. "I rarely feel sick. I quit smoking seven years ago, too."
At his age, he's a few years away from another category that gives health analysts pause about Florida's resilience to the virus — people in their 70s, 80s and older.
No state has a higher share of residents in that age group than Florida, many of them living in some 3,000 assisted-living facilities. Early data indicates they are at a higher risk of dying if they catch the virus.
A recent study of confirmed cases in mainland China found that the death rate for patients 80 years and older was more than six times as high as the overall death rate of 2.3%. The rate was four times as high for patients in their 70s.
Sorting through this crisis will be a process, said Jay Wolfson, a professor at the University of South Florida's College of Public Health and an expert on health care policy.
We are going to have to learn as we go with much of this," he said. "Employers are going to have to determine the trigger points at which they will determine if and when it is worth paying people to stay and work at home. Finding ways to reduce contact among people is critical to a basic public health strategy of control."
Wolfson compared the threat to a hurricane: You can't control its path, you hope it won't be a direct hit, but you can affect the outcome by preparing.
"We cannot put the cork back in this bottle," he said. "The virus is out and spreading."

(c)2020 the Tampa Bay Times (St. Petersburg, Fla.)
Visit the Tampa Bay Times (St. Petersburg, Fla.) at www.tampabay.com
Distributed by Tribune Content Agency, LLC.