Equipping your campus to meet tomorrow's challenges today (eBook)
Download your free guide to technology and grants funding to help schools increase campus safety, as well as access for remote learners
---
Sponsored by Motorola Solutions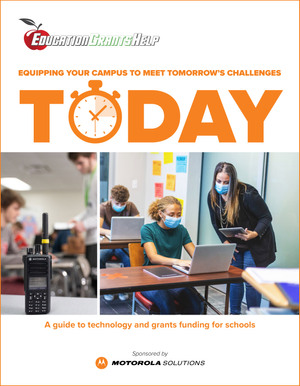 Students have largely returned to campus, even as the COVID-19 pandemic continues – so "school safety" has taken on a dual meaning. Traditional measures to increase campus safety include access control, security cameras and radios, but contact tracing and distance learning are now a critical part of the equation.
This guide provides information about several important aspects of the ever-evolving educational environment:
New funding priorities for education grants that have emerged since the coronavirus pandemic.
The current federal landscape for grants to support school safety, distance learning and other programs.
Tools available to promote campus safety and distance learning.
How your organization can successfully prepare and submit an application for funding.
Fill out the form on this page to download your free digital copy of the guide!
FILL OUT THIS FORM FOR YOUR FREE COPY OF "Equipping your campus to meet tomorrow's challenges today"