Judge stops NC town's limits on protests after ACLU files lawsuit
Graham's ordinance prohibits two or more people from protesting unless the police chief approves a permit filed 24 hours in advance
---
The News & Observer 
By Lynn Bonner
GRAHAM, N.C. — A federal judge has put a hold on the city of Graham's limits on protests, saying it cannot impose its restrictions on demonstrations for the next two weeks.
Graham's ordinance prohibits two or more people from protesting or "making known any position or thought of the group or of attracting attention thereto," unless the police chief approves a permit filed 24 hours in advance.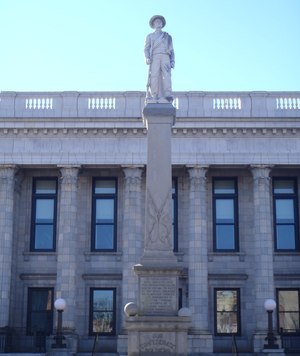 Graham Mayor Jerry Peterman shut down permits with a June 25 amendment to the city's State of Emergency, The News & Observer reported.
A Confederate monument at the courthouse square has attracted protesters for and against its removal. A Graham police sergeant in late June warned a single person with a sign that she could be arrested for loitering.
On July 1, after Graham lifted its four-day ban on protest permits, more than 50 people showed up to a Black Lives Matter demonstration there.
The ACLU and the ACLU of North Carolina joined the Lawyers' Committee for Civil Rights Under Law and the Lockamy Law Firm to file the lawsuit in U.S. District Court in Greensboro on behalf of the Alamance NAACP and eight people who wanted to protest in Graham, The News & Observer reported. The lawyers sought a temporary restraining order. Peterman and the other defendants did not oppose the order, according to the court document signed Monday.
Peterman and Graham's two city attorneys did not return telephone calls or respond to email from The News & Observer Monday afternoon.
A court hearing is scheduled for July 20.
Mayors in the towns of Burlington and Mebane, members of the Alamance-Burlington school board, Elon University's president, businesspeople and civil rights groups have asked the county to relocate the statue. The News & Observer reported last week that the county has no plans to move it.
Graham's protest ordinance restricts participation by people younger than 18. Permit applications must say whether minors will participate, and the police chief must approve.
As applications are considered, the police chief must determine that a protest won't require "excessive diversion" of police from other duties, and that a protest won't bother property owners or interfere with foot or road traffic. Under the ordinance, demonstrations can be limited to six people, and the protest area can be restricted to 100 feet on a sidewalk.
The request for the temporary restraining order said the ordinance is overly broad, aims to limit protests, and "invites discriminatory enforcement against disfavored views" by giving the chief the power to deny permits without objective standards.
This ordinance's only purpose was to suppress the rights of protesters," Kristi Graunke, legal director of the ACLU of North Carolina, said in a statement. "People have a right to express dissent against racism, police brutality, and white supremacy. The order issued today upholds their right to do so without fear of harassment or arrest."
Next: Why cities can't deny protests, rallies & demonstrations
(c)2020 The News & Observer (Raleigh, N.C.)
McClatchy-Tribune News Service