Dozens sue Chicago Police over tactics at protests in 2020
60 plaintiffs allege they were beaten and unlawfully arrested by Chicago police officers at George Floyd protests
---
By Jeremy Gorner
Chicago Tribune
CHICAGO — Chicago was still struggling with looting and violence in the wake of police protests late this spring when Amika Tendaji and Jasson Perez heard about a mellow, anti-police demonstration taking place on a Sunday in Hyde Park.
"People began saying hello to their neighbors, presumably not seeing them in a while, and just chatting," recalled Tendaji, who brought her daughter and nephew to the protest.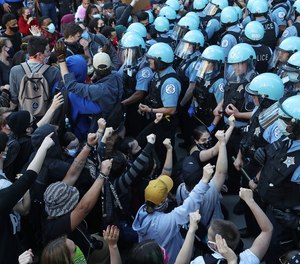 But things took a turn as the demonstration wound down, she said, when police forced the crowd to leave the neighborhood in one direction when some of their cars were parked elsewhere. Soon enough, officers clashed with protesters, resulting in Tendaji getting bruised and beaten, she said.
Jasson Perez, who showed up separately to the event, said he tried to get police to stop grabbing and beating his friends with batons before he himself was beaten by officers, suffering a concussion and needing several staples to close a gash in his head.
"I was just like, man, they're just in a mode. They're upset about something," Perez said of police.
He and Tendaji were among 60 plaintiffs who filed a federal lawsuit Thursday against numerous Chicago police officers, alleging they were beaten, unlawfully arrested and mistreated in other ways by cops during several of the protests throughout the city this year as part of the fallout from George Floyd's death at the hands of police in Minnesota.
"The ( Chicago Police Department) and other city agencies responded to these demonstrations with brutal, violent, and unconstitutional tactics that are clearly intended to injure, silence and intimidate plaintiffs and other protesters," according to the more than 200-page lawsuit. "These abuse tactics include beating protesters with batons — often striking them in the head; tackling and beating protesters while on the ground; using chemical agents against protesters; falsely arresting protesters; and trapping protesters in enclosed areas."
The suit alleged that officers went after protest leaders, legal observers, medics and people recording the demonstrations "with unlawful, retaliatory and lethal force." Police also destroyed cameras, phones, eyeglasses, and confiscated bikes, backpacks and other belongings, the suit alleged.
A Chicago police spokesman Thursday morning referred all inquiries to the city's Law Department. A spokeswoman there said the city had not yet been served Thursday morning.
"But it is important to remember that these are allegations at this stage and not proof," Kathleen Fieweger said in an emailed statement. "We will review the complaint thoroughly, and each allegation it contains, once we have been served and respond through the courts as appropriate."
The lawsuit takes a historical perspective, citing several events in the last century where Chicago police were accused of abusing citizens, including the 1919 race riots, the unrest that followed the 1968 assassination of the Rev. Martin Luther King Jr. and a protest in 2016 against then-presidential candidate Donald Trump outside what was then known as the University of Illinois at Chicago Pavilion.
Sheila Bedi, a civil rights attorney from Northwestern University's Pritzker School of Law, said those events reflect how Chicago police officials for more than 100 years have allowed their officers to "brutalize those who speak out for progressive change."
She also said the lawsuit signifies the department's noncompliance with a court-ordered consent decree to improve the city's policing practices.
In early June, the former federal prosecutor tasked with monitoring the department's progress, Maggie Hickey, said she would investigate complaints that police had abused protesters. She has yet to deliver her findings. Hickey held listening sessions over two days in August and heard activists complain that police had beaten and insulted peaceful protesters.
The lawsuit comes a little over a week after Chicago's civilian police investigative agency disclosed more than 500 complaints have been filed against Chicago police officers since late May on allegations of misconduct during the demonstrations. At least eight Chicago cops involved in responding to the protests have been stripped of their police powers pending investigations, though neither the agency — the Civilian Office of Police Accountability — nor Chicago police have revealed why.
Bedi said the plaintiffs in Thursday's lawsuit consist of community organizers, such as Perez and Tendaji, and regular citizens who wanted to express their First Amendment rights during protests on May 30 along the Magnificent Mile and other parts of downtown; the following day in Hyde Park; July 17 in Grant Park in front of a Christopher Columbus statue; and on Aug. 15 in the Loop.
Chicago police Superintendent David Brown, also named as a defendant in the case, has said "agitators" in peaceful demonstrations since late May have caused many of his officers to get hurt.
The protest-related complaints began to roll in four days after Floyd's May 25 death, which sparked outrage throughout the country, led to widespread protests and unrest, and sparked a renewed national conversation about U.S. law enforcement's treatment of Black Americans.
Tension between Chicago police officers and protesters, including Tendaji and Perez, were heightened in Hyde Park on May 31, the same day widespread looting and gun violence rocked the city and a day after a peaceful demonstration downtown had given way to rioting.
In the lawsuit, Tendaji contends she was near 53rd Street and Lake Park Avenue when she said she saw an officer brandishing a rifle, something she told the Chicago Tribune wasn't necessary. When she saw people getting detained by police, she said she wanted to try to find out who they were to help find lawyers for them.
Perez alleged in the lawsuit he was beaten at different times by officers at the protest, including when he tried to get in between the cops and another person he knew from the crowd.
"My head was kind of in a blur," he told the Tribune, adding that because of his injuries, he now can't hold down coffee and other foods because they make him nauseous.
Perez and Tendaji both contend they saw someone else they knew on the ground being held down by an officer's knee, the same action that led to the death of Floyd.
It was the same protest where Chicago Police Board President Ghian Foreman alleged he too was beaten by police. While an internal investigation continues in his case, he is not a plaintiff in the lawsuit.
Tendaji told the Tribune she had never seen the police act so brazenly in broad daylight in front of witnesses. She said protesters should have the right to keep fighting against rogue police actions without interference.
"These are armed, trained folks who have a duty to stand down, to make things safe and to calm and to de-escalate situations," Tendaji said.
Perez said the type of police behavior he witnessed that day goes against the city's claim that it's reforming CPD.
"I think we all should just want a police department that follows the rule of law," he said. "We're under a consent decree, then you follow what the consent decree says. You cannot do that to protesters."
(c)2020 Chicago Tribune
McClatchy-Tribune News Service