Mayor details ongoing steps to protect Charlotte, N.C. sanitation workers from COVID-19
The move follows pushback from the union that represents city sanitation workers over not doing enough to protect workers from COVID-19
---
By Joe Marusak
The Charlotte Observer
CHARLOTTE, N.C. — Mayor Vi Lyles on Tuesday detailed ongoing steps to protect Charlotte sanitation workers against COVID-19, the disease caused by the new coronavirus.
The mayor reiterated the measures, and announced a new one, a day after the city got pushback from the union that represents city sanitation workers over not doing enough to protect workers from COVID-19.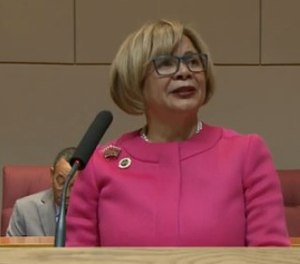 Union officials said all 200-plus city Solid Waste Management workers "were told to report to work, all entering the same building, in violation of social distancing recommendations from public health officials," according to a statement Monday by the Charlotte city workers union, UE Local 150. UE is short for United Electrical, Radio & Machine Workers of America.
The mayor said sanitation employees have been reporting to work in 15-minute intervals to reduce the number of workers together at one time entering the building. The Solid Waste building is in the 1100 block of Otts Street.
Workers who've collected yard waste and bulk items curbside, meaning they have to leave their trucks to get such items, have been working one week and then getting the next week off, with pay, according to the mayor. That new shift will be repeated throughout the COVID-19 crisis.
Those measures began a month ago, Cory Burkarth, Charlotte media relations manager, told the Observer.
And Lyles detailed a new measure on Tuesday: Solid Waste workers who've left the trucks to collect yard waste and bulk items will be retrained to handle the mechanical arm that picks up the regular trash and recycling bins.
The city, along with the town of Matthews, temporarily ended yard-waste pickup during the COVID-19 pandemic because of social distancing concerns.
It takes two workers to get out of the truck to pick up curbside yard waste, as opposed to regular trash and recycling bins that a mechanical arm lifts into the trucks.

©2020 The Charlotte Observer
McClatchy-Tribune News Service