A Bike Lane Promises Improved Mobility in Mobile
Federal TIGER funding seals Mobile's downtown reconstruction plans, with complete streets featuring a bike lane, narrower roadways and crosswalks.
---
After two attempts, the city of Mobile, Ala., was approved for a $14.4 million federal Transportation Investment Generating Economic Recover (TIGER) grant in 2016 to renovate portions of their downtown district, which includes the addition of a bike lane.
Federal Funding Comes Through
The TIGER grant funds, which are awarded to projects that increase the safety and reliability of transportation in communities, will be used to reorganize the car lanes in the Beauregard Street and Broad Street corridor to I-10. The project calls for making the car lanes smaller, and adding a bike lane on either side, turning the area into complete streets, which are streets accessible by everyone — motorists, bicyclists and pedestrians.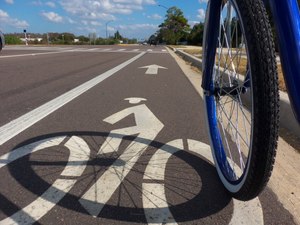 Creating more bike lanes and sidewalks across the city has been a priority of this administration since taking office and was identified as a priority by our citizens during the Map for Mobile long-range planning process," Mobile Mayor Sandy Stimpson told The Lagniappe Weekly. "To be a family-friendly city, we need to be a pedestrian-friendly city."
Complete Streets Lead the City Towards its Goal
The planned bikeway project funded by the TIGER grant is one component of a larger vision that connects five miles of pedestrian-friendly roads to recreation areas on the Three Mile Creek Greenway. Construction is slated to begin in 2018.
Once completed, we will provide safe, pedestrian- and bicycle-friendly access, beautify the streetscape and stimulate economic activity throughout Mobile," Stimpson said in a statement.