Top 10 Worst Cities for Affordable Housing
Gov1 has uncovered where low income people are most pressed to pay for a home in our Top 10 Worst Cities for Affordable Housing.
---
Working and managing necessary expenses is becoming a stretch almost everywhere in the nation, whether a person is single or has a family. Gov1 wanted to know which housing markets are the hardest to afford. The result is the Top 10 Worst Cities for Affordable Housing.
We ran the numbers for each city in all 50 states to find out which have the fewest affordable housing opportunities in relation to their populations. To find our answers we calculated HUD Section 8 Housing Assistance Payments Program data to establish a ratio between opportunity and population. We also factored in mean wage by city, unemployment rates and median monthly rent figures to determine which cities ranked the worst in housing affordability.
Most cities in this list have higher populations, but their ratio of affordable housing units reveals how dismal the situation is for the lowest income people trying to pay for the basic need of shelter in locations with concentrated earnings and cultural opportunities. Our intention in naming the Top 10 Worst Cities for Affordable Housing is to highlight where the greatest need for affordable housing units exists.
Explore and share EfficientGov's  results for the Top 10 worst cities for affordable housing, and join the conversation on LinkedIn.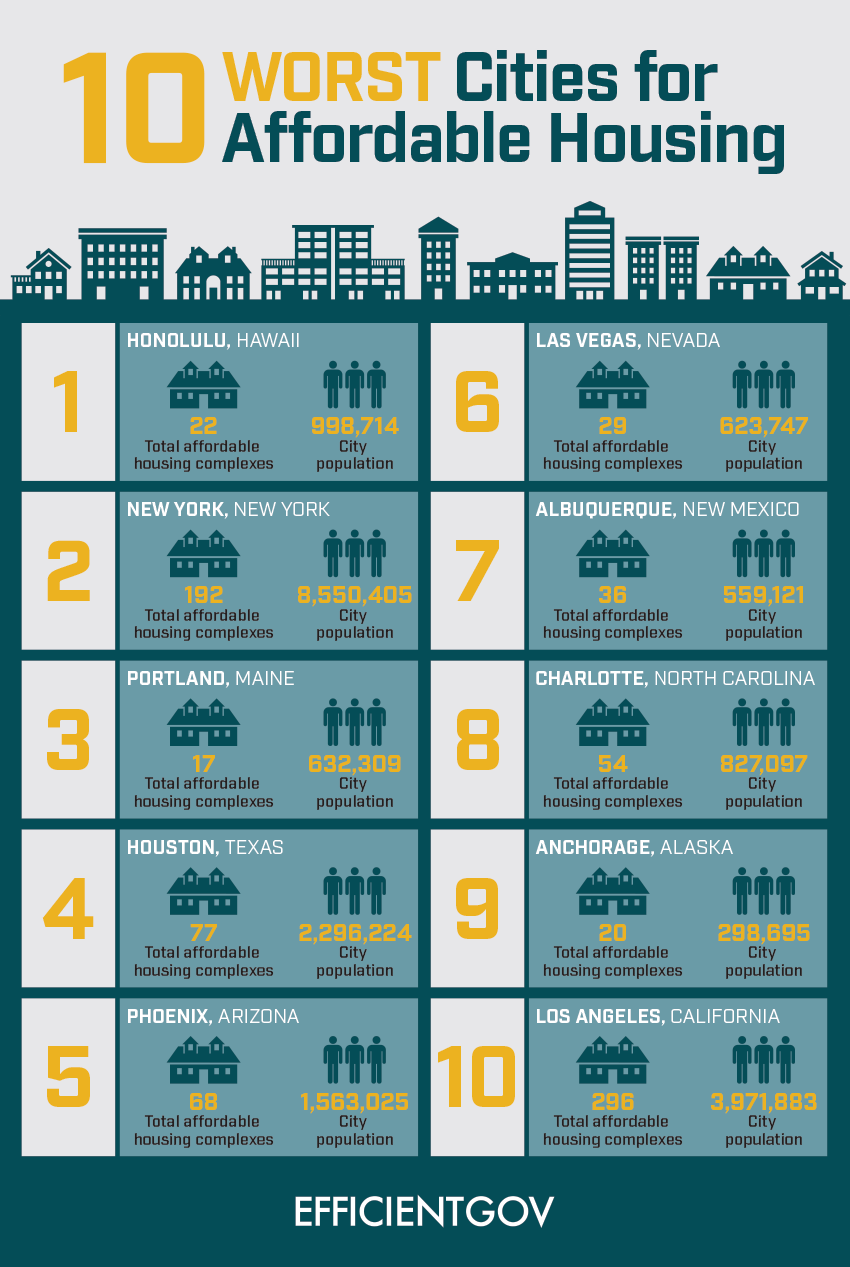 The Bureau of Labor Statistics (BLS) measures the annual mean wage of Honolulu, Hawaii, at $49,320 while the city's median monthly rent is $2,600. Those earning the average pay 63.3 percent of their income on housing alone. Honolulu leads Efficientgov's Top 10 Worst Cities for Affordable Housing in part because where the conventional national affordability standard is spending about 30 percent of income on rent or a mortgage, residents of the city pay about twice what is considered affordable at the Federal level. In addition to having too few affordable housing opportunities for its vast population, Honolulu is also currently facing a homelessness epidemic. The unemployment rate is 3.6 percent, 1.5 percent lower than the national average of 5.1 percent.
The median rent per month in New York, N.Y., is approximately $4,695, and the annual mean wage is $59,990. That's a stunning 93.9 percent of an average resident's gross wages for an average market rent. With the largest population in our list, New York City is notorious for affordable housing battles. Mayor Bill de Blasio has launched an ambitious plan for the city to acquire 200,000 affordable housing units over 10 years and is apparently ahead of schedule. The unemployment rate in New York is 4.7 percent.
Portland, Maine, is experiencing a housing boom, and rental costs are rising while renters' incomes are falling, according to the Portland Press Herald/Maine Sunday Telegram. The median monthly rent in Portland is around $1,895, which accounts for 48.9 percent of the $46,520 mean salary. The unemployment rate in Portland is 3 percent, which is one of the healthiest to make this list.
The high population of Houston,Texas, and its relatively small amount of available affordable housing complexes, landed this southern city in the number three spot in our Top 10 Worst Cities for Affordable Housing. The median rent in the city is about $1,650, which accounts for 38.2 percent of the $51,830 mean wage Houstonites earn. The unemployment rate is .4 percent above the national average.
Phoenix, Ariz., is both the state's capital and largest city, but its disproportionate amount of affordable housing complexes has landed it the number five spot on our list. The median rent per month in Phoenix is estimated at $1,350 and the annual mean wage is estimated at $46,700, which means average residents need to spend roughly 35 percent of their income on rent alone. Low income residents would exceed the federal affordability standard. With an unemployment rate of 5.3 percent, a portion of Phoenix residents are facing a thin portfolio of affordable housing opportunities.
Rent in Las Vegas, Nev., is relatively low compared to other cities on this list at $1,339 per month. At this rate an average income resident would pay 38.2 percent of their $42,070 salary for housing. The unemployment rate in Las Vegas is sky-high, measuring at 6.9 percent. The city also has upwards of 14,000 abandoned homes, which adds a criminal and at-times bizarre layer to the overall housing situation in the city. Newer anti-squatting laws authorize a municipality to crack down. In some cases, low-income residents have signed below market rental contracts, and are paying monthly rent to people who don't actually own the properties, as Gov1 previously reported.
Average residents in Albuquerque, N.M., spend nearly 34 percent of their gross income on rent at a $1,250 median monthly rent. The annual mean wage in Albuquerque is $44,440 and the unemployment rate is currently at 6.4 percent, 1,3 percent higher than the national average.
Coming in at number eight in the Top 10 Worst Cities for Affordable Housing, Charlotte, N.C., is the closest city on this list to meet the 30 percent of gross income for rent standard for average earners. The median rent of $1,325 is about 32.9 percent of the annual mean wage of $48,370. The unemployment rate is 5 percent.
Even with its small population, the amount of affordable housing opportunities in Anchorage, Alaska, is one of the lowest in the nation. Rents in Anchorage are currently estimated at $1,850 per month, about 39 percent of the estimated mean wage of $56,910. Unemployment is 1.1 percent higher than the national average in Anchorage at 6.2 percent. With fewer job opportunities, some residents are not able to afford market rent.
The Los Angeles, Calif., median monthly rent has increased year-over-year, currently landing at about $4,300 per month. These high rents account for nearly 95.6 percent of the annual mean wage, $54,000--the very highest ratio on our list. Low income residents cannot afford these rents, and L.A. has vast homelessness. The unemployment rate is 5 percent, close to the national average.
Editor's Note: The list is accurate as of August 25, 2016. Median rent per month data is available at Trulia.com, and average wage and unemployment percentages are tracked by BLS. Our goal was to eliminate as many outliers as possible. In our analysis, we used the real estate industry standard of median measurement for rent, and the BLS standard of mean for annual wage measurement. However, we erroneously used the word average in place of median in Honolulu, Portland and Houston above and updated this article on August 30, 2016. We apologize for any confusion.
Learn more about our methodology in EfficientGov's Top 10 Best States for Affordable Housing.