These Philly workers are effectively jobless as the coronavirus shuts down their industries
Cleaners, hotel housekeepers and cashiers at stadiums are bracing for the impact of lost wages over the coming weeks.
---
The Philadelphia Inquirer
By Juliana Feliciano Reyes
PHILADELPHIA — Betania Shephard is already losing work.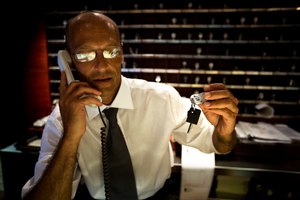 Shephard, 33, cleans homes for a living, focusing on spaces that are rented through Airbnb.
But as the new coronavirus spreads around the world, travel has ground nearly to a halt and the hotel, restaurant, and tourism industry is bracing for impact. It's trickled down to hourly workers like Shephard, a mother of two who lives in Northeast Philadelphia. She hasn't been able to line up jobs.
Shephard is worried about paying her bills — not to mention becoming ill while working the jobs she still has. Last weekend, a client canceled a job because someone on site had recently been quarantined upon suspicion of exposure to the virus.
We don't have health insurance, so things are complicated, because if we go to the doctor, we have to pay cash," Shephard, a member of the Pennsylvania Domestic Workers Alliance, said in Spanish through a translator. "If I'm not working, how can I pay those bills?"
The spread of the coronavirus in the region — and the measures being taken to keep it under control — has just begun to create a dire situation for the 320,000 low-wage service workers that power the city's hotel, hospitality, and retail industries.
"The majority of our local is out of work right now," said Dermot Delude-Dix, a research analyst with UNITE HERE. His union represents about 4,000 service workers in Philadelphia. The situation has been compounded by the sudden nature of all the closures: On Thursday, for example, city officials announced a prohibition on all public gatherings with more than 1,000 people for the next 30 days.
These workers — cleaners, hotel housekeepers, cashiers at the stadiums — make up nearly half the city's workforce, and some, like Shephard, have already seen reductions in work amid canceled events, sports league shutdowns, and a European travel ban. As local government officials scramble to devise strategies to support workers in the poorest big city in the country, hourly workers have been plunged into uncertainty, left waiting to see if they'll be called back in.
The 1,000 food service workers and cleaners at the Wells Fargo Center are effectively jobless for the rest of the month. Comcast-Spectacor, which runs the South Philly arena, is postponing all events that were scheduled through March 31. In addition, all Flyers, 76ers, and Wings games at the arena are on hold until further notice, as the NBA and NHL have suspended their seasons. Workers employed by Comcast-Spectacor will continue to be paid, the company announced Friday, and Aramark workers at Wells Fargo are demanding their employer do the same.
Hotels in the region have already seen plummeting occupancy rates as conventions, meetings, and gatherings have been canceled.
Ed Grose, executive director of the Greater Philadelphia Hotel Association, said that while occupancy numbers vary by hotel, they were between 85% and 90% prior to the spread of the new coronavirus. Now, some hotels that don't host large conventions are down to 30%, while some of the ones that do are below 10%.
Grose said one general manager of a Philadelphia hotel told him he doesn't think he'll be able to pay half his 230-person staff between now and the end of April.
They are doing their best to make sure that their folks are taken care of," Grose said, "but there is not much they can do when you're looking at rock-bottom occupancy rates."
Robyn Thornton, a housekeeper at the Hilton Garden Inn by Reading Terminal Market, is one of those workers put "on call" indefinitely — different from a layoff, which would mean she loses her job permanently.
Thornton, 35, was told Tuesday that the hotel couldn't guarantee her any hours and she'd have to wait each morning for a call to see if there was work for her. A mother to a 6-year-old boy, Thornton wasn't sure how she was going to pay rent or utilities at her South Philly home.
"When I don't have the funding to be able to pay rent, it's like, the landlord don't wanna hear that," she said.
She plans to file for unemployment, but it will take a few weeks to get her first check.
Like many hourly workers, Thornton's health insurance is tied to how many hours she works in a six-month period: If she works a certain amount, her health care is fully paid by her employer. But with these cuts, that will be in question. It's a problem for hourly workers across the country amid the outbreak.
Delude-Dix of UNITE HERE, Thornton's union, said that's one of the questions the union is asking hotels: Are you going to be relaxing the standard for qualifying for health benefits?
Our position is, no one should lose their health insurance because of the coronavirus," he said.
The Trump administration has proposed a payroll tax cut and economic relief for hourly wage earners. Leaders in Congress are still negotiating with the White House on what an emergency aid package will ultimately look like.
Meanwhile, on Thursday, members of City Council called for city agencies to develop protections for the poor Philadelphians who will be hit hardest by effects of the pandemic.
Councilmember Helen Gym introduced a resolution asking that agencies explore a temporary moratorium on evictions and foreclosures as the virus spreads — a similar measure has been approved in San Jose, Calif., and advocates are calling for the same in New York. PECO, Philadelphia Gas Works, and the Philadelphia Water Department announced Friday they'd temporarily stop shutoffs.
And Councilmember Kendra Brooks introduced a resolution requesting that city agencies explore policies to protect workers, such as ensuring health-care benefits for workers throughout the pandemic, extending mandated paid sick leave, and earmarking funds for emergency cash grants. Council is expected to vote on both resolutions in a week.
Mayor Jim Kenney's administration is seeking City Council approval for up to $85 million in emergency funding to deal with the pandemic. It's not clear yet what the funds will be used for.
Still, workers like Shephard will likely be cash-strapped. Before state officials announced the closure of all Pennsylvania schools Friday, Shephard said she didn't know what she would do if her children were forced to stay home from school.
I earn too little to pay a babysitter," she said. "I don't know what my options would be."
About The Philadelphia Inquirer
The Philadelphia Inquirer is one of 21 news organizations producing Broke in Philly, a collaborative reporting project on solutions to poverty and the city's push toward economic justice. See all of our reporting at brokeinphilly.org.

(c)2020 The Philadelphia Inquirer
Visit The Philadelphia Inquirer at www.inquirer.com
Distributed by Tribune Content Agency, LLC.