Sonoma County braces for potential spread of coronavirus among homeless
Because of its demographic makeup, the homeless population is uniquely vulnerable to the transmission of the virus and health impacts of COVID-19.
---
The Press Democrat
By Will Schmitt
SANTA ROSA, Calif. — Hand sanitizer was in high demand Tuesday at Catholic Charities' drop-in shelter for homeless people in downtown Santa Rosa, where Zach Jasoni of Rohnert Park was among those stopping by for services.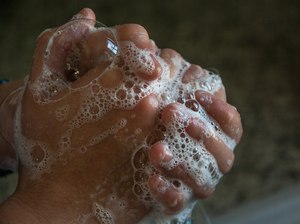 Jasoni, 40, is about to start a live-in program in Cotati for people battling substance abuse and mental health problems, a program he hopes will lead to stable housing. He's wary about being around sick people while he tries to avoid the new coronavirus, the global pandemic that has homeless people like him and service providers such as Catholic Charities taking extra precautions to prevent the spread of the virus.
"It sounds dangerous," Jasoni said. "A lot of people are scared of it."
Federal, state and local officials are bracing for the spread of COVID-19, the respiratory disease caused by the new virus that has infected more than 125,000 people and killed more than 4,500, including more than 150 cases and four deaths in California. Authorities are giving additional attention to the homeless population, which because of its demographic makeup is uniquely vulnerable to the transmission of the virus and health impacts of COVID-19.
Catholic Charities of Santa Rosa, the largest homeless services provider in Sonoma County, has started implementing protocols to reduce the chances of an outbreak and reviewing recommended practices from state and local governments, said Jennielynn Holmes, chief programs officer for Catholic Charities.
Sometimes, typical precautionary measures don't work with this population, especially with encampments," Holmes said. "You look at things like self-isolating in your home -- well, these individuals don't have a home."
Though many people infected with the new coronavirus experience relatively mild symptoms, COVID-19's mortality rate is believed to be at least 1%, or at least 10 times that of the seasonal flu. It is expected to take at least a year before scientists are able to create a safe and effective vaccine, according to Anthony Fauci, director of the National Institute of Allergy and Infectious Diseases, who recently testified before Congress.
Some forecasts have put potential death tolls in the hundreds of thousands or even, in a worst-case scenario in which half the U.S. is infected, more than 1 million American deaths, the Washington Post reported Wednesday.
COVID-19, the respiratory illness caused by the new coronavirus that was first identified in Wuhan, China, often manifests itself as fever, dry cough and shortness of breath. Most cases are mild or moderate, but people who are elderly and who have underlying health conditions are at risk of more serious health conditions.
That demographic overlaps much of the local homeless population, nearly a quarter of whom reported chronic health problems and about 15% of whom were 55 or older in 2019, the last year for which local data is available.
For more than 200 people on any given night in Sonoma County, "home" might be Samuel L. Jones Hall, the county's largest homeless shelter, operated in Santa Rosa by Catholic Charities. Nobody has been turned away from Sam Jones for displaying COVID-19 symptoms, Holmes said.
Holmes said entry screening that typically looks for signs of diseases such as tuberculosis has been updated to include symptoms of COVID-19. Staff have tried to educate shelter residents on precautionary measures to avoid bringing coronavirus into Sam Jones.
"We're just trying to be preventative, proactive and educate the individuals we're working with," Holmes said.
Federal officials have put out guidance for homeless shelter operators, street outreach workers and public health authorities related to the coronavirus and how to limit its spread among people who are homeless. Guidance from the Centers for Disease Control and Prevention includes planning for higher shelter usage during the outbreak and considering whether to stockpile supplies and increase staffing.
Gov. Gavin Newsom's administration on Wednesday issued guidance to local officials to guard against the spread of coronavirus. The administration recommends setting up lines of communication with local public health agencies and urged providers to stock up on prevention supplies, identify high-risk clients and locate spaces where individuals with mild COVID-19 symptoms can be quarantined.
We know that individuals experiencing homelessness are at greater risk of having an untreated and often serious health condition. This vulnerable population also has a higher risk of developing severe illness due to COVID-19," Mark Ghaly, secretary of the state Health and Human Services Agency, said in a statement.
"It is important that we act now to protect this population and the compassionate people who serve them."
Officials in the nine-county Bay Area have started holding weekly calls specific to coronavirus and homelessness to share the latest federal guidance and relay questions they've received about the situation, said Michael Gause, the homelessness program manager with the Sonoma County Community Development Commission, the county's main homelessness agency.
The calls started due to a shared understanding that COVID-19 might have pronounced effects on the homeless population, many of whom find shelter in close quarters, lack reliable access to some sanitary resources and may have underlying medical conditions that could allow the virus to have a pronounced effect on their health.
"That's on everybody's mind," Gause said. "I think that's the hypothesis that a lot of us have."
Locally, county officials have been checking in with homeless shelter providers to make sure they have enough preventative supplies such as hand sanitizer, gloves and masks. County staff who engage with homeless encampments also have been trained in federal protocols for COVID-19, Gause said.
No local shelter has reported a case of COVID-19. If a suspected positive case was reported to county officials, "that would be an immediate call" to the county health department, he said.
"From everything I've heard, our shelters are in pretty good shape," Gause said.
The rigors of homelessness, often compounded by lack of reliable access to quality health care, cuts off up to 25 years from a typical person's life expectancy compared to someone with permanent home, according to Sonoma County's 2019 count of the local homeless population -- and that's without a pandemic sweeping the globe.
At St. Vincent de Paul of Sonoma County's kitchen in Railroad Square, manager Audrianna Jones speculated that most people, homeless or not, would eventually contract the coronavirus. Though she said she isn't too worried for her own health, citing the relatively mild symptoms associated with most known cases, Jones said she's taken steps to protect vulnerable volunteers, such as asking those with respiratory conditions not to come in.
Jones sprayed a cleaning solution fortified with bleach in her facility's restrooms after Tuesday's lunch crowd had emptied out. Between squirts of a spray bottle, Jones outlined steps she's taken to protect older volunteers and increase cleaning regimens while noting the importance of staying calm amid the growing outbreak.
"It's awareness, not panic," Jones said, "and there's a really fine line between them."

(c)2020 The Press Democrat (Santa Rosa, Calif.)
Visit The Press Democrat (Santa Rosa, Calif.) at www.pressdemocrat.com
Distributed by Tribune Content Agency, LLC.