Richmond, Va., may cut EMS funding by $1M
Richmond Ambulance Authority officials said the cuts would impact the agency's ability to recruit and retain essential personnel
---
By Laura French
RICHMOND, Va. — Officials in Virginia's capital city are considering reducing funding to the city's ambulance service by $1 million due to pandemic-related budget issues. 
Richmond Ambulance Authority officials sent a letter to city officials in response to the proposal, saying the cuts would impact the agency's ability to recruit and retain essential personnel during the ongoing public health crisis, according to the Richmond Times-Dispatch. Ambulance officials said nearly 75% of the agency's budget goes toward personnel costs, and a 20% reduction in government funding – from $5 million to $4 million – would restrict its ability to recruit new members and prevent turnover among current members.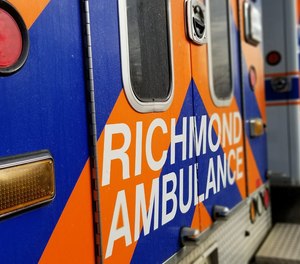 The agency had asked the city for a nearly $2 million increase in funding. Officials said the agency has about $20 million in yearly operational expenses, most of which is covered through patient billing. 
City officials reportedly advised the ambulance service to begin leasing ambulances rather than purchasing them in order to save money. Ambulance officials noted that the cost of leasing would increase in subsequent years.
Richmond's Acting Chief Administrative Officer Lincoln Saunders said the COVID-19 pandemic has impacted tax revenues and forced the city to make cuts across city agencies, including freezing about 600 jobs and pulling from its rainy day fund in order to make it through the current fiscal year. 
Richmond Ambulance Authority CEO Chip Decker said the pandemic has also had an impact on the service and its personnel, adding that some personnel have left due to the physical and mental toll of the crisis. 
"During a pandemic is not the time to be underfunding the EMS lifeline," the ambulance authority's letter to city officials stated, according to the Richmond Times-Dispatch.