City Leadership Sustains Afterschool Programs
Afterschool programs that help kids make educational strides and better decisions need the support of civic leaders to make them sustainable.
---
It's back to school and the National League of Cities (NLC) wants to inspire municipal leaders in how effective they can be in improving the quality of and access to afterschool programs.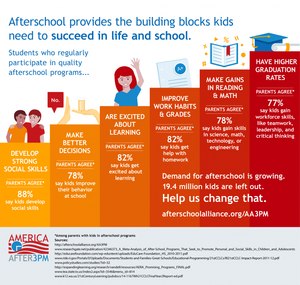 These programs, usually taking place between 3 PM and 6 PM weekdays, help school age children develop strong social skills, make better decisions, increase their excitement for learning and make strides in reading and math, according to Afterschoolalliance.org.
Civic leaders are in position to establish new partnerships within their cities and towns and help leverage local investment in afterschool programs.
In its report, Municipal Leadership for Afterschool, NLC found that the cities that made fundamental shifts in their approaches to afterschool programming toward better coordination had concrete gains in academic outcomes and public safety. The report features detailed best practices profiles of 27 cities from Rochester, N.Y., to Tampa, Fla., from Philadelphia, Pa., to Oakland, Calif., and from Fort Worth, Texas, to Portland, Ore., and every region in between.
Mayors and city councils that link isolated programs, bring stakeholders together to advance unified strategies and improve the quality of afterschool programs are better able to attract afterschool funding and other resources at the state level.
NLC has been reserarching the work of civic leaders that prioritize afterschool programs since 2000 and also showcases city best practices at joint statewide municipal summits.
These statewide municipal summits are an exciting vehicle to convene city leaders to learn about the importance and demand for afterschool programs, and what local officials can do to ensure access. Our cities depend upon the success of our youth, and we must do all we can to support them," said 

Melodee Colbert-Kean

, NLC president and

Joplin, Mo

., council member.
In June, Kansas City. Mo., Mayor Sly James and Mayor Peggy Dunn of Leawood, Kan., hosted the states first afterschool programs and expanded learning summit in Missouri's largest city.
As leaders in our communities, our support of these programs is critical for our youth's educational success," said Mayor James in a prepared statement.
Massachusetts had its afterschool programs summit in May. The Florida afterschool programs summit will take place in October, and other states are planning their statewide afterschool programs summits.
Read more about the municipal summits on the NLC's blog.
Learn more and download the Municipal Leadership for Afterschool report on NLC's website.