The Amazon HQ2 Top Cities: 20 in the Cart
Now that the Amazon HQ2 top cities list is narrowed to 20 finalists, here's what government leaders did to attract attention and be in the running for the second Amazon headquarters.
---
Amazon asked million-strong metros to apply to be its second headquarters by October 19, 2017, and 238 applications came through. Planners joked that it would take 1,000 employees just to go through the applications. However the company did it, and today it has arrived at a long-awaited shortlist of Amazon HQ2 top cities.
According to Smart Cities DIVE, Amazon has shortlisted 20 cities or regions, and some of the locales don't adhere to the RFP. Nick Egelanian, president of retail development consultants SiteWorks International, said he was surprised by some of the 238 that made it to the final round, noting that several are not on the East Coast -- a factor many speculate is an unstated Amazon preference.
However over at PBS, the speculation is on another unofficial criterion -- proximity to where Jeff Bezos owns things, like residences and other businesses. PBS might be on to something since #11 and #20 on the list are only about a 40 minute drive from each other, and #15 is certainly driveable from what the Washington Post called "the biggest house in Washington," a home Amazon CEO Jeff Bezos purchased early in 2017. He also owns the Washington Post.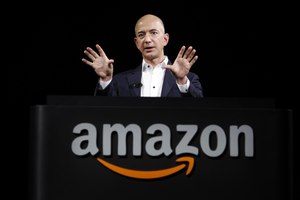 On the official Amazon HQ2 page, the company said it would work with the following candidate cities on their proposals, and expects to make a decision this year. Why be in a rush? The whole process has spawned a media frenzy and cities are behaving like birds of paradise to get the company to notice their fine plumage and all that they offer. It's been incredible grist for Amazon's mill.
Along with the list of Amazon HQ2 top cities below, we include tidbits with links that highlight the best reasons to pick each one of these million-strong metros in the most exciting race since probably the discovery of DNA structure.
#1 Atlanta
A month ago, Amazon registered a lobbyist in the Georgia state capitol. The city has not revealed its incentives, but Business Insider said Georgia Governor Nathan Deal is offering aggressive economic and infrastructure incentives.
#2 Austin, Texas
Moody's crunched the numbers using data from local governments and community surveys, according to Business Insider, and they are calling it Austin for the win.
#3 Boston
Despite Logan Airport being named the third worst airport in the United States by a 2016 J.D. Power study, according to the Boston Globe, it may have captured a spot on the Amazon HQ2 top cities list with a promise to put an Amazon team inside City Hall and a $75 million incentive for employee housing.
#4 Chicago
We think Fortune summarized it best: "Chicago is willing to give the tax revenue the city would collect from Amazon employees back to the company as a tax break. That means workers would need to pay taxes and the estimated $1.3 billion in tax revenue would be sent to Amazon. Wow." Here's the story: Chicago's Amazon HQ2 bid offers money for nothing, and TIFs for free.
#5 Columbus, Ohio
In addition to partnership with Ohio State, Columbus offered a 15-year, 100 percent property-tax abatement at all sites associated with Amazon HQ2, according to the Columbus Dispatch. The report indicated a savings of $456,750 per $1 million of investment in property over the life of the abatement.
#6 Dallas
Sixty percent of those surveyed in Dallas want Amazon HQ2, according to CNBC. Of those surveyed, Dallas residents want it the most -- second only to Detroit respondents. Since Detroit didn't make the Amazon HQ2 top cities list, Dallas now unofficially wants it the most.
#7 Denver
According to the New York Times, it's going to Denver. The Mile High City seems to be the total package for a second Amazon headquarters.
#8 Indianapolis
From the Indianapolis Business Journal:
Pros: "Existing Amazon footprint, rich logistics and technology expertise and relatively low rent and wage costs."
Cons: "Its size, a few taxes considered tech unfriendly and its inability, so far, to shake being overlooked as a top tech hub."
.@amazon You have placed the City of Indianapolis in your shopping cart. Proceed to checkout (1 item)?

— Adam Wren (@adamwren) January 18, 2018

#9 Los Angeles

LA was the only West Coast city selected to the Amazon HQ2 top cities list, but California Governor Jerry Brown had worked with all city applicants in the Golden State. Brown offered streamlined environmental approval, tax incentives, employment training funding and vowed support for affordable housing, transportation improvements and local property and sales tax abatements, according to the Mercury News.

#10 Miami

We don't know where and what they offered, aside from a sparse transit system and low workforce numbers, to get on the Amazon HQ2 top cities list, but Bob Swindell, president of Broward County's economic-development agency, which submitted two undisclosed sites as part of the application, is thrilled to feel "Amazon HQ2 approved," he told the Miami Herald.

#11 Montgomery County, Maryland

The county upset Baltimore and Columbia (Money Magazine's Best Place to Live 2016), and all other Maryland applicants. It's purely speculation, because the county's RFP has not been made public, but Bethesda Magazine previously reported that when County Executive Ike Leggett met with some local real estate professionals in September 2017, he mentioned the White Flint Mall site might be among the locations the county is thinking about pitching. A great site might be one reason to make the Amazon HQ2 top cities list.

#12 Nashville, Tennessee

Nashville Mayor Megan Barry announced a $5.2 billion transit plan just prior to a 10-county region submitting its Amazon HQ2 plan, which will be put to voters this May and if approved, take 15 years to build, according to the Tennessean. Though an underdog, the region is growing -- Nashville was the third largest home building market in the U.S. in 2017.

#13 Newark, New Jersey

Former New Jersey Governor Chris Christie, not to be beat by the city of Chicago or states like New York, offered a total $7 billion in tax incentives and subsidies. Of that, $5 billion would be accrued over the course of 10 years as Amazon adds 50,000 jobs to the state's workforce, according to Fortune.

However, experts that Nj.com spoke with said Newark would have been selected anyway because it's got great public infrastructure, has great walkable downtowns with good public schools and is near the Big Apple.

#14 New York City

The city offered no special tax incentives, instead boasting the largest tech pool in the nation, according to the New York Times. One of the neighborhoods proposed for the site is called the Brooklyn Tech Triangle, which includes the downtown, Dumbo and Brooklyn Navy Yard.

The state has offered an undisclosed tax incentive package on other New York applications outside the five burroughs, but none made the Amazon HQ2 top cities list.

#15 Northern Virginia

This region offered incentives from state and local governments, like economic development and job training grants, as well as tax abatements and boasted transportation improvements, according to the Washington Post. An opinion piece in the Baltimore Sun noted that while Montgomery County -- #11 on the list -- beat Maryland's largest metro, Northern Virginia has bested the county before:

"And, here we go again part No. 2: another possible economic contest between Montgomery County and Northern Virginia, where the record of losing is striking. Northrop Grumman, SAIC, Hilton Worldwide, Volkswagen North America all opted to relocate to our southern neighbor in years past when Montgomery County was also in play for these corporate location decisions," wrote Jay Steinmetz, president and CEO of supply chain company Barcoding International.

#16 Philadelphia

A contingent of lawmakers from Pennsylvania promoted their state as the best place for a second Amazon headquarters because its affordable and meets the RFP criteria, citing robust public transit in a joint letter. But Whyy spoke to a corporate relocation specialist who says Big Pharma is the reason Philly made the list. Amazon is expanding into pharmaceuticals, he said, and that's a driving industry in the region.

Philadelphia made their proposal public and it doesn't mention pharmaceuticals specifically, but did name drop French pharmaceutical conglomerate Sano partnering with University of Pennsylvania.

#17 Pittsburgh

Pittsburgh's college-educated workforce is growing at a faster rate than that of the rest of the nation, according to Business Insider, and its affordable. However, lips have largely been sealed on what local leaders are offering for Amazon HQ2.

Selection of Steel City is causing concern among certain Allegheny County communities, as reported by Publicsource.org. Community development corporations and other leaders have asked to see the proposal publicly disclosed, and would like to ensure that Amazon enters into community benefits agreements to address things the city is already struggling with, such as affordable housing and work in neighborhoods where joblessness rates are higher.

Similar neighborhood concerns have also been raised in other cities on this list, such as Boston.

#18 Raleigh, North Carolina

Honored and excited to be included on @amazon's list of finalists for #AmazonHQ2. Proof that you don't need to live here to know it's an amazing place to call home.

— City of Raleigh (@RaleighGov) January 18, 2018

According to the New York Times, one in five Raleigh workers is in an industry related to tech, and it's edgy with the younger set, but the Times' columnists are calling the Amazon HQ2 game now, and it's going to Denver. They say Raleigh needs to get on its mass transit -- STAT.

#19 Toronto, Ontario

It's the only city on this list not in the U.S., but nearby Mississauga Mayor Bonnie Crombie (her city has an Amazon fulfillment center) said its highly skilled talent, national infrastructure and access to international markets that put the Canadian city on the list, according to Insuaga.com.

#20 Washington D.C.

Mayor Muriel Bowser said #obviously, because her team determined that in 100 years, Washington, D.C. will still have all the relevance, as reported by USA Today.

Hey Alexa - what's the best location for @Amazon's second headquarters?

Obviously, Washington, DC. #ObviouslyDC pic.twitter.com/VRJthcsPt5

— Mayor Muriel Bowser (@MayorBowser) September 14, 2017