Niagara University to provide virus-blocking pillows in dorms
The fabric on the pillow acts as a filter to prevent pathogens from reaching the stuffing
---
The Buffalo News
By Thomas J. Prohaska
NIAGARA FALLS, N.Y. — Niagara University announced last week that it is the first institution of higher learning in the nation to provide virus-blocking pillows to students who live in its on-campus housing.
The pillows are made by Spry Therapeutics, a White Plains company owned by two Niagara alumni, Bill and Bob Purdy.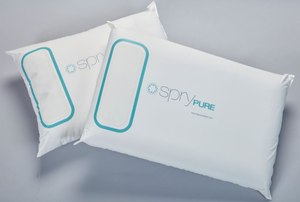 The pillows, usually sold to health care facilities, will be in the Niagara dormitories when they are scheduled to open this fall. The fabric on the pillow acts as a filter to prevent pathogens from reaching the stuffing.
"We're humbled to be able to offer our filter technology to our alma mater, and commend the school on leading the charge for higher standards of cleanliness across campus," said Bill Purdy in a statement.
"We hope that our filtered pillows help provide students and parents peace of mind as they arrive on campus in the fall."
McClatchy-Tribune News Service