NC sheriff suspends pistol, concealed-carry permit applications as demand surges
The Wake County Sheriff's Office was struggling to keep up with the influx of new applications, which were coming in at nearly three times the normal rate
---
The News & Observer
By Ashad Hajela
RALEIGH — The Wake County Sheriff's Office will suspend pistol and concealed-carry permit applications until April 30 as demand surges amid the coronavirus outbreak, Sheriff Gerald Baker announced Tuesday.
Applications that have already been submitted will continue to be processed, Baker said during a press briefing.
Pistol permit applications last week averaged 290 per day, or more than three times the roughly 90 applications per day during the same time period a year ago, according to the Sheriff's Office.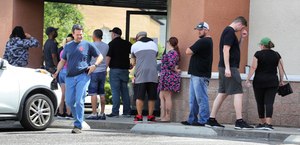 Baker said his office needs time to manage the backlog.
This decision does not limit anyone's right to purchase a handgun," he said in a news release.
Baker is only suspending applications for new permits. People who already have permits will not be stopped from purchasing guns. Sheriffs do not have the power to halt gun sales.
Background checks
Sheriff's offices in North Carolina must inform pistol permit applicants whether their permit is granted within 14 days, according to state law.
But the sharp increase in applications has not given the Wake County Sheriff's Office enough time to do background checks for all applicants within 14 days, said Eric Curry, a spokesman for the Sheriff's Office.
"Our staff has been inundated with high volumes of permit applications that has made it impossible to process by law," Baker said in the news release.
The suspension will help the Sheriff's Office and the Wake County Clerk of Courts clear the backlog of 755 pending applications.
The rush to apply for permits in Wake County led to lines out the door, which made it difficult to maintain the social distancing that is needed to help prevent the spread of corronavirus, Curry said.
We have to limit folks coming in contact with each other," he said. "It was also a health concern for our staff."
Curry said the Sheriff's Office's legal staff reviewed Baker's decision before the announcement.
Action called reckless, illegal
Legislative critics immediately called the sheriff's action reckless.
In a statement, Sens. Warren Daniel, a Burke County Republican, and Danny Britt, a Robeson County Republican, called on Baker to cancel his order.
"State law requires sheriffs to approve or reject a pistol permit within 14 days," they wrote.
"Sheriff Baker must immediately rescind his illegal decision to halt sale of pistols in Wake County," they wrote.
If Baker doesn't, Daniel and Britt said they would call on their fellow lawmakers to force him to do so.
People are already suspicious and on edge," they wrote. "It's reckless to illegally suspend their Second Amendment rights just when they need assurance that they can trust government."
Other jurisdictions have also suspended applications for handgun permits during the pandemic. Several counties in Pennsylvania have temporarily closed their offices or are limiting their services, the Pittsburgh Post-Gazette reported.
In Mesa County, Colorado, new permits are not being granted, but concealed-carry handgun permits are still being renewed, KJCT8, an ABC affiliate in Colorado reported. People applying for handgun permits in Florida are also facing delays, WOKV reported.

(c)2020 The News & Observer (Raleigh, N.C.)
McClatchy-Tribune News Service