Lake of the Ozarks sparks controversy after holiday goers flouting social distancing measures go viral
Vacationers flocked to the region from all over the U.S.; only time will tell if a superspreader event will be the consequence
---
St. Louis Post-Dispatch
By Bryce Gray
The coronavirus pandemic didn't stop people from packing the Lake of the Ozarks for the Memorial Day holiday weekend, despite state social distancing orders as Missouri's confirmed illnesses approach 12,000.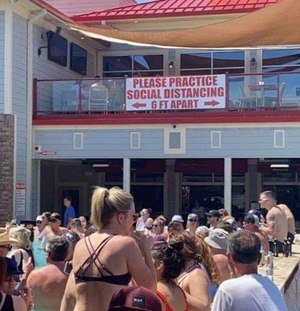 Crowds flooded some bars and restaurants at the Lake of the Ozarks, which attracts visitors from St. Louis and Kansas City as well as surrounding states including Illinois, Kansas, Arkansas and Iowa.
Videos and photos posted on social media show crammed pools and outdoor bar areas where people lounged close together without masks.
Missouri's statewide stay-at-home order expired earlier this month, but an order from the state health director requires 6-foot social distancing until at least the end of May.
Even amid the ongoing pandemic, employees of multiple hotels in Osage Beach said that this weekend's crowds were as big, or bigger, as those seen during typical Memorial Day weekends in safer times.
"We are a lot busier this year," said Alan Hull, the front-desk manager at the Days Inn. "All the hotels here around the lake are busy."
Hull said that most guests were going to local bars, indoors and outdoors. Much of the behavior seen in widely circulated photos and videos of local crowds, he said, clearly defied state guidelines to "at all times practice social distancing."
He's hoping it doesn't mean a looming spike in cases of the virus.
"I'd hate to see a surge in, say, three weeks," said Hull.
The scenes of Memorial Day crowds came as Missouri officials announced Saturday that they had overstated the number of coronavirus tests performed in the state by at least 17,000. The change means the virus infects a higher percentage of Missouri residents than previously had been indicated.
The weekend marking the unofficial start of summer attracted big crowds at beaches — and drew warnings from authorities, who said that disregarding social distancing rules may lead to a resurgence of the scourge that has already killed nearly 100,000 Americans.
Dr. Deborah Birx, coordinator of the White House coronavirus task force, said she was "very concerned" about scenes of people crowding together over the weekend.
"We really want to be clear all the time that social distancing is absolutely critical. And if you can't social distance and you're outside, you must wear a mask," she said on ABC's "This Week."
It's unclear what steps Lake of the Ozarks-area health officials are taking to enforce that order. Requests for comment left with local health departments, county officials and law enforcement offices were not immediately returned Sunday.
Since the pandemic first hit Missouri, the state health department has reported 36 confirmed COVID-19 cases among residents of Camden County and four in Miller County, which include some of the Lake of the Ozarks area.
The health department reports that the virus has sickened at least 11,988 people statewide. The confirmed death toll is 681.
McClatchy-Tribune News Service