How COVID-19 is breaking the food chain
As prices of food continue to rise, and shortages become a possibility, there is a growing need for government and consumer assistance to keep food banks stocked, farms active, and food chains secure
---
From empty shelves at the grocery store to restaurants shuttering their doors, COVID-19 has made a massive impact on our food chain and the way consumers acquire essential goods and services. What is causing bottlenecks in the food chain, how is it impacting the availability and prices of food, and how can you help ensure everyone in your community can maintain access? 
Panic buying and food prices
Over the last two decades, the world has seen numerous infectious disease outbreaks. Severe acute respiratory syndrome (SARS), H1N1, Middle East Respiratory Syndrome (MERS), and the Ebola virus epidemics all went on to impact large swaths of the population, yet none caused the 'panic buying' trend we've seen with the current COVID-19 crisis.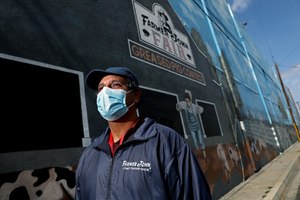 With COVID-19, items like hand sanitizer, toilet paper and active yeast became instant targets of a collective mad dash to stave off fears of future shortages.
This urge, however, has proven to be a catch-22. 
While it's natural to stock up on supplies in case of an emergency, panic buying worsens shortages and can have a direct impact on the cost of goods. For example, when Hurricane Harvey hit Houston, Texas, in 2017, refineries announced a temporary stall in the supply of petrol and diesel. In response, consumers flocked to gas stations, panic-filling their vehicles and reserve tanks, contributing to a two-year high in gas prices.
Similarly, the rush to buy emergency goods during COVID-19 has had a profound impact on the cost of goods. According to the U.S. Bureau of Labor Statistics and its Consumer Price Index Summary, the U.S.'s index for food increased 0.7% in May as the index for food at home rose 1%. 
Other sources show broader increases:
Over the past 12 months, grocery prices rose 4.1%
Between March and April, food prices rose by 0.3%
In April, the cost of eating at home rose by 0.5%, which is the fastest increase in nearly six years
Between March and April, wine prices rose 0.9%, matching their most significant increase since 2014
Meat, poultry, fish and egg prices rose by 4.3% from February to April
Raw material shortages have driven up the cost of aspirin, ibuprofen, and paracetamol by 30%
To decrease the effects of panic buying, many retailers are limiting purchases on high-demand items. For example, in May, Costco announced it would be limiting meat purchases to no more than three fresh meat items at a time to prevent hoarding.
While the long-term results of panic buying from COVID-19 are untold, shortages may continue for months to come as imported goods remain stuck at their port-of-entry, and domestic producers continue to run into supply chain issues.
Farming process changes
With broken supply chains, limited outlets for sales, and dangerous work conditions, COVID-19 has impacted the farming community in several ways. 
Closures of high-producing processing plants
Starting in April, a number of meat processing plants shut down after workers became infected with the coronavirus. One WH Group of China-owned processing plant — Smithfield Foods located in Sioux Falls, South Dakota — temporarily closed its doors after nearly 300 of the plant's 3,700 workers tested positive for COVID-19. 
This particular meat processing plant produces roughly 5% of the U.S. pork supply each day. 
Though the plant has recently reopened on a partial basis, production rates are down, and fears of consuming meat from the plant linger. 
Changing production chains and overstock
Not only are processing plants shuttering, but outlets for selling goods and services are closing their doors as well. As such, sales chains for farmers have changed drastically. 
With restaurants, schools, hotels, and other foodservice outlets demanding far less product, farmers who continue to operate have an added obstacle: overstock of inventory. 
 
In April, Golden E Dairy in Wisconsin began dumping 25,000 gallons of fresh milk a day because there is no place for it to go. Pig farms in Michigan have even been forced to kill animals prematurely, without profit, due to a lack of processing plants. 
Just this month, The Great Plains Food Bank began a partnership with the U.S. Agriculture Department's Family Food Box Program to coordinate with local farmers to buy overstock produce and redistribute rather than waste it.
Still, a combination of ineffective processing and sales chains furthers concerns that there could be a ripple effect, and food shortages and price spikes will continue to occur.
Doubling down on labor needs
Keeping up with the changing demands and patterns of shopping is taxing for farmers. And, of the 2.4 million farmworkers on our nation's farms and ranches, roughly 73% are immigrants who depend on H-2A visas to stay in the U.S. 
As a response to the changing needs from COVID-19, the U.S. Citizenship and Immigration Services, DHS has lifted certain restrictions for H-2A holders, and ruled to allow workers to stay in the United States beyond the three years maximum period of stay. The changes to the H-2A program are in effect until August 18, 2020.
Food insecurities and unemployment
Food insecurities are when a household has difficulty acquiring enough food due to a lack of resources. 
At the beginning of 2020, 135 million people worldwide were already facing extreme hunger, and then COVID-19 struck. And, now, according to the World Food Program, that figure could rise to a staggering 265 million people by the end of this year. According to the U.S. Department of Agriculture, 37 million Americans — or about 1 in 9 people — struggled to put food on the table in 2018.
As of May 2020, the unemployment rate in the U.S. was 13.3%. The high rate is causing great concern that even more families in the U.S. will face difficulty affording groceries. 
Food banks are already seeing a dramatic uptick in the customers they serve. According to Katie Fitzgerald, chief operating officer of Feeding America, "Food banks are seeing anywhere from two to four times the number of people they typically serve." 
How can you help?
The Farm Bureau has outlined specific actions legislatures can take to help them overcome COVID-19 hardships, and help fix the food chain issues we're experiencing:
Extend relief funding for losses incurred after April 15, 2020
Include the Farming Support to States Act, which provides resources to state and local Departments of Agriculture
Support biofuel production facilities
Provide aid to independent and contract poultry producers
Open Conservation Reserve Program acres for emergency haying and grazing to feed livestock being kept longer than expected due to processing capacity issues
Provide funding to offset the cost of PPE and sanitizing supplies
At a community-level, you can also consider helping nonprofits geared toward feeding those in need:
What is your department doing to help farmers and constituents during COVID-19? We'd love to hear from you at editor@efficientgov.com.
Next: 'What is the future we want to have?': How cities are expanding food access during the pandemic and beyond