Doubling up: Are 2 masks better than 1?
As additional COVID-19 variants reach the U.S., some medical officials are now suggesting that the public double up on face masks
---
The CDC first advised the U.S. population to wear cloth face coverings in public on Apr. 3, 2020. However, the U.S. does not have a federal mask mandate, and adherence has varied. On Jan. 20, President Joe Biden signed an executive order mandating the use of face masks on all federal property and encouraged Americans to wear a mask, calling it "the single most effective thing we can do to stop the spread of COVID-19."
The discovery of additional COVID-19 variants has some medical professionals advising the public that the use of two masks may help stop the spread of COVID-19 more than a single mask.
[Read more: COVID-19 variants: What you need to know]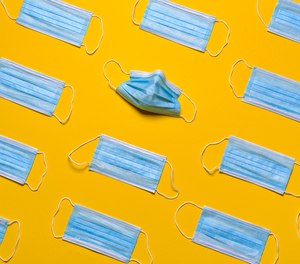 Learn the facts about double mask-wearing, who could potentially benefit from the practice and what kind of material offers the best protection.
Does wearing two masks offer better protection from COVID-19?
In a word, yes – but it depends on the quality and type of mask you're wearing, according to a WebMD article by Elizabeth Hanes, BSN, RN.
Healthcare workers should continue to use an N95 respirator, which offers the best protection against COVID-19. N95 masks are designed to keep out a majority of viral particles and won't benefit from an added mask.
[Read more: Stretching your service's supply of N95 respirators]
For individuals without access to an N95, who are utilizing surgical or cloth masks, wearing multiples, or masks that incorporate cloth filters, could help limit the amount of virus an individual breathes in, per Dr. Anthony Fauci, director of the National Institute of Allergy and Infectious Diseases.
"If you have a physical covering with one layer, you put another layer on, it just makes common sense that it likely would be more effective," Fauci said in an interview on the "Today" show.
Wearing two masks will also add a second level of protection when it comes to ill-fitting coverings.  
"Double layering is adding extra filtration, but a lot of the benefit also comes in making sure you are covering those gaps around the mask, because not every mask you put on fits equally," Alice Sato, MD, said in an interview with WebMD.com.
Does wearing two masks make it more difficult to breathe?
It depends on the kind and quality of masks you are wearing. Dr. Linsey Marr, an expert on airborne viruses and a professor at Virginia Tech, said in an interview with The New York Times.
High-quality masks that already filter out a large number of particulates don't need to be layered and could make it more difficult to breathe.
However, doubling up on masks that each provide a moderate level of protection should not make it impossible to breathe, particularly when weighed against the risks of contracting the virus.
What are the disadvantages of wearing two masks?
Worn correctly, double masks can provide extra protection, but people may be more apt to adjust them throughout the day, causing them to touch their face more often and negating the potential benefits of multiple masks.
It's also important not to double up on highly protective types of masks, such as N95 respirators, which are already designed to keep the wearer safe from 95% of particles. In addition, the supply of N95 masks is still low and the CDC recommends they be reserved for healthcare workers.
What kind of masks are best to wear together?
Marr recommends layering less-specialized masks, such as doubling up with a surgical mask and a cloth mask or investing in a cloth mask that allows for replaceable filters.
Who should consider wearing two masks?
For those wearing flimsy or loose masks, a second cloth covering could over more protection by creating multiple layers of woven fibers for the virus particles to navigate.
This can even be a step people reserve for when they are going someplace with a lot of people, like the pharmacy or a grocery store, just to have the added protection.
If two masks are better than one, then are three masks better than two? Or four?
At some point, adding additional mouth and nose coverings will make it difficult for people to breathe and becomes counterproductive for health and safety. But pairing a looser-fitting surgical mask with a cloth mask or gaiter can help prevent the spread of the virus and provide extra protection for the wearer.
Does wearing two masks negate the need to social distance?
No, even with an extra face mask, individuals should maintain social distancing procedures and continue with practical hygiene measures, according to a New York Times interview with Jennifer Nuzzo, a public health expert at John Hopkins University.
"We have to be honest that the best response is one that requires multiple interventions," she said.