COVID-19: State, local governments are taking the lead on protecting workers, too
State and local governments are pulling out all the stops to fill in safety gaps left by the federal government's response to the COVID-19 pandemic
---
As the COVID-19 pandemic ravages communities across the U.S., a familiar storyline keeps emerging: Controlling the spread and protecting citizens is by and large a local responsibility.
Indeed, a hesitation to impose sweeping, enforceable restrictions permeates the federal government. While the President continues to resist issuing a nationwide stay-at-home order, despite the leading infectious disease expert's endorsement of the measure, both Congress and the Labor Department have likewise stopped short of requiring new protections for frontline workers.
According to the Center for Public Integrity, "the U.S. Department of Labor has rejected pressure to issue worker protections that nurses are demanding," which would include the creation of a new infectious disease standard, requiring hospitals to create more tailored plans to protect healthcare workers from COVID-19.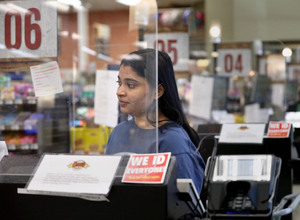 House lawmakers also scrapped language from a recent relief bill that would have forced the department's hand and streamlined the enforcement path for unsafe working conditions.
Workplace safety experts – including the former head of OSHA, David Michaels, who now teaches occupational health at The George Washington University – argue that without the threat of OSHA citations and fines, many hospitals won't be taking the necessary steps to keep their employees safe.
And if recent headlines are any indication, there may be some truth to that.
While existing OSHA standards are still in place, augmented by new, non-legally binding recommendations that apply to workplaces generally, the ongoing shortage of medical-grade PPE has led to a loosening of requirements, leaving it to workers themselves to advocate for their own safety.  
STATES STEP IN TO FILL THE GAPS
When Gov. Kate Brown issued her stay-at-home order for the state of Oregon two weeks ago, she deviated from the stricter standards of neighboring California and Washington, exempting both the construction and manufacturing industries, and allowing many more to remain open as long as they could "ensure that their employees are maintaining social distancing measures," The Oregonian reported.
"I am not interested in taking someone's job or shutting down someone's business if they can practice social distancing at work," she said. Brown did, however, instruct the state's division of Occupational Safety and Health (Oregon OSHA) to field complaints of non-compliant employers and penalize offenders accordingly.
Just a week later, the office had already received more than 1,100 complaints from workers who believed their employers were failing to meet the required safety standards.
Now, employers are facing surprise state inspections in the coming weeks.
"If we inspect and find violations, we cite," said Aaron Corvin, the division's spokesperson. "If we identify and classify violations as serious, there will be a penalty."
And sadly, these local interventions aren't just becoming necessary for the handful of industries across the country still legally allowed to operate.
Hobby Lobby repeatedly garnered national attention in the past week for its controversial decision to reopen many of its stores, despite state and local stay-at-home orders classifying it as non-essential. According to a leaked March 28 memo obtained by Business Insider, the company's management was instructed on "how to respond and communicate if visited by a local authority that asks why we are open."  
An employee in one of the company's North Carolina stores said management was even restricting the use of protective gloves and masks while working because "it would make customers uncomfortable."
This attempt to flout the law, however, was short-lived, thanks largely to the quick response of various state and local authorities. In both Ohio and Colorado, stores were once again closed following cease and desist letters from the states' attorneys general.
Hobby Lobby properly closed its stores during Ohio's stay-home order.

Now they're open again — what's changed? Neither the order, nor the seriousness of the health threat, for sure.

I sent a cease & desist letter to their general counsel. https://t.co/HVqDhFfhqo

— Dave Yost (@Yost4Ohio) April 1, 2020
And in Wisconsin and Indiana, local law enforcement took the lead, forcing stores to close only hours after reopening.
All told, these efforts ultimately paid off: Hobby Lobby reversed course nationwide just days later, though many employees were dismayed to learn that the company was likewise "ending emergency leave pay and suspending use of company provided paid time off benefits and vacation." They will, however, continue paying employee health premiums through May 1.
PROTECTING ESSENTIAL WORKERS
But keeping the doors closed and employees safely at home is not a possibility for the millions of grocery stores, hospitals, public safety agencies and delivery operations that continue to serve our communities through this crisis.
While many employers are voluntarily installing OSHA's recommended engineering controls and providing appropriate PPE to all workers, this is unfortunately not the case universally.
Gov. Andy Beshear of Kentucky recently had to intervene when multiple workers at Amazon's Shepherdsville warehouse tested positive for the virus. While the company had originally planned on re-opening the warehouse after just a 48-hour break for cleaning, Gov. Beshear ordered an eight-day closure after consulting with health authorities.
"[The governor] took this necessary step to protect workers and stop the spread," said Beshear's spokesman Sebastian Kitchen.
Though Gov. Andrew Cuomo of New York failed to take similar action when several workers at the company's Staten Island facility also tested positive, other authorities were quick to step in when the company seemed to retaliate against an employee who organized a walk out in protest.
Now, both the state's attorney general and Mayor de Blasio of New York City have ordered labor and human rights investigations into the firing.
"At a time when so many New Yorkers are struggling and are deeply concerned about their safety, this action was also immoral and inhumane," Attorney General Letitia James said in a statement. She added that her office "is considering all legal options."
EXPANDING PAID LEAVE
Cities are likewise stepping in to fill safety gaps left by the federal government's Families First Coronavirus Response Act. While advocates applaud the legislation for guaranteeing paid time off due to infection or quarantine, others argue that it doesn't go nearly far enough.
Because the final bill exempted companies with both fewer than 50 employees and greater than 500, millions of workers on the front lines are not guaranteed these protections, a fact that Vicki Shabo of the New America Foundation's Better Life Lab says "adds up to a giant individual health and financial security risk, as well as a giant community health risk."
And even though many businesses have said they will voluntarily offer additional paid sick time, many workers are being denied access until they have a positive test result in hand.
San Jose, California, is one of a growing number of cities to decry these gaps in coverage.
After the city council unanimously approved Mayor Sam Liccardo's proposal, San Jose is now guaranteeing all essential workers impacted by COVID-19 40 hours of paid sick leave with an additional hour of leave per two hours worked, up to a cap of 80 hours as long as the state's emergency declaration remains in place.
To help small businesses afford the additional expense, the city will prioritize no-interest loans and grants through the newly formed Silicon Valley Strong Fund. The fund is also helping low-income residents in Santa Clara county who have been impacted by the virus to pay rent.
San Francisco is going one step further with the creation of the Workers and Families First Program, which will directly reimburse any private business and nonprofit in the city that provides additional paid sick time to employees beyond their existing policies. The city will contribute up to one week (40 hours) at $15.59 per hour (minimum wage) per employee. Twenty percent of the funds are reserved for small businesses exempted from the federal legislation.
"Public health comes first in this crisis, but we know that many people have less flexibility to stay home and keep paying their rent if they do get sick," said Mayor London Breed. "By providing more paid sick leave to our workers, San Francisco can help us make sure people are making the right choices to help us all get through this crisis."
SHOW US THE PPE
While cities like New Orleans are organizing PPE donation drives to help make up for the shortage that plagues public safety and healthcare workers nationwide, Los Angeles' L.A. Protects Initiative is perhaps the new gold standard for what communities can accomplish during this crisis.
At a press conference last week, Mayor Eric Garcetti touted the initiative, which works with local manufacturers, not already in the protective gear supply chain, to produce non-medical masks for the city and county's essential workforce.
"So far," Garcetti announced, "400 garment and apparel manufacturers with some of the greatest sewers in the world and the equipment right here in L.A. have signed up to make cloth face coverings, and 147 of them have already met our requirements. They're licensed garment manufacturers located here in Los Angeles, and they have agreed to implement public health protocols to protect their workers."
Los Angeles now has the capacity to manufacture more than 2 million cloth face coverings per week, he continued, which will soon be matched to the 99 essential businesses that have reached out to the city for help.
The initiative's resources, however, aren't just being utilized for the city's grocery store and delivery workers. "There's another component of L.A. Protects that proves the power of partnerships," Garcetti said, announcing another series of private-public collaborations to help the hard-hit medical community stay safe as well.
"I'm proud to announce that we're mobilizing our architecture, design and manufacturing communities to utilize 3D printing technology to produce personal protective equipment for healthcare professionals standing front and center in this crisis.
"We have designs for face shields ready to print, we'll begin matching up hospitals in need with architecture and design firms and other companies with this printing capacity so that we can make these in bulk … to make sure our doctors, our nurses, our medical professionals are safe."
This machine is 3D printing new prototypes at @USCIovineYoung. We'll soon be matching hospitals in need of supplies with architecture and design firms and other companies with the capacity to 3D print PPE in bulk to respond to the COVID-19 crisis. pic.twitter.com/qFk0oOkKwD

— MayorOfLA (@MayorOfLA) April 5, 2020
WE'RE ALL IN THIS TOGETHER
It's easy to point fingers right now – to blame hospitals for not doing enough to protect their nurses, doctors and support staff; to blame the businesses and citizens who are not complying with social distancing measures; to blame our federal government, or our governors, or our local officials for not doing enough to prevent this disaster from happening, or mitigating the consequences.  
Most of us would agree that many aspects of our nation's response could have been handled better, but as Gov. Kate Brown recently explained, "The world has never seen anything like this. There is no playbook."
And while we as a nation will certainly be assessing our handling of this pandemic for some time to come, so that never again will we be so blindsided, we have more immediate tasks at hand.
Right now, we have to figure out how to get PPE to those workers who need it.
Right now, we have to figure out how to stop this thing in its tracks.
And as Mayor Garcetti reminds us, we can't do that alone.
Collaborations like L.A. Protects, and the Workers and Families First Program, and the Silicon Valley Strong Fund are "proof of what can happen when we come together and work together to make sure that this crisis is not met by anybody alone but all of us together."
Review OSHA's Guidance for Preparing Workplaces for COVID-19:
Osha 3990 by Ed Praetorian on Scribd