COVID-19 hospitalizations, cases surge to new records in the South as states reopen
As of Tuesday afternoon, all southern states received F grades on the "Social Distancing Scoreboard" from technology company Unacast
---
The News & Observer
By Simone Jasper
RALEIGH, N.C. — Coronavirus cases have surged in the South in recent weeks, with some states reaching daily records for positive tests or hospitalizations.
At least two states on Monday reported adding the most COVID-19 cases since the start of the outbreak. Mississippi had 498 new coronavirus cases, breaking its previous single-day record of 439. South Carolina also hit a new high on Monday for a third time in the past four days, McClatchy newspapers reported.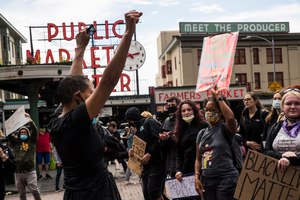 In at least two other Southern states, the number of hospitalized coronavirus patients rose to their highest levels this week.
North Carolina saw its number of COVID-19 patients reach 774, breaking a record set just the day before, The News & Observer reported. And in Texas, state officials say more people were hospitalized with COVID-19 on Monday than ever before, as an increasing share of coronavirus tests come back positive, according to CNBC.
Those four Southern states — along with Arkansas, Florida, Kentucky and Tennessee — so far in June have all "recorded their highest-ever seven-day average of new coronavirus cases since the pandemic began," according to an analysis The Washington Post published Monday. The seven-day average figure can help to account for possible lags in reporting from county health departments.
Why are case numbers surging?
Some health officials in the South have attributed recent COVID-19 case jumps to increased testing for the disease.
Dr. Mandy Cohen, secretary of the North Carolina Department of Health and Human Services, said more coronavirus cases would be expected as the state ramped up testing, The News & Observer reported last month. The state reached a single-day case record on Friday.
In neighboring South Carolina, officials have reported an increased percentage of positive tests for the virus. The state's Department of Health and Environmental Control and other experts also said higher case counts could be due to residents not following social distancing guidelines and more frequently going outside their homes, according to The State.
Horry County, home to Myrtle Beach, was labeled a coronavirus "hot spot" this week. Dr. Brannon Traxler of DHEC couldn't say whether reopening the tourist destination before Memorial Day weekend led to the area's spike in cases but "admitted the timing does line up," The Sun News reported.
South Carolina is among states across the region that have relaxed restrictions once put in place to help stop the spread of the coronavirus. As states reopen, health officials continue to encourage people to avoid crowds and maintain their distance from others.
But there's evidence not everyone is following that advice. As of Tuesday afternoon, all southern states received F grades on the "Social Distancing Scoreboard" from technology company Unacast.
The company says the list — which also gives failing grades to some states in the Midwest, Northeast and West — uses location data to analyze non-essential trips and distance traveled. To help measure social distancing in rural areas, it also weighed the likelihood two people will come into contact, results show.
Also, health officials are worried people could be exposed to the virus as they gather to protest the death of George Floyd, a black man who died May 25 after a Minneapolis police officer kneeled on his neck. One demonstrator in Kansas who did not wear a mask tested positive for COVID-19, McClatchy News reported on Monday.
Hospitalizations increase
In the South, upticks in hospitalized patients have also raised concerns. While coronavirus case counts may be tied to the number of people tested, hospitalizations could give a better picture of the scope of the outbreak, an expert told The News & Observer.
I think that's really the truest canary in the coal mine for us," Dr. David Wohl of the University of North Carolina School of Medicine said, according to the newspaper. "If we're seeing people get sick enough to be admitted to the hospital, that's telling you we have not flattened the curve."
Recent case count surges were also reported in several western states and Puerto Rico, according to CNN and The Washington Post.

(c)2020 The News & Observer (Raleigh, N.C.)
McClatchy-Tribune News Service