The Many Benefits Of A Tree-Filled Community
Research suggests that adding trees to key areas of a community can offer social, economic and environmental benefits to residents
---
What Happened?
Research suggests that adding trees to key areas of a community can offer social, economic and environmental benefits to residents. Thus, tree initiatives are becoming more commonplace as cities look ahead to combatting the impacts of climate change.
The Research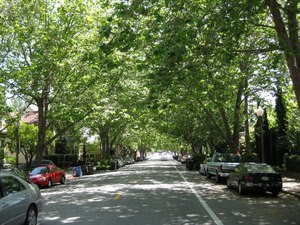 Everyone knows trees are good for the environment -- they generate oxygen, filter air pollutants and absorb rainwater during storms. A growing volume of research indicates trees are also providing perks to local transit, quality of life and property values.
According to the Michigan Department of Natural Resources, for every single street planted -- at a cost of around $300 -- a city will enjoy more than $90,000 in direct benefits throughout the lifetime of the tree. The research suggests adding trees to urban landscapes can bring about a significant number of benefits to the local community including:
Increased motorized traffic and pedestrian safety through reduced speeds
Creating safer walking environments
Increased access to green space
Boosted security
Economic growth and sustainability
Less drainage infrastructure
Protection from rain, sun and heat
Reduced impact of tailpipe emissions
Gas transformation efficiency
Lower urban air temperatures
Reduced blood pressure, improved overall emotional and psychological health
Added value to adjacent homes, businesses and taxes
Furthermore, a report from Oxford University suggests planting more trees and improving the quality of soil are two low-cost techniques that can offset climate change while carrying limited risk. The researchers recommend cities plant trees where there were none prior, and bury a layer of dense charcoal into soil to improve its quality. These simple steps should be coupled with emission-reducing strategies and long-term sustainability plans focused on renewable energy sources as well.
The Projects
Because trees are a natural resource that cost very little to plant and maintain, many cities are driving urban forestry protection and expansion campaigns to take advantage of the aforementioned benefits.
Rebate Program
The Des Plaines City Council in Illinois recently approved a rebate policy for its parkway tree replacement program that will provide residents and business owners with refund for participating in the initiative. A total $2,900 in refunds will be allocated to property owners throughout the community as part of Des Plaines' effort to replace 35 percent of the 3,000 trees lost to the emerald ash borer infestation. By offering a refund for participating in the program, the City Council hopes to engage more property owners and replace more trees, The Chicago Tribune reported.
Keep Indianapolis Beautiful
A nonprofit partnership in Indiana is pushing for increased tree-planting projects to strengthen community development and safety.
Keep Indianapolis Beautiful
mapped the canopy in the city and discovered a correlation between lower tree cover and areas with higher crime and poverty rates. The nonprofit is working with city agencies and community members to add more trees in these select regions to improve quality of life as well as support economic development.
Access to Tree Data
The U.S. Forest Service developed the
i-Tree
GIS-enabled software program that uses algorithms to calculate the economic value of tree canopies in communities across the country. Municipalities can access this tree data and utilize the information for faster, more efficient planting strategies.
When using GIS technology, urban forestry projects can identify which trees should be planted in specific areas through detailed maps and charts illustrating tree inventory across the community. The data can be easily digested and shared with the public to gain support, collect feedback and create partnerships.
Related Stories
US Forest Service Matching Grants
Community Forest Program Grants Now Available