Innovative program in Milwaukee helps business owners of color thrive — even amid a pandemic
Brew City Match aims to bring distressed Milwaukee neighborhoods back to life by empowering historically underserved entrepreneurs
---
MILWAUKEE, Wis. — As small businesses continue to struggle under the weight of the pandemic, cities are having to think outside the box to help their communities thrive in the face of so much adversity.
Since 2019, Milwaukee's Brew City Match (BCM) program has been doing just that. Through an innovative partnership between the Local Initiative Support Corporation, the City of Milwaukee's Department of City Development, the Hmong Wisconsin Chamber of Commerce, Columbia Savings & Loan, MEDC, Wisconsin Women's Business Initiative Corporation, and the Greater Milwaukee Committee's MKE United Initiative, the program has provided both funding and support services for nearly 100 small businesses, the vast majority of which are run by entrepreneurs of color. 
And not only are they still hard at work helping historically underserved communities launch their dreams of business ownership — BCM is now accepting applications for its third round of new business development funding — they're also providing emergency assistance for established businesses hit hard by COVID-19.
Partnerships for raising opportunity in neighborhoods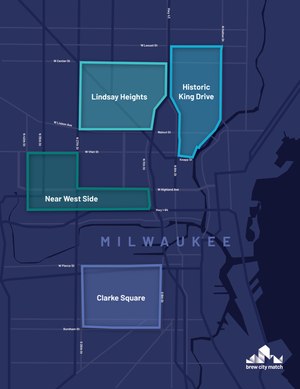 Brew City Match was made possible through a $3.5 million PRO Neighborhoods grant from JP Morgan Chase & Co. Partnerships for Raising Opportunity in Neighborhoods is a program that funds community development financial institutions (CFDIs) committed to revitalizing low- and moderate-income communities, with the overall goal of improving the social conditions of disadvantaged neighborhoods. 
Launched within Milwaukee's Historic King Drive, North Avenue & Fond du Lac, and Cesar Chavez Drive corridors, BCM aims to bring back once vital parts of the city's commercial life.
"This was a very thriving business district in the 70s and 80s, and something happened that caused it to leave," said Columbia Savings & Loan President George Gary shortly after the program was announced. "I'm delighted to see us attempting to bring it back."
But this isn't just another gentrification scheme. 
"We invest in strategies that work to create wealth and address chronic poverty in Milwaukee," said former LISC Milwaukee Executive Director Donsia Strong Hill in a statement. "Through Brew City Match, we are able to leverage philanthropic support, public funds and private investment to intentionally encourage small business growth, and targeted commercial real estate development in commercial corridors surrounding downtown."
Shifting priorities
As it became clear earlier this year that businesses in these areas were about to face an even greater uphill battle, BCM partners knew they had to act. Reallocating $150,000 from their Pro Neighborhoods grant, BCM began offering grants in partnership with each region's business improvement district so that impacted businesses could continue covering rent and payroll. It also created a zero-interest loan fund, offering loans of up to $10,000 for qualifying businesses.
A $100,000 donation from the Greater Milwaukee Foundation meant even more businesses could receive the help they need. 
"We want to make sure the businesses that have been good to the community and good to these neighborhoods for years are able to sustain what's happening right now," said program manager Beth Haskovec.
"Investing in retaining small businesses is critical at this time," she said, "in particular businesses who often face barriers to securing other funds."
As we are now learning, the federal government's Paycheck Protection Program hasn't done a great job of putting resources into the hands of businesses with the most need, particularly those run by people of color. A Global Strategy Group survey of business owners of color conducted in April and May revealed that just 12% of respondents had received the federal assistance they requested, compared to 38% of small business owners overall.
Next: Chicago announces $10M in funding to help small business owners in underserved neighborhoods